Abstract
This paper aims to present the initial results of mapping women's participation in the maritime community of Brazil. The authors reflect on persistent symbols and historical advances related to women professional roles in Brazil, analysing the theme through the lenses of gender and feminism. The maritime community is understood as a diversified and open concept, which ranges from the civilian to the military groups, including women within shipping and chartering companies, local fishing communities and naval officials. By the methods of literature review and online surveying, it is possible to detect women's main difficulties and challenges in working and thriving in what is considered to be essentially a masculine environment. This study is especially important to Brazil, a developing country with historical gender inequality and a patriarchal society.
This is a preview of subscription content, log in to check access.
Access options
Buy single article
Instant access to the full article PDF.
US$ 39.95
Price includes VAT for USA
Subscribe to journal
Immediate online access to all issues from 2019. Subscription will auto renew annually.
US$ 99
This is the net price. Taxes to be calculated in checkout.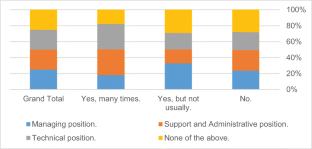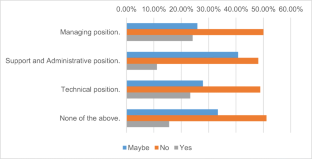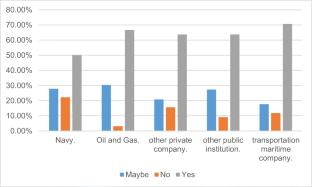 Notes
1.

EFOMM (Escolas de Formação de Oficiais da Marinha Mercante) is the Portuguese abbreviation for the Graduation Schools of the Brazilian Merchant Navy Officers.

2.

Only recently (2016), Brazil has created its own national Women's International Shipping & Trading Association (WISTA). Created in 1984 with a history that goes back 10 years before it, "WISTA is an international networking organisation whose mission is to attract and support women, at the management level, in the maritime, trading and logistics sectors" (WISTA 2019). The Brazilian association is very recent, and there is still a need to consolidate data about the actual number of leadership positions held by women in the country.
References
Atkinson R, Flint J (2001) Accessing hidden and hard-to-reach populations: snowball research strategies. Soc res update (Online) 33(1):1–4

Baskerville RF (2003) Hofstede never studied culture. Acc Organ Soc 28(1):1–14. https://doi.org/10.1016/S0361-3682(01)00048-4

Belcher P, Sampson H, Thomas M, Zhao M, Veiga J (2003) Women seafarers: global employment policies and practices. International Labor Office (ILO), Geneva

Bhirugnath-Bhookhun M, Kitada M (2017) Lost in success: women's maritime careers in Eastern and Southern Africa. Palgrave Commun 3(17023)

Bonnecase J (1932) Précis Élémentaire de Droit Maritime. Recueil Sirey, Paris

Brah A (2006) Diferença, diversidade, diferenciação. Cadernos Pagu 26:329–376

Brasil (2016a) História de mulheres nas Forças é repleta de lutas e conquistas. Ministério da Defesa. https://www.defesa.gov.br/noticias/18669-historia-de-mulheres-nas-forcas-e-repleta-de-lutas-e-conquistas. Accessed 22 Feb 2019

Brasil (2016b) Câmara dos Deputados. Mulheres Pioneiras: elas fizeram história. Centro Cultural Câmara dos Deputados 55ª Legislatura (2015-2019): 51–59. https://www2.camara.leg.br/a-camara/visiteacamara/cultura-na-camara/arquivos/mulheres-pioneiras-elas-fizeram-historia. Accessed 22 July 2019

Brickman JP (2008) Maritime education and training of women: their impact on the program at the United States Merchant Marine Academy. http://web.deu.edu.tr/maritime/imla2008/Papers/32.pdf. Accessed 20 Feb 2019

CIAGA – Centro de Instrução Almirante Graça Aranha (2019)

Coleman JS (1958) Relational analysis: the study of social organizations with survey methods. Hum Organ 17(4):28–36

CONAPRA - Conselho Nacional de Praticagem (2019)

Duflo, Esther (2011) Women empowerment and economic development. BREAD Policy Paper 29

Fernández ML, Valdés LFV (2016) The international relations theory under a feminist approach. Rev Relac Int Estrateg Segur 11(1):45–61

Galhera KM, Maso T (2017) Abertura: Dossiê "Feminismos, Gênero e Relações Internacionais". Monções 6(11):1–14

Guo JL, Liang GS (2012) Sailing into rough seas: Taiwan's women seafarers' career development struggle. Women's Stud Int Forum 35(4):194–202

Hellebrandt H et al (2016) Pesca e gênero: reconhecimento legal e organização das mulheres na "Colônia Z3" (Pelotas/RS - Brasil). Vivência 47:123–136

Hendricks VM, Blanken, P and Adriaans, N (1992) Snowball sampling: A pilot study on cocaine use. Rotterdam: Instituut voor Verslavingsonderzoek (IVO), Erasmus Universiteit

Hofstede G (1984) Culture's consequences: international differences in work-related values 5. Sage Publications, Beverly Hills

Hofstede G (2011) Dimensionalizing cultures: the Hofstede model in context. ORPC 2(1/8)

Homero (1998) Odissea. Gredos, Madrid

IBGE (2018) Estatísticas de Gênero: Indicadores sociais das mulheres no Brasil. Estudos e Pesquisas - Informação Demográfica e Socioeconômica 38

Ibrahim, Magda (2018) Why the maritime industry needs more women. https://www.raconteur.net/finance/maritime-jobs-women. Accessed 20 Jan 2019

Jarvis RM (2018) The maritime origins of Sherlock Holmes. J Mar L & Com 49(1):105–126

Kitada M (2010) Women seafarers and their identities. Thesis, Cardiff University

Lombardi MR (2005) Perseverança e resistência: a engenharia como profissão feminina. Thesis, Universidade de Campinas

Lombardi MR (2010) Profissão: oficial engenheira naval da Marinha de Guerra do Brasil. Rev Estud Fem 18(2):529–546

Lombardi MR, Bruschini C, Mercado CM (2009) As Mulheres na Forças Armadas brasileira: a Marinha do Brasil. FCC/DPE, São Paulo

Maclaran P, Stevens L (2019) Thinking through feminist theorising: poststructuralist feminism, ecofeminism and intersectionality. Handbook of Research on Gender and Marketing, Edward Elgar Publishing

Maenpaa S (2004) Women below deck - gender and employment on British passenger liners, 1860-1938. J Transp Hist 25(2):57–74

Martins MLS, Alvim RG (2016) Perspectivas do trabalho feminino na pesca artesanal: particularidades da comunidade Ilha do Beto, Sergipe, Brasil. Bol Mus Para Emílio Goeldi, sér Ciências Humanas 11(2):379–390

Mast MS (2004) Men are hierarchical, women are egalitarian: An implicit gender stereotype. Swiss J Psychol 63(2):107–111

McKeown MM (2014) Celebrating women on the high seas - in admiralty law and otherwise. J Mar L & Com 45(2)

Ministry of Defence (2019) Tabela de efetivo feminino das Forças Armadas por Situação e Posto/Graduação. Online Communication received from Col. Oliveira Neto Amaro

Monte IX (2013) O debate e os debates: abordagens feministas para as relações internacionais. Estudos Feministas 21(1):59–80

Nakata C (2009) Beyond Hofstede. Palgrave Macmillan, London

OECD (2018) Labour force participation rate. https://data.oecd.org/emp/labour-force-participation-rate.htm. Accessed 20 Jan 2019

Oxman BH (2006) The territorial temptation: a siren song at sea. Am J Int Law 100(4):830–851

Peterson SV, Runyan AS (1999) Global gender issues–dilemmas in world politics. Westview Press, Colorado

Pinheiro LS (2016) Os Dilemas da Construção do Sujeito no Feminismo da Pós-Modernidade. Texto para Discussão 2210 IPEA, Rio de Janeiro

Prandi R (2001) Mitologia dos orixás. Companhia das Letras, São Paulo

Proutiere G, Mauion H et al (2016) La mer au féminin: Essai pluridisciplinaire sur l'évolution du rôle et du statut des femmes dans les activités maritimes. [Rapport de recherche] Université de Nantes

Proutiere-Maulion G (2008) L'evolution du role et du statut de la femme dans les activites maritimes. Journées de l'Observatoire des Droits de Marins

Ripert G (1950) Droit maritime. Dalloz, Paris

Rodiére R (1976) Traité Général de Droit Maritime. Introduction. L'armement, Dalloz

Schwether ND, Pagliari GC (2016) Políticas de gênero para a defesa: os casos de Argentina e Brasil. Rev Soc Polít 26(65):1–14. https://doi.org/10.1590/1678-987317266501

Scott RP, Quadros M (2018) Desenvolvimento, poder, gênero e feminismo. Cadernos Pagu 52. https://doi.org/10.1590/18094449201800520000

SECIRM–Secretaria da Comissão Interministerial para os Recursos do Mar (2019).

Tribunal Marítimo (2019)

US-BLS (2017) Employment Projections program. U.S. Bureau of Labor Statistics. https://www.bls.gov/emp/tables/median-age-labor-force.htm. Accessed 20 Jan 2019

Wheeler MK (2018) Women must be at the heart of Africa's blue economy. IPS News. http://www.ipsnews.net/blueeconomy2018/2018/11/21/women-must-heart-africas-blue-economy. Accessed 20 Feb 2019

WISTA International (2019) Website. https://wistainternational.com. Accessed 22 July 2019

World Economic Forum (2018) The global gender gap report

World Maritime News (2016) SMM: women growing their presence in the maritime industry. https://worldmaritimenews.com/archives/184383/smm-women-growing-their-presence-in-the-maritime-industry. Accessed 20 Jan 2019
Additional information
Publisher's note
Springer Nature remains neutral with regard to jurisdictional claims in published maps and institutional affiliations.
About this article
Cite this article
Medeiros, S.E., do Valle Ventura Piassi, F.A. & Oliveira Feodrippe, R. Mapping women's presence and importance in the Brazilian maritime community. WMU J Marit Affairs 18, 557–578 (2019). https://doi.org/10.1007/s13437-019-00179-7
Received:

Accepted:

Published:

Issue Date:
Keywords
Brazil

Maritime community

Women

Challenges