An advanced approach for the recovery of acetic acid from its aqueous media: deep eutectic liquids versus ionic liquids
Abstract
Green chemistry era forces scientists to develop and apply new media in recovery of high-added value materials. It is interesting to utilize deep eutectic liquids (DELs), which have advantages of biodegradability and very low toxicity and ease of use, in separating these fine materials from a complex environment. DELs have been specially designed and used for the extraction of recovery of acetic acid (AA) from its aqueous solutions. Two DELs containing the same hydrogen bond donor-HBD (glycerol) and two different hydrogen bond acceptor-HBA (a quaternary ammonium salt and an amine-based) have been designed with a molar ratio of 1:2. The tailor-designed extractants were diluted with diethyl adipate (DEA), diethyl malonate (DEM), and diethyl succinate (DES), respectively. Extraction efficiency of the diluents has been increased more than 4 times. To compare the results with that of the ionic liquid (IL), 1-hexyl-3-methylimidazolium bromide has been used in the same organic solvents. Efficiencies of the DELs have surpassed 1.4 to 4 times over the IL.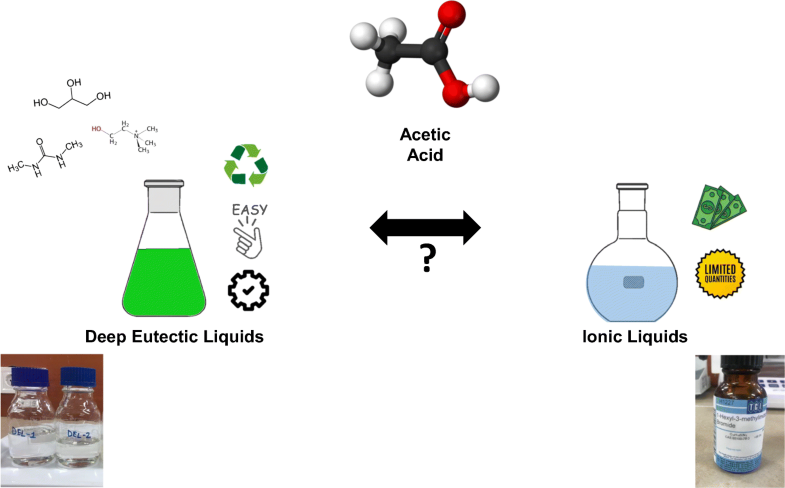 Keywords
Extraction 
Reactive extraction 
Ionic liquids 
Deep eutectic liquid 
Green chemistry 
Carboxylic acid 
Notes
Compliance with ethical standards
Conflict of interest
The authors declare that they have no conflict of interest.
Copyright information
© Springer-Verlag GmbH Germany, part of Springer Nature 2020