Abstract
Camera trapping has been widely applied to studies of medium to large terrestrial mammals, but its application to small arboreal mammals has hardly been tested. We employed camera trapping and other conventional monitoring methods during a mammal survey in a Site of Community Importance located within the Adda North Regional Park (Lombardy, Italy). Camera trapping was particularly successful for monitoring arboreal mammals, allowing the first detection of presence of the invasive grey squirrel (Sciurus carolinensis) in an area occupied by indigenous red squirrels (Sciurus vulgaris) and the collection of a large amount of data on squirrels and common dormice (Muscardinus avellanarius). When triggered, cameras were set to record short video clips (10 to 40 s). More than 400 events were recorded and analysed, mainly from the autumn and winter months. The daily activity pattern of both species displayed a trend from two to three activity peaks in summer to a unimodal pattern in winter, with the peaks of the two species temporally separated. Camera trapping could be a useful method also when applied to monitoring small mammals, particularly endangered arboreal or invasive alien species. For instance, the monitoring of the spread of S. carolinensis is particularly important, where the early detection of new population can be crucial for the conservation of indigenous European species. Camera trapping can be an effective addition to traditional survey methods. It provides a simple non-invasive technique for collecting a large amount of data per device with limited human effort.
This is a preview of subscription content, log in to check access.
Access options
Buy single article
Instant unlimited access to the full article PDF.
US$ 39.95
Price includes VAT for USA
Subscribe to journal
Immediate online access to all issues from 2019. Subscription will auto renew annually.
US$ 99
This is the net price. Taxes to be calculated in checkout.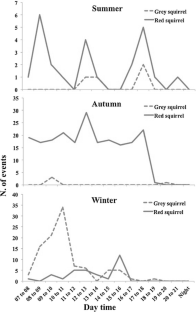 References
Bertolino S, Lurz P, Sanderson R, Rushton S (2008) Predicting the spread of the American grey squirrel (Sciurus carolinensis) in Europe: a call for a co-ordinated European approach. Biol Cons 141:2564–2575

Bertolino S, Wauters L, Pizzul A, Molinari A, Lurz P, Tosi G (2009) A general approach of using hair-tubes to monitor the European red squirrel: a method applicable at regional and national scales. Mamm Biol 74:212–221

Can O, Kandemir I, Togan I (2011) The wildcat Felis silvestris in northern Turkey: assessment of status using camera trapping. Oryx 45:112–118

Datta A, Anand M, Naniwadekar R (2008) Empty forests: large carnivore and prey abundance in Namdapha National Park, north-east India. Biol Cons 141:1429–1435

Garrote G, de Ayala R, Pereira P, Robles F, Guzman N, Garcia F, Iglesias M, Hervas J, Fajardo I, Simon M, Barroso J (2011) Estimation of the Iberian lynx (Lynx pardinus) population in the Doana area, SW Spain, using capture–recapture analysis of camera-trapping data. Eur J Wildl Res 57:355–362

Guil F, Agudín S, El-Khadir N, Fernandez-Olalla M, Figueredo J, Domínguez FJ, Garzon P, Gonzalez G, Muñoz-Igualada J, Oria J, Silvestre F (2010) Factors conditioning the camera-trapping efficiency for the Iberian lynx (Lynx pardinus). Eur J Wildl Res 56:633–640

Gurnell J (1987) The natural history of squirrels. Christopher Helm, London

Gurnell J, Lurz P, Shirley M, Cartmel S, Garson P, Magris L, Steele J (2004a) Monitoring red squirrels Sciurus vulgaris and grey squirrels Sciurus carolinensis in Britain. Mamm Rev 34:51–74

Gurnell J, Wauters L, Lurz P, Tosi G (2004b) Alien species and interspecific competition: effects of introduced eastern grey squirrels on red squirrel population dynamics. J Anim Ecol 73:26–35

Gurnell J, Lurz P, McDonald R, Pepper H (2009) Practical techniques for surveying and monitoring squirrels. Forest. Comm Pract Note 1:1–12

Gurnell J, McDonald R, Lurz P (2011) Making red squirrels more visible: the use of baited visual counts to monitor populations. Mamm Rev 41:244–250

Kawanishi K, Sunquist M (2004) Conservation status of tigers in a primary rainforest of Peninsular Malaysia. Biol Cons 120:329–344

Koerth B, Kroll J (2000) Bait type and timing for deer counts using cameras triggered by infrared monitors. Wildl Soc Bull 28:630–635

Linkie M, Ridout M (2011) Assessing tiger-prey interactions in Sumatran rainforests. J Zool 284:224–229

Marchesi P, Blant M, Capt S (2008) Mammifères. Identification. Neuchatel, CSCF – SSBF

Martinoli A, Bertolino S, Preatoni D, Balduzzi A, Marsan A, Genovesi P, Tosi G, Wauters L (2010) Headcount 2010: the multiplication of the grey squirrel introduced in Italy. Hystrix – It J Mamm 21:127–136

Mccoy J, Ditchkoff S, Steury T (2011) Bias associated with baited camera sites for assessing population characteristics of deer. J Wildl Manage 75:472–477

Mortelliti A, Boitani L (2008) Inferring red squirrel (Sciurus vulgaris) absence with hair tubes surveys: a sampling protocol. Eur J Wildl Res 54:353–356

Munari D, Keller C, Venticinque E (2011) An evaluation of field techniques for monitoring terrestrial mammal populations in Amazonia. Mamm Biol 76:401–408

Nichols JD, O'Connell AF, Karanth KU (2011) Camera traps in animal ecology and conservation: what's next? In: O'Connell AF, Nichols JD, Karanth KU (eds) Camera traps in animal ecology. Springer, New York, pp 253–264

O'Brien TG, Baillie JEM, Krueger L, Cuke M (2010) The wildlife picture index: monitoring top trophic levels. Anim Cons 13:335–343

O'Brien T, Kinnaird M, Wibisono H (2003) Crouching tigers, hidden prey: Sumatran tiger and prey populations in a tropical forest landscape. Anim Cons 6:131–139

Oliveira-Santos LGR, Tortato MA, Graipel ME (2008) Activity pattern of Atlantic Forest small arboreal mammals as revealed by camera traps. J Trop Ecol 24:563–567

Otani T (2001) Measuring fig foraging frequency of the Yakushima macaque by using automatic cameras. Ecol Res 16:49–54

Paull D, Claridge A, Barry S (2011) There's no accounting for taste: bait attractants and infrared digital cameras for detecting small to medium ground-dwelling mammals. Wildl Res 38:188–195

Rovero F, Tobler M, Sanderson J (2010) Camera trapping for inventorying terrestrial vertebrates. In: Eymann J, Degreef J, Hauser C, Monje JC, Samyn Y, Vanden Spiegel D (eds) Manual on field recording techniques and protocols for All Taxa Biodiversity Inventories and Monitoring. The Belgian National Focal Point to the Global Taxonomy Initiative, pp 100-128

Schipper J (2007) Camera-trap avoidance by Kinkajous Potos flavus: rethinking the "non invasive" paradigm. Small Carniv Conserv 36:38–41

Seki SI (2010) Camera-trapping at artificial bathing sites provides a snapshot of a forest bird community. J For Res 15:307–315

Stein AB, Fuller TK, Marker LL (2008) Opportunistic use of camera traps to assess habitat-specific mammal and bird diversity in northcentral Namibia. Biodivers Conserv 17:3579–3587

Suckling GC (1978) A hair sampling tube for the detection of small mammals in trees. Wildl Res 5:249–252

Tattoni C, Preatoni D, Lurz P, Rushton S, Tosi G, Bertolino S, Martinoli A, Wauters L (2006) Modelling the expansion of a grey squirrel population: implications for squirrel control. Biol Invasions 8:1605–1619

Teerink BJ (1991) Hair of West-European mammals. Cambridge University Press, Cambridge

Torre I, Guixe D, Sort F (2010) Comparing three live trapping methods for small mammal sampling in cultivated areas of NE Spain. Hystrix – It J Mamm 21:147–155

Treves A, Mwima P, Plumptre A, Isoke S (2010) Camera-trapping forest-woodland wildlife of western Uganda reveals how gregariousness biases estimates of relative abundance and distribution. Biol Cons 143:521–528

Wang S, Macdonald D (2009) The use of camera traps for estimating tiger and leopard populations in the high altitude mountains of Bhutan. Biol Cons 142:606–613

Wilson DE, Cole FR, Nichols JD, Rudran R, Foster MS (1996) Measuring and monitoring biological diversity. Standard methods for mammals. Smithsonian Institution Press, Washington, DC
Acknowledgments
Fieldwork was funded by Adda North Regional Park for the Management Plan of SCI IT2050011. Partial results have been presented as poster to the Problematic Wildlife II International Congress, Genazzano, Italy, February 2011. We are grateful to Dr. Sergio Saladini (Director) and Dr. Giuliana Defilippis (Resp. for Natural Resources) of the Adda North Regional Park and Fabio Cologni and all the WWF volunteers of the Oasi Le Foppe of Trezzo sull'Adda (MI). We also wish to thank two anonymous reviewers for their most valuable suggestions and advice.
Additional information
Communicated by: Karol Zub
Electronic supplementary material
Below is the link to the electronic supplementary material.
Squirrels shot in three different seasons. (MPG 9822 kb)
Interactions of grey and red squirrels with magpies. (MPG 10068 kb)
Red and grey squirrels shot in different activities: collecting food, foraging, feeding, playing with a hair tube, bark stripping (infrared because of the dark underwood), travelling. (MPG 10766 kb)
Red squirrel shot while feeding on a baited tree branch. Grey squirrel shot in two different sites. (MPG 9372 kb)
Squirrels shot in three different seasons. (MPG 9822 kb)
Interactions of grey and red squirrels with magpies. (MPG 10068 kb)
Red and grey squirrels shot in different activities: collecting food, foraging, feeding, playing with a hair tube, bark stripping (infrared because of the dark underwood), travelling. (MPG 10766 kb)
About this article
Cite this article
Di Cerbo, A.R., Biancardi, C.M. Monitoring small and arboreal mammals by camera traps: effectiveness and applications. Acta Theriol 58, 279–283 (2013) doi:10.1007/s13364-012-0122-9
Received:

Accepted:

Published:

Issue Date:
Keywords
Camera trapping

Arboreal mammals

Sciurus vulgaris
Sciurus carolinensis

Alien species

Survey methods