Laser Ablation Generation of Antimony Selenide Clusters: Laser Desorption Ionization (LDI) Quadrupole Ion Trap Time of Flight Mass Spectrometry
Abstract
The binary system Sb-Se was studied via laser ablation using antimony-selenium mixtures made from powdered elements in various ratios generating new SbmSen clusters. The results show that in addition to Sbm+ (m = 1–8) and Sen+ (n = 2–9) clusters, a series of SbmSen+ clusters such as SbSe1–8+, Sb2Se1–6+, Sb3Se1–5+, Sb4Se1–3+, and Sb5Se1,2+ is generated. In addition, some low intensity oxidized clusters like Se6O2+, Se7O2+, and SbSe2-6O5+ and partially hydroxylated clusters (SbSeO2H7+, SbSe5O4H+) are also formed. In total, 24 new antimony selenide clusters were generated. The knowledge gained can contribute to the elucidation of the structure of SbmSen glasses.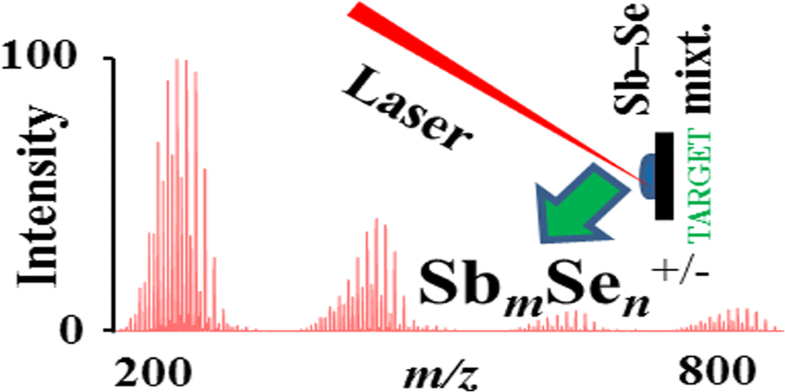 Keywords
Antimony selenides 
Laser ablation 
Clusters 
Laser desorption ionization 
Quadrupole ion trap mass spectrometry 
Chalcogenide glasses 
Notes
Acknowledgements
This work was funded with support from the Grant Agency of the Czech Republic (Projects No. GA18-03823S). This research has been also supported by CEPLANT, the project R&D center for low-cost plasma and nanotechnology surface modification, and CZ.1.05/2.1.00/03.0086 funding by the European Regional Development Fund and the Project CZ.1.07/2.3.00/30.0058 of the Ministry of Education, Youth and Sports of the Czech Republic.
Copyright information
© American Society for Mass Spectrometry 2019