Sulfur Transfer Versus Phenyl Ring Transfer in the Gas Phase: Sequential Loss of CH3OH and CH3O–P=O from Protonated Phosphorothioates
Abstract
Collisional activation fragmentation of protonated phosphorothioates leads to skeletal rearrangement and formation of aryl sulfenylium cation (R-PhS+) via successive eliminations of CH3OH and CH3O–P=O. To better understand this unusual fragmentation reaction, isotope-labeling experiments and density functional theory (DFT) calculations were carried out to investigate two mechanistic pathways. In route 1, a direct intramolecular transfer of the R-phenyl group occurs from the oxygen atom to the sulfur atom on thiophosphoryl to form methoxyl S-(3-methyl-4-methylsulfanyl-phenyl) phosphonium thiolate (a4), which subsequently dissociates to form the m/z 169 cation. In route 2, the sulfur atom of the thiophosphoryl group undergoes two stepwise transfer (1,4-migration to the ortho-carbon atom of the phenyl ring followed by 1,2-migration to the ipso-carbon atom) to form an intermediate isomer, which undergoes the subsequent dissociation to form the m/z 169 cation. DFT calculations suggested that route 2 was more favorable than route 1 from the point view of kinetics.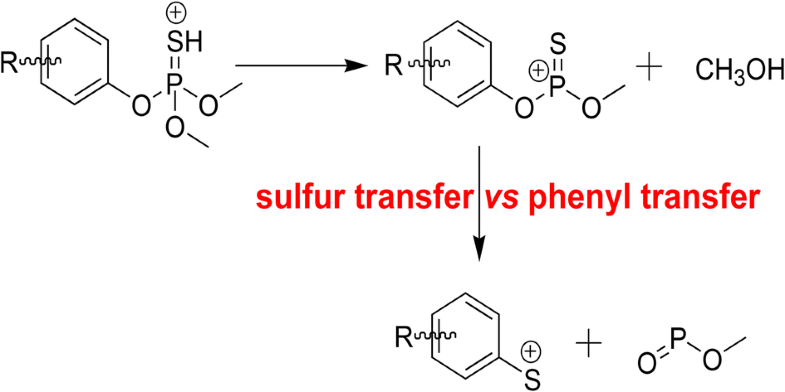 Keywords
Sulfur transfer 
Phenyl ring transfer 
Tandem mass spectrometry 
Phosphorothioates 
Benzenesulfenylium cation 
Notes
Acknowledgements
This work was supported by the grant from the National Natural Science Foundation of China (Nos. 21520102007, 21605017), Project of Jiangxi Provincial Department of Education (No. GJJ160574), the Research Fund of East China University of Technology (No. DHBK2016131), and the Jiangxi Key Laboratory for Mass Spectrometry and Instrumentation Open Fund (JXMS201803).
Copyright information
© American Society for Mass Spectrometry 2018