Development of a Post-Column Liquid Chromatographic Chiral Addition Method for the Separation and Resolution of Common Mammalian Monosaccharides
Abstract
The first solely MS-based methodology for the identification and resolution of the ten common mammalian monosaccharides is presented. Based on Cooks' fixed ligand kinetic method, this technique is effective on multiple classes of monosaccharides and includes the first example of two fixed ligand combinations used in a single multiplexed experiment. Subsequently, a post-HPLC chiral addition method is used in conjunction with this newly developed MS methodology for the separation and identification of mixtures of common neutral mammalian monosaccharides. This proposed technique is able to overcome a limitation of present carbohydrate analysis methods, namely the simultaneous isomeric resolution of multiple monosaccharides in a mixture.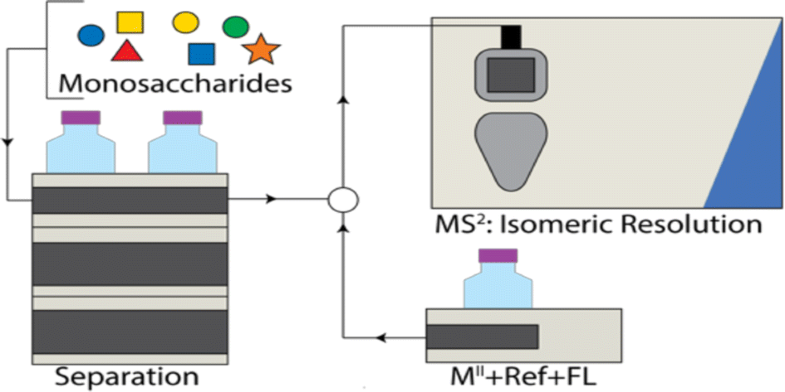 Keywords
Carbohydrates 
Monosaccharides 
Fixed ligand kinetic method 
Notes
Acknowledgements
We would like to acknowledge the Joan and Marvin Carmack Chair funds for partial support of this work. G.N. is thankful for a Carmack Fellowship and N.P. for the Edward, Frances, and Shirley B. Daniels Fellow position at the Radcliffe Institute for Advanced Study at Harvard University. Z. W. would like to thank the IU-LBMS for the use of their instruments and helpful discussion from Dr. Trinidad and Dr. Grassmyer.
Compliance with Ethical Standards
Conflict of Interest
The authors declare that they have no conflict of interest.
Copyright information
© American Society for Mass Spectrometry 2018