Experimental and Theoretical Studies on Gas-Phase Fragmentation Reactions of Protonated Methyl Benzoate: Concomitant Neutral Eliminations of Benzene, Carbon Dioxide, and Methanol
Abstract
Protonated methyl benzoate, upon activation, fragments by three distinct pathways. The m/z 137 ion for the protonated species generated by helium-plasma ionization (HePI) was mass-selected and subjected to collisional activation. In one fragmentation pathway, the protonated molecule generated a product ion of m/z 59 by eliminating a molecule of benzene (Pathway I). The m/z 59 ion (generally recognized as the methoxycarbonyl cation) produced in this way, then formed a methyl carbenium ion in situ by decarboxylation, which in turn evoked an electrophilic aromatic addition reaction on the benzene ring by a termolecular process to generate the toluenium cation (Pathway II). Moreover, protonated methyl benzoate undergoes also a methanol loss (Pathway III). However, it is not a simple removal of a methanol molecule after a protonation on the methoxy group. The incipient proton migrates to the ring and randomizes to a certain degree before a subsequent transfer of one of the ring protons to the alkoxy group for the concomitant methanol elimination. The spectrum recorded from deuteronated methyl benzoate showed two peaks at m/z 105 and 106 for the benzoyl cation at a ratio of 2:1, confirming the charge-imparting proton is mobile. However, the proton transfer from the benzenium intermediate to the methoxy group for the methanol loss occurs before achieving a complete state of scrambling.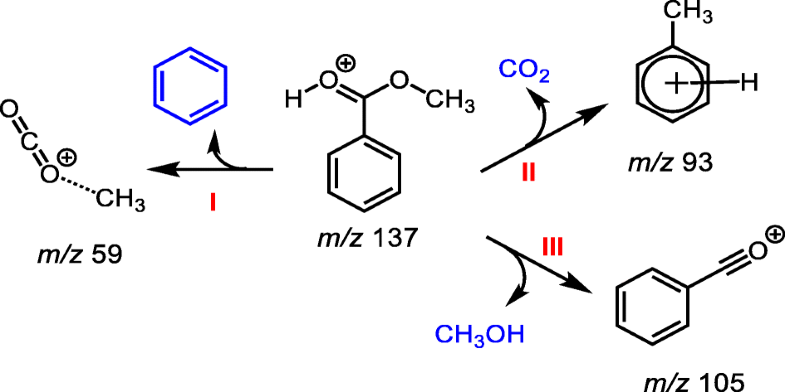 Keywords
HepI 
Helium-plasma ionization 
Methyl benzoate 
Fragmentation 
Notes
Acknowledgements
This research was supported by funds provided by Stevens Institute of Technology (Hoboken, NJ). We are grateful to Isra Hassan for literature searches, and Prof. Dr. Dietmar Kuck, Bielefeld University, Germany, for his comments that helped us to improve the quality of the manuscript. We thank Bristol-Myers Squibb (New Brunswick, NJ) for the donation of the Quattro Ultima mass spectrometer.
Copyright information
© American Society for Mass Spectrometry 2018