Fast Eruption Desorption Ionization for Mass Spectrometric Analysis
Abstract
Fast eruption desorption ionization (FEDI) technique was developed for simple, rapid, and sensitive analysis of various compounds. The FEDI allows three analytical modes each with the unique characteristic. The results demonstrated that non-assisted eruption was suitable for stable and volatile compounds, energetic material (EM)-assisted for nonvolatile molecules especially metal compounds, and solvent-assisted eruption for fragile molecules. High-quality mass spectra with intact ions of analytes were obtained in positive and negative ion modes.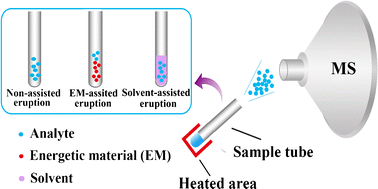 Keywords
Mass spectrometry 
Fast eruption desorption ionization 
Non-assisted eruption 
EM-assisted eruption 
Solvent-assisted eruption 
Notes
Funding Information
The authors are grateful for the financial supports from the National Key Research and Development Program of China (No. 2016YFC0800704) and the National Science Foundation of China (21532005, 21772227, and 21472228).
Copyright information
© American Society for Mass Spectrometry 2018