The First MS-Cleavable, Photo-Thiol-Reactive Cross-Linker for Protein Structural Studies
Focus: Honoring Carol V. Robinson's Election to the National Academy of Sciences: Research Article
Abstract
Cleavable cross-linkers are gaining increasing importance for chemical cross-linking/mass spectrometry (MS) as they permit a reliable and automated data analysis in structural studies of proteins and protein assemblies. Here, we introduce 1,3-diallylurea (DAU) as the first CID-MS/MS-cleavable, photo-thiol-reactive cross-linker. DAU is a commercially available, inexpensive reagent that efficiently undergoes an anti-Markovnikov hydrothiolation with cysteine residues in the presence of a radical initiator upon UV-A irradiation. Radical cysteine cross-linking proceeds via an orthogonal "click reaction" and yields stable alkyl sulfide products. DAU reacts at physiological pH and cross-linking reactions with peptides, and proteins can be performed at temperatures as low as 4 °C. The central urea bond is efficiently cleaved upon collisional activation during tandem MS experiments generating characteristic product ions. This improves the reliability of automated cross-link identification. Different radical initiators have been screened for the cross-linking reaction of DAU using the thiol-containing compounds cysteine and glutathione. Our concept has also been exemplified for the biologically relevant proteins bMunc13-2 and retinal guanylyl cyclase-activating protein-2.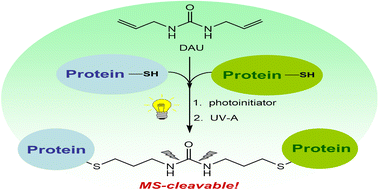 Keywords
Cross-linking 
1,3-diallylurea 
Protein structure 
Tandem mass spectrometry 
Thiols 
Abbreviations:
aa

Amino acid

AAPH

2,2′-Azobis(2-methylpropionamidine)dihydrochloride

BP

Benzophenone

DMPA

2,2-Dimethoxy-2-phenylacetophenone

CDI

1,1′-Carbonylimidazole

CID

Collision-induced dissociation

DAU

1,3-Diallylurea

DTT

Dithiothreitol

ESI

Electrospray ionization

GCAP

Guanylyl cyclase-activating protein

GSH

Glutathione

GST

Glutathione-S-transferase

HCD

Higher energy collision-induced dissociation

LC

Liquid chromatography

MS

Mass spectrometry

MS/MS

Tandem mass spectrometry

NCE

Normalized collision energy

NHS

N-Hydroxysuccinimide ester

TNB

5-Thio-2-nitrobenzoic acid
Notes
Acknowledgments
The authors would like to thank Dirk Tänzler for GCAP-2 expression and purification, Christoph Hage for valuable discussions, and Dr. Michael Götze for continuous improvements of the MeroX software.
Funding Information
A.S. gratefully acknowledges financial support by the DFG (project Si 867/15-2). C.I. is funded by the Alexander von Humboldt Foundation.
Copyright information
© American Society for Mass Spectrometry 2018