Analytical Scheme Leading to Integrated High-Sensitivity Profiling of Glycosphingolipids Together with N- and O-Glycans from One Sample
Abstract
Glycoconjugates are directly or indirectly involved in many biological processes. Due to their complex structures, the structural elucidation of glycans and the exploration of their role in biological systems have been challenging. Glycan pools generated through release from glycoprotein or glycolipid mixtures can often be very complex. For the sake of procedural simplicity, many glycan profiling studies choose to concentrate on a single class of glycoconjugates. In this paper, we demonstrate it feasible to cover glycosphingolipids, N-glycans, and O-glycans isolated from the same sample. Small volumes of human blood serum and ascites fluid as well as small mouse brain tissue samples are sufficient to profile sequentially glycans from all three classes of glycoconjugates and even positively identify some mixture components through MALDI-MS and LC-ESI-MS. The results show that comprehensive glycan profiles can be obtained from the equivalent of 500-μg protein starting material or possibly less. These methodological improvements can help accelerating future glycomic comprehensive studies, especially for precious clinical samples.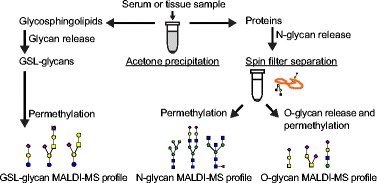 Keywords
Integrated glycomic scheme 
N- and O-glycans 
Glycosphingolipid (GSL) glycans 
Notes
Acknowledgments
We thank Dr. Sachiko Koyama for providing the mouse tissue samples, Dr. Daniela Matei for providing the ascites fluids, and Dr. Helena Soini for help in preparing the manuscript. Reporting on experimental details has been prepared in accordance with MIRAGE (the Minimum Information Required for a Glycomics Experiment) sample preparation (http://doi.org/10.3762/mirage.1) and MS guidelines (http://doi.org/10.3762/mirage.2).
Funding Information
This work was supported by the grants from the National Institute of General Medical Sciences, U.S. Department of Health (NIH R21GM118340 and NIH R01GM106084).
Copyright information
© American Society for Mass Spectrometry 2018