MALDI Mass Spectrometry Imaging for Evaluation of Therapeutics in Colorectal Tumor Organoids
Abstract
Patient-derived colorectal tumor organoids (CTOs) closely recapitulate the complex morphological, phenotypic, and genetic features observed in in vivo tumors. Therefore, evaluation of drug distribution and metabolism in this model system can provide valuable information to predict the clinical outcome of a therapeutic response in individual patients. In this report, we applied matrix-assisted laser desorption/ionization mass spectrometry imaging (MALDI-MSI) to examine the spatial distribution of the drug irinotecan and its metabolites in CTOs from two patients. Irinotecan is a prodrug and is often prescribed as part of therapeutic regimes for patients with advanced colorectal cancer. Irinotecan shows a time-dependent and concentration-dependent permeability and metabolism in the CTOs. More interestingly, the active metabolite SN-38 does not co-localize well with the parent drug irinotecan and the inactive metabolite SN-38G. The phenotypic effect of irinotecan metabolism was also confirmed by a viability study showing significantly reduced proliferation in the drug treated CTOs. MALDI-MSI can be used to investigate various pharmaceutical compounds in CTOs derived from different patients. By analyzing multiple CTOs from a patient, this method could be used to predict patient-specific drug responses and help to improve personalized dosing regimens.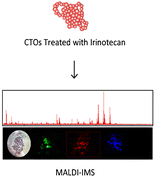 Keywords
MALDI-MSI 
Colorectal tumor organoids 
Irinotecan 
Notes
Acknowledgments
The authors thank the Mass Spectrometry and Proteomics Facility at the University of Notre Dame. This research was funded through a generous donation from Michael A. Patterson and family. A.B.H. was supported by the National Institutes of Health (R01GM110406), and the National Science Foundation (CAREER Award, CHE-1351595). The UltrafleXtreme instrument (MALDI-TOF-TOF) was acquired through National Science Foundation award #1625944. The authors express their deepest gratitude to the Stephenson family: Emmet, Toni, and Tessa for the establishment of the Stephenson Family Personalized Medicine Center, which supports the generation and characterization of the patient-derived organoid biorepository.
They thank Erin Spiller for her efforts in establishing the patient-derived organoid model system in the authors' laboratory.
Copyright information
© American Society for Mass Spectrometry 2017