Unfolding and Folding of the Three-Helix Bundle Protein KIX in the Absence of Solvent
Open Access
Focus: Mass Spectrometry as a Probe of Higher Order Protein Structure: Research Article
Abstract
Electron capture dissociation was used to probe the structure, unfolding, and folding of KIX ions in the gas phase. At energies for vibrational activation that were sufficiently high to cause loss of small molecules such as NH3 and H2O by breaking of covalent bonds in about 5% of the KIX (M + nH)n+ ions with n = 7–9, only partial unfolding was observed, consistent with our previous hypothesis that salt bridges play an important role in stabilizing the native solution fold after transfer into the gas phase. Folding of the partially unfolded ions on a timescale of up to 10 s was observed only for (M + nH)n+ ions with n = 9, but not n = 7 and n = 8, which we attribute to differences in the distribution of charges within the (M + nH)n+ ions.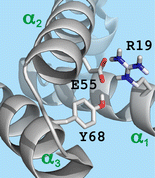 Keywords
Electron capture dissociation 
Gas phase 
Native mass spectrometry 
Protein 
Protein folding 
Notes
Acknowledgments
Funding was provided by the Austrian Science Fund (FWF): Y372 and P27347 to K.B. The authors thank Heidelinde Glasner and Jovana Vusurovic for discussion, and Martin Tollinger and Sarina Grutsch for providing the KIX plasmid.
Copyright information
© The Author(s) 2016
Open Access This article is distributed under the terms of the Creative Commons Attribution 4.0 International License (http://creativecommons.org/licenses/by/4.0/), which permits unrestricted use, distribution, and reproduction in any medium, provided you give appropriate credit to the original author(s) and the source, provide a link to the Creative Commons license, and indicate if changes were made.