Novel isotopic N,N-Dimethyl Leucine (iDiLeu) Reagents Enable Absolute Quantification of Peptides and Proteins Using a Standard Curve Approach
Abstract
Absolute quantification of protein targets using liquid chromatography-mass spectrometry (LC-MS) is a key component of candidate biomarker validation. One popular method combines multiple reaction monitoring (MRM) using a triple quadrupole instrument with stable isotope-labeled standards (SIS) for absolute quantification (AQUA). LC-MRM AQUA assays are sensitive and specific, but they are also expensive because of the cost of synthesizing stable isotope peptide standards. While the chemical modification approach using mass differential tags for relative and absolute quantification (mTRAQ) represents a more economical approach when quantifying large numbers of peptides, these reagents are costly and still suffer from lower throughput because only two concentration values per peptide can be obtained in a single LC-MS run. Here, we have developed and applied a set of five novel mass difference reagents, isotopic N,N-dimethyl leucine (iDiLeu). These labels contain an amine reactive group, triazine ester, are cost effective because of their synthetic simplicity, and have increased throughput compared with previous LC-MS quantification methods by allowing construction of a four-point standard curve in one run. iDiLeu-labeled peptides show remarkably similar retention time shifts, slightly lower energy thresholds for higher-energy collisional dissociation (HCD) fragmentation, and high quantification accuracy for trypsin-digested protein samples (median errors <15%). By spiking in an iDiLeu-labeled neuropeptide, allatostatin, into mouse urine matrix, two quantification methods are validated. The first uses one labeled peptide as an internal standard to normalize labeled peptide peak areas across runs (<19% error), whereas the second enables standard curve creation and analyte quantification in one run (<8% error).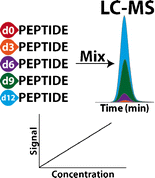 Keywords
Protein/peptide quantification 
iDiLeu 
DiLeu 
Absolute quantification 
Isotopic labeling 
Standard curve 
Dimethylated amino acid 
Notes
Acknowledgments
The authors acknowledge support for this work by the National Institutes of Health grant (1R01DK071801). The Q-Exactive Orbitrap and Orbitrap Elite instruments were purchased through the support of an NIH shared instrument grant (NIH-NCRR S10RR029531). C.B.L. acknowledges an NIH-supported Chemistry Biology Interface Training Program Predoctoral Fellowship grant (T32-GM008505) and an NSF Graduate Research Fellowship (DGE-1256259). L.L. acknowledges a H. I. Romnes Faculty Research Fellowship. The authors also acknowledge the generous gifts of yeast protein extracts from Promega (Madison, WI), mouse urine samples from the Paul Marker group at UW-Madison, and TMT0 reagent from Thermo Fisher (Rockford, IL).
Copyright information
© American Society for Mass Spectrometry 2014