BRAIN 2.0: Time and Memory Complexity Improvements in the Algorithm for Calculating the Isotope Distribution
Open Access
Research Article
Abstract
Recently, an elegant iterative algorithm called BRAIN (Baffling Recursive Algorithm for Isotopic distributioN calculations) was presented. The algorithm is based on the classic polynomial method for calculating aggregated isotope distributions, and it introduces algebraic identities using Newton-Girard and Viète's formulae to solve the problem of polynomial expansion. Due to the iterative nature of the BRAIN method, it is a requirement that the calculations start from the lightest isotope variant. As such, the complexity of BRAIN scales quadratically with the mass of the putative molecule, since it depends on the number of aggregated peaks that need to be calculated. In this manuscript, we suggest two improvements of the algorithm to decrease both time and memory complexity in obtaining the aggregated isotope distribution. We also illustrate a concept to represent the element isotope distribution in a generic manner. This representation allows for omitting the root calculation of the element polynomial required in the original BRAIN method. A generic formulation for the roots is of special interest for higher order element polynomials such that root finding algorithms and its inaccuracies can be avoided.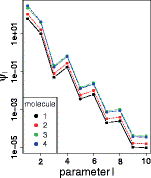 Key words
Isotopic distribution 
Isotopic abundance's ratios 
Mass spectrometry 
Proteomics 
BRAIN algorithm 
Notes
Acknowledgments
This research is supported in part by the Polish National Science Center grant 2011/01/B/NZ2/00864 and by the EU through the European Social Fund, contract number UDAPOKL. 04.01.01-00-072/09-00. D.V. and P.D. gratefully acknowledge the support of the bilateral FWO-PAS grant VS.005.13N/Innovative algorithms to detect protein modifications in mass spectrometry data. P.D. is supported by a START fellowship from the Foundation for Polish Science. D.V. acknowledges the support of the SBO grant InSPECtor (120025) of the Flemish agency for Innovation by Science and Technology (IWT).
The authors declare no competing financial interests.
Copyright information
© The Author(s) 2014
Open Access This article is distributed under the terms of the Creative Commons Attribution License which permits any use, distribution, and reproduction in any medium, provided the original author(s) and the source are credited.