Comparison of the Mahalanobis Distance and Pearson's χ2 Statistic as Measures of Similarity of Isotope Patterns
Abstract
To extract a genuine peptide signal from a mass spectrum, an observed series of peaks at a particular mass can be compared with the isotope distribution expected for a peptide of that mass. To decide whether the observed series of peaks is similar to the isotope distribution, a similarity measure is needed. In this short communication, we investigate whether the Mahalanobis distance could be an alternative measure for the commonly employed Pearson's χ2 statistic. We evaluate the performance of the two measures by using a controlled MALDI-TOF experiment. The results indicate that Pearson's χ2 statistic has better discriminatory performance than the Mahalanobis distance and is a more robust measure.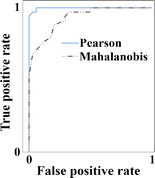 Key words
Similarity statistics 
Isotope distributions 
Mass spectral data interpretation 
Bioinformatics 
Mahalanobis distance 
Notes
Acknowledgments
D.V. acknowledges the support of the SBO grant 'InSPECtor' (120025) of the Flemish agency for Innovation by Science and Technology (IWT).
Copyright information
© American Society for Mass Spectrometry 2013