Analysis of Overlapped and Noisy Hydrogen/Deuterium Exchange Mass Spectra
Abstract
Noisy and overlapped mass spectrometry data hinder the sequence coverage that can be obtained from hydrogen deuterium exchange analysis, and places a limit on the complexity of the samples that can be studied by this technique. Advances in instrumentation have addressed these limits, but as the complexity of the biological samples under investigation increases, these problems are re-encountered. Here we describe the use of binomial distribution fitting with asymmetric linear squares regression for calculating the accurate deuterium content for mass envelopes of low signal or that contain significant overlap. The approach is demonstrated with a test data set of HIV Env gp140 wherein inclusion of the new analysis regime resulted in obtaining exchange data for 42 additional peptides, improving the sequence coverage by 11 %. At the same time, the precision of deuterium uptake measurements was improved for nearly every peptide examined. The improved processing algorithms also provide an efficient method for deconvolution of bimodal mass envelopes and EX1 kinetic signatures. All these functions and visualization tools have been implemented in the new version of the freely available software, HX-Express v2.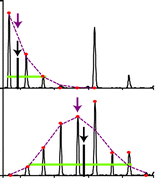 Key words
H/D exchange 
Overlap 
Bimodal 
Deconvolution 
Deuterium 
Conformational dynamics 
Binomial 
Notes
Acknowledgments
The authors thank Jamie R. Williamson and Ryan S. Littlefield for insightful discussion and assistance with programming. Members of the Lee and Engen laboratories are acknowledged for their help in testing and debugging HX-Express v2. This work was supported by NIH grants F32-GM097805 (M.G.), R00-GM080352 and R01-GM099989 (K.K.L.), and R01-GM086507 and R01-GM101135 (J.R.E.).
Copyright information
© American Society for Mass Spectrometry 2013