NCO–, a Key Fragment Upon Dissociative Electron Attachment and Electron Transfer to Pyrimidine Bases: Site Selectivity for a Slow Decay Process
Abstract
We report gas phase studies on NCO– fragment formation from the nucleobases thymine and uracil and their N-site methylated derivatives upon dissociative electron attachment (DEA) and through electron transfer in potassium collisions. For comparison, the NCO– production in metastable decay of the nucleobases after deprotonation in matrix assisted laser desorption/ionization (MALDI) is also reported. We show that the delayed fragmentation of the dehydrogenated closed-shell anion into NCO– upon DEA proceeds few microseconds after the electron attachment process, indicating a rather slow unimolecular decomposition. Utilizing partially methylated thymine, we demonstrate that the remarkable site selectivity of the initial hydrogen loss as a function of the electron energy is preserved in the prompt as well as the metastable NCO– formation in DEA. Site selectivity in the NCO– yield is also pronounced after deprotonation in MALDI, though distinctly different from that observed in DEA. This is discussed in terms of the different electronic states subjected to metastable decay in these experiments. In potassium collisions with 1- and 3-methylthymine and 1- and 3-methyluracil, the dominant fragment is the NCO– ion and the branching ratios as a function of the collision energy show evidence of extraordinary site-selectivity in the reactions yielding its formation.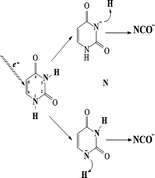 Key words
NCO anion 
Electron transfer 
Negative ion formation 
Metastable decay 
DEA 
Collision dynamics 
Matrix assisted laser desorption/ionization (MALDI) 
Notes
Acknowledgments
The authors acknowledge support for this work from the FWF, Wien (P-22665) and the European Commission, Brussels. F.F.S. and D.A. acknowledge the Portuguese Foundation for Science and Technology (FCT-MEC) for post-doctoral and post-graduate scholarships SFRH/BPD/68979/2010 and SFRH/BD/61645/2009, respectively. D.A. together with P.L.-V. acknowledge the PEst-OE/FIS/UI0068/2011 and PTDC/FIS-ATO/1832/2012 grants. O.I. acknowledges support from the Icelandic Centre for Research (RANNIS) and the Research Fund of the University of Iceland, and H.D.F. acknowledges a Ph.D. grant from the Eimskip University Fund. G.G. acknowledges support from the Spanish Ministerio de Economia y Productividad (Project FIS2009-10245). This work also forms a part of the EU/ESF COST Actions Electron Controlled Chemical Lithography (ECCL) CM0601, The Chemical Cosmos CM0805, and the Nanoscale Insights into Ion Beam Cancer Therapy (Nano-IBCT) MP1002.
Copyright information
© American Society for Mass Spectrometry 2013