An Efficient and Inexpensive Refrigerated LC System for H/D Exchange Mass Spectrometry
Abstract
Loss of deuterium label during the LC step in amide hydrogen/deuterium exchange mass spectrometry (H/D-MS) is minimized by maintaining an acidic mobile phase pH and low temperature (pH 2.5, 0 °C). Here we detail the construction and performance of a low-cost, thermoelectrically refrigerated enclosure to house high-performance liquid chromatography (HPLC) components and cool mobile phases. Small volume heat exchangers rapidly decrease mobile phase temperature and keep the temperature stable to ±0.2 °C. Using a superficially porous reversed-phase column, we obtained excellent chromatographic performance in the separation of peptides with a median peak width of 4.4 s. Average deuterium recovery was 80.2% with an average relative precision of 0.91%.
Key words
H/D exchange 
Back-exchange 
Refrigeration 
Amide hydrogen/deuterium exchange 
1

Introduction

Hydrogen/deuterium exchange mass spectrometry (H/D-MS) has become widespread in studying protein conformation and dynamics in solution [1]. Deuterium uptake information can be localized using digestion of deuterated proteins with acid-tolerant proteases followed by LC separation [2]. H/D exchange is initiated by dilution of protein into D2O and quenched by mixing samples with acid to decrease pH to ~2.5. Unfortunately, once the reaction has been quenched, the deuterium label slowly back-exchanges with solvent hydrogen [3]. Immediate and stable cooling is necessary to slow the rate of back-exchange during a short LC run. A typical approach is to immerse all LC components in an ice/water [3] or temperature-controlled water bath [4]. Baths are inexpensive and offer efficient cooling of LC components. However, troubleshooting leaks is nearly impossible and water can damage submerged components. Baths also pose the risk of spills or leaks into the LC/MS. Hence, iceless cooling systems for refrigerated high-performance liquid chromatography (HPLC) have been developed for H/D-MS [5, 6, 7]. In our lab, conventional refrigerators had unacceptable variation in temperature, typically at 4 ± 2 °C, and long re-equilibration when solvent reservoirs were refilled. Furthermore, even with forced-air convection, cooling is inefficient since heat must be transferred from the mobile phase to the LC components and then dissipated into the air. A system featuring direct mobile phase cooling using thermoelectrically-cooled mobile phase heat exchangers could only reach 4 °C and suffered from long gradient delays [7]. A thermal chamber to cool the HPLC components to 1.25 °C has been reported, but little detail was provided [5]. A ultra performance liquid chromatography (UHPLC) system, designed specifically for the Waters nanoAcquity, has also been reported but requires specialized LC pumps and bulky water chillers for heat dissipation [6].

Here, we detail the performance of a compact "all-in-one" refrigerated unit. The system features an internal protease column oven to enhance digestion efficiency. The unit is constructed from off-the-shelf components, requires minimal specialized assembly, and has a small footprint. A novel single valve design simplifies sample injection and HPLC separation procedures. We also provide an empirical demonstration of cooling efficiency, chromatographic performance, and deuterium recovery.
2

Experimental
2.1

Temperature Measurements

To protect the thermocouple from solvent damage, neat water was used for all temperature measurements. Under our conditions, the differences in the thermal properties of different LC solvents are negligible (see Supplementary Material). Fluid temperature was measured by diverting flow through a short piece of PEEK tubing at various points. An insulated thermocouple was fed into the open end of the PEEK tubing. Water from this deliberate leak was collected in a beaker. Air temperature was measured with a bare junction thermocouple. Both thermocouples were calibrated against melting ice using a single-point offset correction. Additional details are in the Supplementary Material.
2.2

H/D Exchange

To ensure complete deuteration, peptic peptides were prepared by digesting myoglobin with pepsin

before

labeling [

8

]. Five μL aliquots of myoglobin peptides or angiotensin I were deuterated with 95 μL of deuteration buffer (10 mM phosphate, 50 mM sodium chloride, pH 6.9). Exchange was quenched after at least 89 min with 100 μL of ice-cold 200 mM sodium phosphate (pH 2.6). To maximize reproducibility, quenched samples were loaded into the 100 μL sample loop (Fig. 

1

) 60 s after quench followed by sample injection after an additional 30 s. Nineteen-fold dilution with D

2

O gives a maximum possible deuteration of 95%. Our deuteration values were normalized as a percentage of this maximum (Table 

1

). Fully deuterated angiotensin I was prepared as described above except it was not digested with pepsin.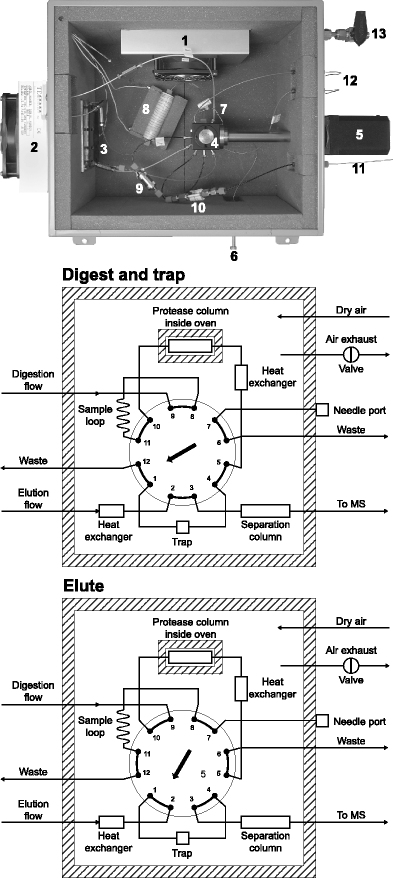 Table 1
Deuterium recovery for deuterated peptides
Peptidea

Sequence

Average deuterated mass

Theoretical undeuterated mass

Mass Increase

Precision

Exchangeable

Deuteration

Peak widthf

(Da)b

(Da)

(Da)c

RSD (%)d

amide He

(%)

(s)

1–7

GLSDGEW

766.82 ± 0.05

762.76

4.06

1.2

5

85.4

3.56 ± 0.03

8–13

QQVLNV

703.51 ± 0.02

699.80

3.71

0.66

4

97.7

3.76 ± 0.03

8–29

QQVLNVWGKVEADIAGHGQEVL

2407.27 ± 0.16

2390.65

16.62

0.93

20

87.5

5.78 ± 0.25

14–29

WGKVEADIAGHGQEVL

1719.69 ± 0.10

1708.87

10.82

0.94

14

81.3

4.38 ± 0.06

56–69

KASEDLKKHGTVVL

1533.16 ± 0.10

1524.76

8.40

1.2

12

73.7

7.48 ± 0.54

84–96

AELKPLAQSHATK

1400.95 ± 0.08

1393.59

7.36

1.0

10

77.5

4.44 ± 0.16

110–134

AIIHVLHSKHPGDFGADAQGAMTKA

2586.11 ± 0.12

2572.90

13.21

0.88

22

63.2

4.18 ± 0.28

125–139

ADAQGAMTKALELFR

1631.09 ± 0.07

1621.86

9.23

0.77

13

74.7

6.12 ± 0.31

137–153

LFRNDIAAKYKELGFQG

1981.75 ± 0.08

1970.23

11.52

0.67

15

80.9

4.56 ± 0.12

Mean

0.91

 

80.2

 

Angiotensin Ig

DRVYIHPFHL

1301.24 ± 0.02

1296.48

4.76

0.34

7

71.7

 

Angiotensin Ih

DRVYIHPFHL

1301.16 ± 0.02

1296.48

4.69

0.44

7

70.5

 
A detailed description of the construction of the refrigerated enclosure and all other experimental details can be found in the Supplementary Material.
4

Conclusions

We have constructed an inexpensive refrigerated system and evaluated its performance for H/D-MS. The temperatures of the mobile phases were directly measured to validate the effectiveness of cooling, something that has not been previously reported. Small volume heat exchangers efficiently cooled the mobile phases, allowing gradients to be formed at room temperature. This efficiency eliminates the need for large dwell volume for cooling that can delay or broaden gradients, a significant advantage when many samples need to be run in succession. Efficient and stable cooling of the system resulted in excellent deuterium recovery and reproducibility. Use of a superficially porous reversed-phase column gave excellent chromatographic results with short gradients under quenched conditions (pH 2.5, 0 °C) without the need for ultra-high pressures. Finally, our refrigerated LC system can be readily interfaced with any LC/MS system since only simple contact closures are required to drive valve actuation.
Notes
Acknowledgments
The authors acknowledge financial support for this project provided by the University of Kansas. The authors thank David Scott for efforts to develop a prototype system based on a domestic refrigerator. Anthony Ziegler and Andrew Gieschen of Agilent Technologies provided technical advice on heat exchangers. Allan Hase, Danny Michael, Ash Shadrick, and Jeff Worth contributed to construction.
Copyright information
© American Society for Mass Spectrometry 2011