Abstract
A new tracksite located in the Mesozoic autochthonous series covering the Aiguilles Rouges Massif, circa 7 km to the NNE of the tracksite of the Vieux Emosson, is briefly described. The trampled bed is most likely coeval with the outcrop in the Vieux Emosson area. Two poorly preserved quadrupedal trackways, almost parallel, measure 9.8 and 8 m in length, respectively. They are referred to the Chirotheriidae ABEL, 1835 form-family. A short and well-preserved quadrupedal trackway, composed of two manus-pes couples, is assigned to Chirotherium cf. barthii KAUP, 1835. A reinterpretation of the Vieux Emosson ichnotaxa reveals that most tracks, if not all, belong to indeterminate chirotheriid and that no clear evidence of dinosaur footprints is observed. The trampled bed of the cover of the Aiguilles Rouges Massif probably forms a megatracksite, which is Early or Middle Triassic in age.
This is a preview of subscription content, log in to check access.
Access options
Buy single article
Instant access to the full article PDF.
US$ 39.95
Price includes VAT for USA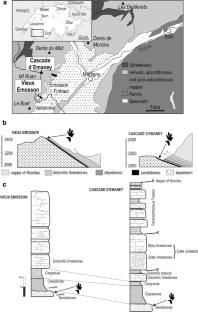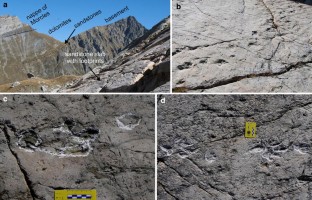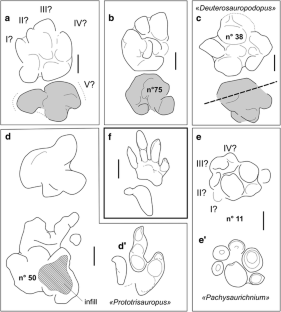 References
Amberger, G. F. (1960). L'autochtone de la partie nord-ouest du massif des Aiguilles-Rouges (Haute-Savoie et Valais). Unpublished PhD Thesis, University of Geneva, 103 pp.

Avanzini, M., & Cavin, L. (2009). A new Isochirotherium trackway from the Triassic of Vieux Emosson, SW Switzerland: Stratigraphic implications. Swiss Journal of Geosciences, 102, 353–361.

Bronner, G., & Demathieu, G. (1977). Premières traces de reptiles archosauriens dans le Trias autochtone des Aiguilles Rouges (Col des Corbeaux, Vieil Emosson, Valais, Suisse). Conséquences paléogéographiques et chronostratigraphiques. Comptes Rendus Académie des Sciences (Paris), 285(D), 649–652.

Burri, M. (2008). Balade géologique à Salanfe. Auberge de Salanfe (Ed.), 21 pp.

Demathieu, G., & Demathieu, P. (2004). Chirotheria and other ichnotaxa of the European Triassic. Ichnos, 11, 79–88.

Demathieu, G., & Weidmann, M. (1982). Les empreintes de pas de reptiles dans le Trias du Vieux Emosson (Finhaut, Valais, Suisse). Eclogae Geologicae Helvetiae, 75, 721–757.

Feldmann, M., & Furrer, H. (2009). Die Saurierspuren am Tödi und ihre geologische Umgebung. In: Naturforschende Gesellschaft des Kantons Glarus, NGG. Obersand 2008—Sommer der alpinen Artenvielfalt. Glarus, pp. 28–37.

Haubold, H. (1971a). Die Tetrapodenfahrten des Buntsandsteins in der Deutschen Demokratischen Republik und in Westdeutschland und ihre aquivalente in gesamten Trias. Paläontologische Abhandlungen, Berlin, 4, 397–548.

Haubold, H. (1971b). Ichnia, Amphibiorum et Reptiliorum Fossilium. Handbuck der Paläoherpetologie, part. 18 (p. 124). Stuttgart: Fischer.

Haubold, H. (2006). Die Saurierfährten Chirotherium barthii KAUP, 1835—das Typusmaterial aus dem Buntsandstein bei Hildburghausen/Thüringen und das Chirotherium-Monument. Veröffentlichungen Naturhistorisches Museum Schleusingen, 21, 3–31.

Hunt, A. P., & Lucas, S. G. (2006). Triassic-Jurassic tetrapod ichnofacies. New Mexico Museum of Natural History and Science Bulletin, 37, 12–22.

Hunt, A. P., & Lucas, S. G. (2007). The Triassic tetrapod track record: Ichnofaunas, ichnofacies and biochronology. New Mexico Museum of Natural History and Science Bulletin, 41, 78–87.

King, M. J., & Benton, M. J. (1996). Dinosaurs in the Early and Mid Triassic?—The footprint evidence from Britain. Palaeogeography, Palaeoclimatology, Palaeoecology, 122, 213–225.

King, M. J., Sarjeant, W. A. S., Thompson, D. B., & Tresise, G. (2005). A revised systematic ichnotaxonomy and review of the vertebrate footprint ichnofamily Chirotheriidae from the British Triassic. Ichnos, 12, 241–299.

Klein, H., & Haubold, H. (2003). Differenzierung von ausgewählten Chirotherien der Trias mittels Landmarkanalyse. Hallesches Jahrbuch für Geowissenschaften, B 25, 21–36.

Lockley, M. G., & Hunt, A. P. (1999). Dinosaur tracks and other fossil footprints of the Western United States. New York: Columbia University Press.

Lockley, M. G., & Meyer, C. A. (2000). Dinosaur tracks and other fossil footprints of Europe. New York: Columbia University Press.

Lucas, S. G. (2007). Tetrapod footprint biostratigraphy and biochronology. Ichnos, 14, 5–38.

Meyer, C. A., & Thüring, B. (2003). Dinosaurs of Switzerland. Comptes Rendus Palevol, 2, 103–117.
Acknowledgments
We thank Philippe Wagneur (MHNG) for photographs of Fig. 2a, b and for photographic work for preparing the maps. MA and MB were supported by the Promotion of Educational Policies, University and Research Department of the Autonomous Province of Bolzano-South Tyrol as part of the project "The Permian–Triassic ecological crisis in the Dolomites: extinction and recovery dynamics in Terrestrial Ecosystems". We are grateful to the editor of the SJPO, Loïc Costeur, as well as to Matteo Belvedere and an anonymous referee for their quick and thorough reviews of this article.
About this article
Cite this article
Cavin, L., Avanzini, M., Bernardi, M. et al. New vertebrate trackways from the autochthonous cover of the Aiguilles Rouges Massif and reevaluation of the dinosaur record in the Valais, SW Switzerland. Swiss J Palaeontol 131, 317–324 (2012). https://doi.org/10.1007/s13358-012-0040-0
Received:

Accepted:

Published:

Issue Date:
Keywords
Chirotheriidae

Mesozoic

Alps

Megatracksite

Chirotherium cf. barthii