Thermo-reversible in situ forming implant with nanostructured lipid carriers (NLC) as a delivery system for the administration of estradiol valerate
Abstract
A thermo-reversible in situ forming implant, based on the combination of Pluronic® F-127 and Pluronic® F-68 with nanostructured lipid carriers (NLC), was formulated with the aim of achieving the sustained release of estradiol valerate (EV). EV-loaded NLC, prepared by the hot high-pressure homogenization technique, presented an entrapment efficiency of 90 ± 2.9 %, a particle size (PS) of 122 ± 11.2 nm, a polydispersity index (PDI) of 0.344 ± 0.07, and a zeta potential (ZP) of − 10.5 ± 1.3 mV. Once obtained, NLC were then included in a thermo-reversible gel (EV-loaded NLC gel), which was characterized by its rheological behavior, gelation temperature, and injectability. The in vitro release tests showed that the EV-loaded NLC gel delayed the release significantly, in comparison with a solution of the drug and with the EV-loaded NLC. The EV-loaded NLC gel and a commercially available suspension containing estradiol were administered parenterally to rabbits. A 16.8-fold greater AUC and a 40-fold higher Cmax were obtained with the EV-loaded NLC gel, compared to the commercial suspension. A rapid initial release of EV in vivo, from the EV-loaded NLC gel, suggests that it is necessary to adjust the ratio of the copolymers or to include in the gel an additive that improves gelation time and gel strength, in order to achieve a sustained release. An interesting observation was that the in vitro profile, which has a three-phase behavior, coincides with what was observed in the in vivo study.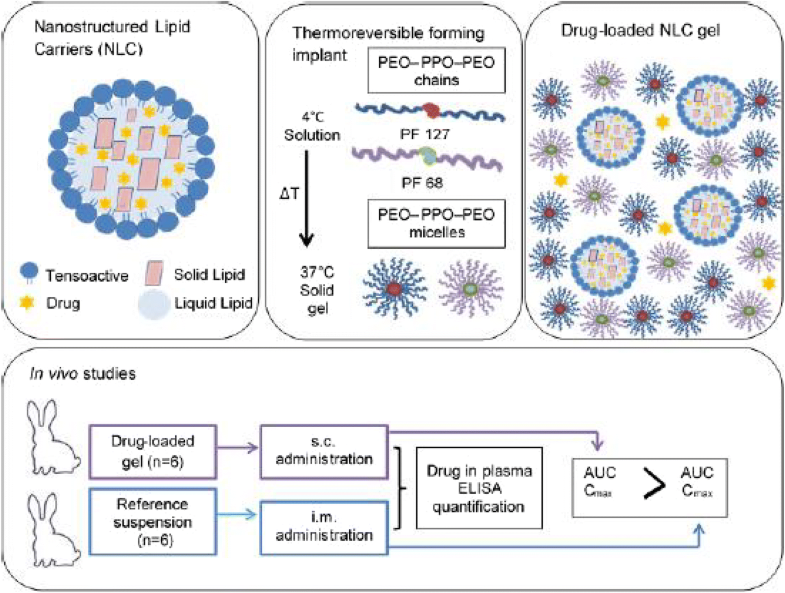 Keywords
Estradiol valerate 
Nanostructured lipid carriers 
Thermo-reversible 
Hormone, replacement therapy 
Pluronic 
Notes
Funding information
The authors are grateful for the financial support provided by CONACyT (Mexico), PIAPI/UNAM (Ref. 1803), and PAPIIT/UNAM (Ref. IN226119). Likewise, they want to thank Dr. Gabriel Araujo-Silva for their excellent assistance with rabbit work.
Compliance with ethical standards
Conflict of interest
The authors declare that they have no conflict of interest.
Ethical standards
The experiments comply with the current laws of the country in which they were performed.
Animal studies
"All institutional and national guidelines for the care and use of laboratory animals were followed."
Copyright information
© Controlled Release Society 2020