Abstract
Antimicrotubulin chemotherapeutic agents, including plant-derived vincaalkaloids such as vincristine, can cause peripheral neuropathic pain. Exogenously activated heme oxygenase 1 (HO-1) is a potential therapy for chemotherapy-induced neuroinflammation. In this study, we investigated a role for Nrf2/HO-1/CO in mediating vincristine-induced neuroinflammation by inhibiting connexin 43 (Cx43) production in the spinal cord following the intrathecal application of the HO-1 inducer protoporphyrin IX cobalt chloride (CoPP) or inhibitor protoporphyrin IX zinc (ZnPP), and we analyzed the underlying mechanisms by which levo-corydalmine (l-CDL, a tetrahydroprotoberberine) attenuates vincristine-induced pain. Treatment with levo-corydalmine or oxycodone hydrochloride (a semisynthetic opioid analgesic, used as a positive control) attenuated vincristine-induced persistent pain hypersensitivity and degeneration of the sciatic nerve. In addition, the increased prevalence of atypical mitochondria induced by vincristine was ameliorated by l-CDL in both A-fibers and C-fibers. Next, we evaluated whether nuclear factor E2-related factor 2 (Nrf2), an upstream activator of HO-1, directly bound to the HO-1 promoter sequence and degraded heme to produce carbon monoxide (CO) following stimulation with vincristine. Notably, l-CDL dose-dependently increased HO-1/CO expression by activating Nrf2 to inhibit Cx43 expression in both the spinal cord and in cultured astrocytes stimulated with TNF-α, corresponding to decreased Cx43-mediated hemichannel. Furthermore, l-CDL had no effect on Cx43 following the silencing of the HO-1 gene. Taken together, our findings reveal a novel mechanism by which Nrf2/HO-1/CO mediates Cx43 expression in vincristine-induced neuropathic pain. In addition, the present findings suggest that l-CDL likely protects against nerve damage and attenuates vincristine-induced neuroinflammation by upregulating Nrf2/HO-1/CO to inhibit Cx43 expression.
This is a preview of subscription content, log in to check access.
Access options
Buy single article
Instant access to the full article PDF.
US$ 39.95
Price includes VAT for USA
Subscribe to journal
Immediate online access to all issues from 2019. Subscription will auto renew annually.
US$ 99
This is the net price. Taxes to be calculated in checkout.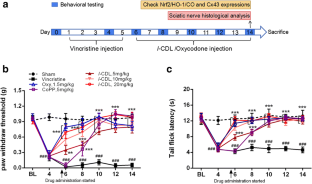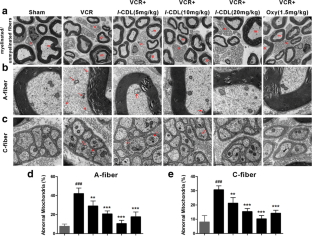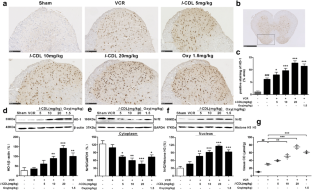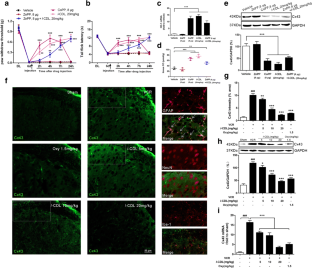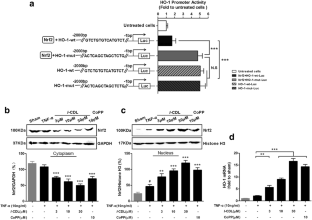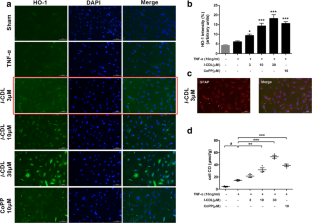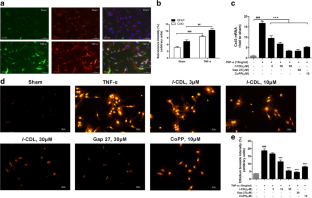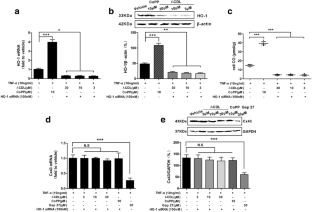 Abbreviations
l-CDL:

Levo-corydalmine

l-THP:

Levo-tetrahydropalmatine

Oxy:

Oxycodone

VCR:

Vincristine

HO-1:

Heme oxygenase 1

Nrf2:

Nuclear factor E2-related factor 2

CO:

Carbon monoxide

Cx43:

Connexin 43

CoPP:

Protoporphyrin IX cobalt chloride

ZnPP:

Protoporphyrin IX zinc

GFAP:

Glial fibrillary acidic protein

PBS:

Phosphate-buffered saline

DMSO:

Dimethyl sulfoxide

SDS-PAGE:

Sodium dodecyl sulfate polyacrylamide gel electrophoresis

VINP:

Vincristine-induced neuropathic pain

CINP:

Chemotherapy-induced neuropathic pain

siRNA:

Small interfering RNA

DMEM:

Dulbecco's Modified Eagle's medium

RT-qPCR:

Real-time quantitative polymerase chain reaction

ELISA:

Enzyme-linked immunosorbent assay
References
1.

Bessaguet F, Danigo A, Bouchenaki H et al. Neuroprotective effect of angiotensin II type 2 receptor stimulation in vincristine-induced mechanical allodynia. Pain 2018;159(12):2538–46.

2.

Wang Y, Cao SE, Tian J et al. Auraptenol attenuates vincristine-induced mechanical hyperalgesia through serotonin 5-HT1A receptors. Sci Rep 2013;3:3377.

3.

Mora E, Smith EM, Donohoe C, Hertz DL. Vincristine-induced peripheral neuropathy in pediatric cancer patients. Am J Cancer Res 2016;6(11):2416–30.

4.

Jackson DV, Jr., Castle MC, Poplack DG, Bender RA. Pharmacokinetics of vincristine in the cerebrospinal fluid of subhuman primates. Cancer Res 1980;40(3):722–4.

5.

Geisler S, Doan RA, Strickland A et al. Prevention of vincristine-induced peripheral neuropathy by genetic deletion of SARM1 in mice. Brain 2016;139(Pt 12):3092–108.

6.

Miltenburg NC, Boogerd W, . Chemotherapy-induced neuropathy: A comprehensive survey. Cancer Treat Rev 2014;40(7):872–82.

7.

Djaldetti R, Hart J, Alexandrova S et al. Vincristine-induced alterations in Schwann cells of mouse peripheral nerve. Am J Hematol 1996;52(4):254–7.

8.

Xiao WH, Bennett GJ. Effects of mitochondrial poisons on the neuropathic pain produced by the chemotherapeutic agents, paclitaxel and oxaliplatin. Pain 2012;153(3):704–9.

9.

Guo Z, Man Y, Wang X et al. Levo-tetrahydropalmatine attenuates oxaliplatin-induced mechanical hyperalgesia in mice. Sci Rep 2014;4:3905.

10.

Watson CP, Babul N. Efficacy of oxycodone in neuropathic pain: a randomized trial in postherpetic neuralgia. Neurology 1998;50(6):1837–41.

11.

Watson CP, Moulin D, Watt-Watson J, Gordon A, Eisenhoffer J. Controlled-release oxycodone relieves neuropathic pain: a randomized controlled trial in painful diabetic neuropathy. Pain 2003;105(1–2):71–8.

12.

Abraham NG, Kappas A. Pharmacological and clinical aspects of heme oxygenase. Pharmacol Rev 2008;60(1):79–127.

13.

Shen Y, Zhang ZJ, Zhu MD et al. Exogenous induction of HO-1 alleviates vincristine-induced neuropathic pain by reducing spinal glial activation in mice. Neurobiol Dis 2015;79:100–10.

14.

Syapin PJ. Regulation of haeme oxygenase-1 for treatment of neuroinflammation and brain disorders. Br J Pharmacol 2008;155(5):623–40.

15.

Ferrandiz ML, Nacher-Juan J, Alcaraz MJ. Nrf2 as a therapeutic target for rheumatic diseases. Biochem Pharmacol 2018;152:338–46.

16.

Piantadosi CA, Carraway MS, Babiker A, Suliman HB. Heme oxygenase-1 regulates cardiac mitochondrial biogenesis via Nrf2-mediated transcriptional control of nuclear respiratory factor-1. Circ Res 2008;103(11):1232–40.

17.

Hervera A, Leanez S, Motterlini R, Pol O. Treatment with carbon monoxide-releasing molecules and an HO-1 inducer enhances the effects and expression of micro-opioid receptors during neuropathic pain. Anesthesiology 2013;118(5):1180–97.

18.

León-Paravic CG, Figueroa VA, Guzmán DJ et al. Carbon Monoxide (CO) Is a Novel Inhibitor of Connexin Hemichannels. J Biol Chem 2014;289(52):36150–57.

19.

Bennett MV, Garre JM, Orellana JA et al. Connexin and pannexin hemichannels in inflammatory responses of glia and neurons. Brain Res 2012;1487:3–15.

20.

Morioka N, Fujii S, Kondo S et al. Downregulation of spinal astrocytic connexin43 leads to upregulation of interleukin-6 and cyclooxygenase-2 and mechanical hypersensitivity in mice. Glia 2018;66(2):428–44.

21.

Chen MJ, Kress B, Han X et al. Astrocytic CX43 hemichannels and gap junctions play a crucial role in development of chronic neuropathic pain following spinal cord injury. Glia 2012;60(11):1660–70.

22.

Chen G, Park CK, Xie RG et al. Connexin-43 induces chemokine release from spinal cord astrocytes to maintain late-phase neuropathic pain in mice. Brain 2014;137(Pt 8):2193–209.

23.

Zhou L, Hu Y, Li C et al. Levo-corydalmine alleviates vincristine-induced neuropathic pain in mice by inhibiting an NF-kappa B-dependent CXCL1/CXCR2 signaling pathway. Neuropharmacology 2018;135:34–47.

24.

Hu Y, Kodithuwakku ND, Zhou L et al. Levo-Corydalmine Alleviates Neuropathic Cancer Pain Induced by Tumor Compression via the CCL2/CCR2 Pathway. Molecules 2017;22(6)

25.

Wu XF, Liu WT, Liu YP et al. Reopening of ATP-sensitive potassium channels reduces neuropathic pain and regulates astroglial gap junctions in the rat spinal cord. Pain 2011;152(11):2605–15.

26.

Dixon WJ. Efficient analysis of experimental observations. Annu Rev Pharmacol Toxicol 1980;20:441–62.

27.

McRoberts JA, Ennes HS, Marvizon JC et al. Selective knockdown of NMDA receptors in primary afferent neurons decreases pain during phase 2 of the formalin test. Neuroscience 2011;172:474–82.

28.

Wei XH, Yang T, Wu Q et al. Peri-sciatic administration of recombinant rat IL-1beta induces mechanical allodynia by activation of src-family kinases in spinal microglia in rats. Exp Neurol 2012;234(2):389–97.

29.

Jin HW, Flatters SJ, Xiao WH, Mulhern HL, Bennett GJ. Prevention of paclitaxel-evoked painful peripheral neuropathy by acetyl-L-carnitine: effects on axonal mitochondria, sensory nerve fiber terminal arbors, and cutaneous Langerhans cells. Exp Neurol 2008;210(1):229–37.

30.

Gao YJ, Zhang L, Samad OA et al. JNK-induced MCP-1 production in spinal cord astrocytes contributes to central sensitization and neuropathic pain. J Neurosci 2009;29(13):4096–108.

31.

Xu ZZ, Liu XJ, Berta T et al. Neuroprotectin/protectin D1 protects against neuropathic pain in mice after nerve trauma. Ann Neurol 2013;74(3):490–5.

32.

Dai WL, Yan B, Jiang N et al. Simultaneous inhibition of NMDA and mGlu1/5 receptors by levo-corydalmine in rat spinal cord attenuates bone cancer pain. Int J Cancer 2017;141(4):805–15.

33.

Thibault K, Calvino B, Rivals I et al. Molecular mechanisms underlying the enhanced analgesic effect of oxycodone compared to morphine in chemotherapy-induced neuropathic pain. PLoS One 2014;9(3):e91297.

34.

Cartoni C, Brunetti GA, Federico V et al. Controlled-release oxycodone for the treatment of bortezomib-induced neuropathic pain in patients with multiple myeloma. Support Care Cancer 2012;20(10):2621–6.

35.

Jaggi AS, Singh N. Analgesic potential of intrathecal farnesyl thiosalicylic acid and GW 5074 in vincristine-induced neuropathic pain in rats. Food Chem Toxicol 2012;50(5):1295–301.

36.

Boehmerle W, Huehnchen P, Peruzzaro S, Balkaya M, Endres M. Electrophysiological, behavioral and histological characterization of paclitaxel, cisplatin, vincristine and bortezomib-induced neuropathy in C57Bl/6 mice. Sci Rep 2014;4:6370.

37.

Topp KS, Tanner KD, Levine JD. Damage to the cytoskeleton of large diameter sensory neurons and myelinated axons in vincristine-induced painful peripheral neuropathy in the rat. J Comp Neurol 2000;424(4):563–76.

38.

Tanner KD, Levine JD, Topp KS. Microtubule disorientation and axonal swelling in unmyelinated sensory axons during vincristine-induced painful neuropathy in rat. J Comp Neurol 1998;395(4):481–92.

39.

Xiao WH, Bennett GJ. Chemotherapy-evoked neuropathic pain: Abnormal spontaneous discharge in A-fiber and C-fiber primary afferent neurons and its suppression by acetyl-L-carnitine. Pain 2008;135(3):262–70.

40.

Cata JP, Weng HR, Chen JH, Dougherty PM. Altered discharges of spinal wide dynamic range neurons and down-regulation of glutamate transporter expression in rats with paclitaxel-induced hyperalgesia. Neuroscience 2006;138(1):329–38.

41.

Zheng H, Xiao WH, Bennett GJ. Mitotoxicity and bortezomib-induced chronic painful peripheral neuropathy. Exp Neurol 2012;238(2):225–34.

42.

Flatters SJ, Bennett GJ. Studies of peripheral sensory nerves in paclitaxel-induced painful peripheral neuropathy: evidence for mitochondrial dysfunction. Pain 2006;122(3):245–57.

43.

Bijjem KR, Padi SS, lal Sharma P. Pharmacological activation of heme oxygenase (HO)-1/carbon monoxide pathway prevents the development of peripheral neuropathic pain in Wistar rats. Naunyn Schmiedeberg's Arch Pharmacol 2013;386(1):79–90.

44.

Hervera A, Leanez S, Negrete R, Motterlini R, Pol O. Carbon monoxide reduces neuropathic pain and spinal microglial activation by inhibiting nitric oxide synthesis in mice. PLoS One 2012;7(8):e43693.

45.

Tian Y, Li Z, Shen B, Zhang Q, Feng H. Protective effects of morin on lipopolysaccharide/d-galactosamine-induced acute liver injury by inhibiting TLR4/NF-kappaB and activating Nrf2/HO-1 signaling pathways. Int Immunopharmacol 2017;45:148–55.

46.

Shan Y, Lambrecht RW, Donohue SE, Bonkovsky HL. Role of Bach1 and Nrf2 in up-regulation of the heme oxygenase-1 gene by cobalt protoporphyrin. FASEB J 2006;20(14):2651–3.

47.

Negi G, Kumar A, Sharma SS. Nrf2 and NF-kappaB modulation by sulforaphane counteracts multiple manifestations of diabetic neuropathy in rats and high glucose-induced changes. Curr Neurovasc Res 2011;8(4):294–304.

48.

Ganesh Yerra V, Negi G, Sharma SS, Kumar A. Potential therapeutic effects of the simultaneous targeting of the Nrf2 and NF-kappaB pathways in diabetic neuropathy. Redox Biol 2013;1:394–7.

49.

Negrete R, Hervera A, Leanez S, Pol O. Treatment with a carbon monoxide-releasing molecule inhibits chronic inflammatory pain in mice: nitric oxide contribution. Psychopharmacology 2014;231(5):853–61.

50.

Castany S, Carcole M, Leanez S, Pol O. The role of carbon monoxide on the anti-nociceptive effects and expression of cannabinoid 2 receptors during painful diabetic neuropathy in mice. Psychopharmacology 2016;233(11):2209–19.

51.

Chen Y, Chen H, Xie K et al. H2 Treatment Attenuated Pain Behavior and Cytokine Release Through the HO-1/CO Pathway in a Rat Model of Neuropathic Pain. Inflammation 2015;38(5):1835–46.

52.

Lakkisto P, Csonka C, Fodor G et al. The heme oxygenase inducer hemin protects against cardiac dysfunction and ventricular fibrillation in ischaemic/reperfused rat hearts: role of connexin 43. Scand J Clin Lab Invest 2009;69(2):209–18.

53.

Wang H, Sun X. Carbon Monoxide-Releasing Molecule-2 Inhibits Connexin 43-Hemichannel Activity in Spinal Cord Astrocytes to Attenuate Neuropathic Pain. J Mol Neurosci 2017;63(1):58–69.

54.

Yang H, Yan H, Li X et al. Inhibition of Connexin 43 and Phosphorylated NR2B in Spinal Astrocytes Attenuates Bone Cancer Pain in Mice. Front Cell Neurosci 2018;12:129.

55.

Tonkin RS, Bowles C, Perera CJ et al. Attenuation of mechanical pain hypersensitivity by treatment with Peptide5, a connexin-43 mimetic peptide, involves inhibition of NLRP3 inflammasome in nerve-injured mice. Exp Neurol 2018;300:1–12.

56.

Yoon SY, Robinson CR, Zhang H, Dougherty PM. Spinal astrocyte gap junctions contribute to oxaliplatin-induced mechanical hypersensitivity. J Pain 2013;14(2):205–14.

57.

Morioka N, Zhang FF, Nakamura Y et al. Tumor necrosis factor-mediated downregulation of spinal astrocytic connexin43 leads to increased glutamatergic neurotransmission and neuropathic pain in mice. Brain Behav Immun 2015;49:293–310.

58.

Scholz J, Woolf CJ. The neuropathic pain triad: neurons, immune cells and glia. Nat Neurosci 2007;10(11):1361–8.

59.

Retamal MA, Froger N, Palacios-Prado N et al. Cx43 hemichannels and gap junction channels in astrocytes are regulated oppositely by proinflammatory cytokines released from activated microglia. J Neurosci 2007;27(50):13781–92.
Acknowledgments
This study was supported by the National Major Scientific and Technological Special Project for "Significant New Drugs Development" during the Thirteenth Five-year Plan Period (No. 2018ZX09301043-001 and No. 2016ZX09101031, respectively), National Natural Science Foundation of China (No. 81803642), the "Double First-Class" Construction Technology Innovation Team Project of China Pharmaceutical University (No. CPU2018GY23), and Postgraduate Research & Practice Innovation Program of Jiangsu Province (No. KYCX18_0804). We thank the State Key Laboratory of Natural Medicines (China Pharmaceutical University) for providing the large-scale instrument sharing platform.
Required Author Forms
Disclosure forms provided by the authors are available with the online version of this article.
Ethics declarations
Conflict of Interest
The authors declare that they have no conflicts of interest.
Additional information
Publisher's Note
Springer Nature remains neutral with regard to jurisdictional claims in published maps and institutional affiliations.
Electronic Supplementary Material
About this article
Cite this article
Zhou, L., Ao, L., Yan, Y. et al. Levo-corydalmine Attenuates Vincristine-Induced Neuropathic Pain in Mice by Upregulating the Nrf2/HO-1/CO Pathway to Inhibit Connexin 43 Expression. Neurotherapeutics 17, 340–355 (2020). https://doi.org/10.1007/s13311-019-00784-7
Key Words
Vincristine

heme oxygenase 1

connexin-43

nuclear factor E2-related factor 2

neuropathic pain