Abstract
Neuroinflammation plays a vital role in early brain injury (EBI) following subarachnoid hemorrhage (SAH). The hypothesis of this study was that activation of melanocortin 1 receptor (MC1R) with BMS-470539 attenuates EBI by suppression of neuroinflammation after SAH. We utilized BMS-470539, MSG-606, and MRT-68601 to verify the neuroprotective effects of MC1R. We evaluated brain water content, short-term and long-term neurobehavior after SAH. Western blotting and immunofluorescence staining were utilized to assess the changes of protein levels. The results of western blotting suggested that the expressions of MC1R, phosphorylated-adenosine monophosphate-activated protein kinase (p-AMPK), and phosphorylated-TANK binding kinase 1 (p-TBK1) were increased and reached their peak points at 24 h following SAH. Moreover, BMS-470539 treatment notably attenuated neurological deficits caused by SAH, and also notably improved long-term spatial learning and memory abilities after SAH. The underlying mechanisms of the neuroprotection of BMS-470539 involved the suppression of microglia activation, promotion of CD206+ microglia transformation and reduction of neutrophil infiltration by increasing the levels of p-AMPK and p-TBK1 while decreasing the levels of NF-κB, IL-1β, and TNFα. The neuroprotective effects of BMS-470539 were significantly abolished by MSG-606 and MRT-68601. The activation of MC1R with BMS-470539 notably attenuates EBI after SAH by suppression of microglial activation and neutrophil infiltration via the AMPK/TBK1/NF-κB signaling pathway.
This is a preview of subscription content, log in to check access.
Access options
Buy single article
Instant access to the full article PDF.
US$ 39.95
Price includes VAT for USA
Subscribe to journal
Immediate online access to all issues from 2019. Subscription will auto renew annually.
US$ 99
This is the net price. Taxes to be calculated in checkout.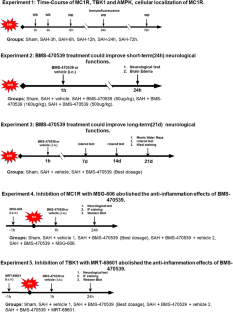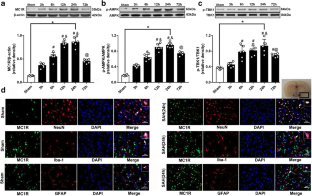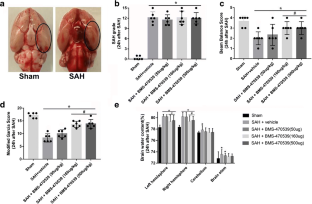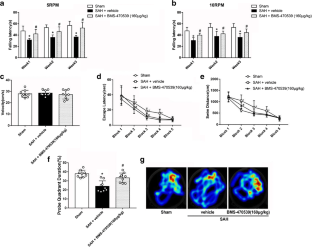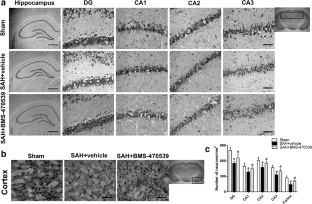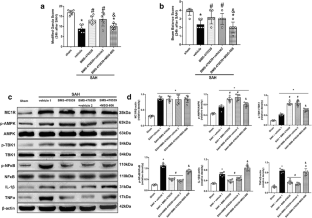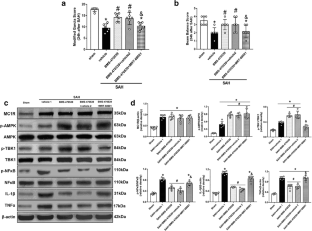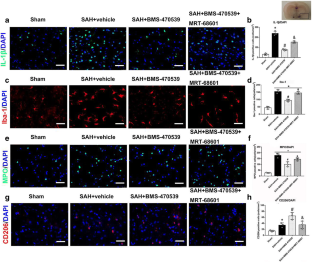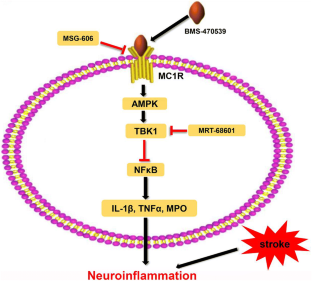 Abbreviations
EBI :

Early brain injury

SAH :

Subarachnoid hemorrhage

MC1R :

Melanocortin 1 receptor

AMPK :

Adenosine monophosphate-activated protein kinase

TBK1 :

TANK-binding kinase 1

CNS :

Central nervous system

IKK :

IκB kinase β

SD :

Sprague–Dawley

MPO :

Myeloperoxidase

GFAP :

Glial fibrillary acidic protein

LKB :

Liver kinase B

CaMKK-β :

Ca2+/calmodulin-dependent protein kinase kinase-β

TAK1 :

Transforming growth factor-β-activated kinase 1
References
1.

Laiwalla, A.N., Ooi, Y.C., Liou, R. & Gonzalez, N.R. Matched cohort analysis of the effects of limb remote ischemic conditioning in patients with aneurysmal subarachnoid hemorrhage. Transl Stroke Res. 2016; 7(1):42-8.

2.

Xu, W., Gao, L., Li, T., Zheng, J., Shao, A. & Zhang, J. Apelin-13 Alleviates early brain injury after subarachnoid hemorrhage via suppression of endoplasmic reticulum stress-mediated apoptosis and blood-brain barrier disruption: possible involvement of ATF6/CHOP pathway. Neuroscience. 2018; 388:284-296.

3.

Pang, J., Chen, Y., Kuai, L., Yang, P., Peng, J., Wu, Y., Chen, Y., Vitek, M.P., Chen, L., Sun, X. & Jiang, Y. Inhibition of blood-brain barrier disruption by an apolipoprotein E-mimetic peptide ameliorates early brain injury in experimental subarachnoid hemorrhage. Transl Stroke Res. 2017; 8(3):257-272.

4.

Zhou, K., Enkhjargal, B., Xie, Z., Sun, C., Wu, L., Malaguit, J., Chen, S., Tang, J., Zhang, J. & Zhang, J.H. Dihydrolipoic acid inhibits lysosomal rupture and NLRP3 through lysosome-associated membrane protein-1/calcium/calmodulin-dependent protein kinase II/TAK1 pathways after subarachnoid hemorrhage in rat. Stroke. 2018; 49:175-183.

5.

Aronowski, J. & Zhao, X. Molecular pathophysiology of cerebral hemorrhage: secondary brain injury. Stroke. 2011; 42:1781-1786.

6.

Pang, J., Peng, J., Matei, N., Yang, P., Kuai, L., Wu, Y., Chen, L., Vitek, M.P., Li, F., Sun, X., Zhang, J.H. & Jiang, Y. Apolipoprotein E exerts a whole-brain protective property by promoting M1? Microglia quiescence after experimental subarachnoid hemorrhage in mice. Transl Stroke Res. 2018; 9(6):654-668.

7.

Xiong, X.Y., Liu, L. & Yang, Q.W. Functions and mechanisms of microglia/macrophages in neuroinflammation and neurogenesis after stroke. Progress in Neurobiology. 2016; 142:23-44.

8.

Huang, X.P., Peng, J.H., Pang, J.W., Tian, X.C., Li, X.S., Wu, Y., Li, Y., Jiang, Y. & Sun, X.C. Peli1 contributions in microglial activation, neuroinflammatory responses and neurological deficits following experimental subarachnoid hemorrhage. Frontiers in Molecular Neuroscience. 2017; 10:398.

9.

Cai, W., Liu, S., Hu, M., Sun, X., Qiu, W., Zheng, S., Hu, X. & Lu Z. Post-stroke DHA treatment protects against acute ischemic brain injury by skewing macrophage polarity woward the M2 phenotype. Transl Stroke Res. 2018; 9(6):669-680.

10.

Wolf Horrell, E.M., Boulanger, M.C. & D'Orazio, J.A. Melanocortin 1 Receptor: structure, function, and regulation. Frontiers in Genetics. 2016; 7:95.

11.

Catania A. Neuroprotective actions of melanocortins: a therapeutic opportunity. Trends Neurosci. 2008; 31(7): 353-60.

12.

Mykicki, N., Herrmann, A.M., Schwab, N., Deenen, R., Sparwasser T. Limmer, Wachsmuth, L.A., Klotz, L., Köhrer, K., Faber, C., Wiendl, H., Luger, T.A., Meuth, S.G. & Loser, K. Melanocortin-1 receptor activation is neuroprotective in mouse models of neuroinflammatory disease. Sci. Transl. Med. 2016; 8:1-16.

13.

Auriemma, M., Brzoska, T., Klenner, L., Kupas, V., Goerge, T., Voskort, M., Zhao, Z., Sparwasser, T., Luger, T.A. & Loser, K. alpha-MSH-stimulated tolerogenic dendritic cells induce functional regulatory T cells and ameliorate ongoing skin inflammation. The Journal of Investigative Dermatology. 2012; 132:1814-1824.

14.

Li, D. & Taylor, A.W. Diminishment of alpha-MSH anti-inflammatory activity in MC1r siRNA-transfected RAW264.7 macrophages. Journal of Leukocyte Biology. 2008; 84:191-198.

15.

Lan, X., Han, X., Li, Q., Li, Q., Gao, Y., Cheng, T., Wan, J., Zhu, W. & Wang, J. Pinocembrin protects hemorrhagic brain primarily by inhibiting toll-like receptor 4 and reducing M1 phenotype microglia. Brain, behavior, and immunity. 2017; 61:326-339.

16.

Gatti, S., Lonati, C., Acerbi, F., Sordi, A., Leonardi, P., Carlin, A., Gaini, S.M. & Catania, A. Protective action of NDP-MSH in experimental subarachnoid hemorrhage. Exp Neurol. 2012; 234(1):230-8.

17.

Hall, D.T., Griss, T., Ma, J.F., Sanchez, B.J., Sadek, J., Tremblay, A.M.K., Mubaid, S., Omer, A., Ford, R.J., Bedard, N., Pause, A., Wing, S.S., Di Marco, S., Steinberg, G.R., Jones, R.G. & Gallouzi, I.E. The AMPK agonist 5-aminoimidazole-4-carboxamide ribonucleotide (AICAR), but not metformin, prevents inflammation-associated cachectic muscle wasting. EMBO Molecular Medicine. 2018;10.

18.

Oh, T.S., Cho, H., Cho, J.H., Yu, S.W. & Kim, E.K. Hypothalamic AMPK-induced autophagy increases food intake by regulating NPY and POMC expression. Autophagy. 2016;12(11): 2009-2025.

19.

Zhao, P., Wong, K.I., Sun, X., Reilly, S.M., Uhm, M., Liao, Z., Skorobogatko, Y. & Saltiel, A.R. TBK1 at the crossroads of inflammation and energy homeostasis in adipose tissue. Cell. 2018; 172(4):731-743.

20.

Jin, J., Xiao, Y., Chang, J.H., Yu, J., Hu, H., Starr, R., Brittain, G.C., Chang, M., Cheng, X. & Sun, S.C. The kinase TBK1 controls IgA class switching by negatively regulating noncanonical NF-kappaB signaling. Nature Immunology. 2012; 13:1101-1109.

21.

Kang, L., McIntyre, K.W., Gillooly, K.M., Yang, Y., Haycock, J., Roberts, S., Khanna, A., Herpin, T.F., Yu, G., Wu, X., Morton, G.C., Tuerdi, H., Koplowitz, B., Walker, S.G., Wardwell-Swanson, J., Macor, J.E., Lawrence, R.M. & Carlson, K.E. A selective small molecule agonist of the melanocortin-1 receptor inhibits lipopolysaccharide-induced cytokine accumulation and leukocyte infiltration in mice. Journal of Leukocyte Biology. 2006; 80:897-904.

22.

Leoni, G., Voisin, M.B., Carlson, K., Getting, S., Nourshargh, S. & Perretti, M. The melanocortin MC1 receptor agonist BMS-470539 inhibits leucocyte trafficking in the inflamed vasculature. British Journal of Pharmacology. 2010; 160:171-180.

23.

Suzuki, H., Hasegawa, Y., Kanamaru, K. & Zhang, J.H. Mechanisms of osteopontin-induced stabilization of blood-brain barrier disruption after subarachnoid hemorrhage in rats. Stroke. 2010; 41:1783-1790.

24.

Sugawara, T., Ayer, R., Jadhav, V. & Zhang, J.H. A new grading system evaluating bleeding scale in filament perforation subarachnoid hemorrhage rat model. Journal of Neuroscience Methods. 2009; 167:327-334.

25.

Xie, Z., Huang, L., Enkhjargal, B., Reis, C., Wan, W., Tang, J., Cheng, Y. & Zhang, J.H. Recombinant Netrin-1 binding UNC5B receptor attenuates neuroinflammation and brain injury via PPARgamma/NFkappaB signaling pathway after subarachnoid hemorrhage in rats. Brain, Behavior, and Immunity. 2018; 69:190-202.

26.

Liu, L., Fujimoto, M., Nakano, F., Nishikawa, H., Okada, T., Kawakita, F., Imanaka-Yoshida, K., Yoshida, T. & Suzuki, H. Deficiency of tenascin-C alleviates neuronal apoptosis and neuroinflammation after experimental subarachnoid hemorrhage in mice. Mol Neurobiol. 2018; 55(11):8346-8354.

27.

Chen, S., Zhao, L., Sherchan, P., Ding, Y., Yu, J., Nowrangi, D., Tang, J., Xia, Y. & Zhang, J.H. Activation of melanocortin receptor 4 with RO27-3225 attenuates neuroinflammation through AMPK/JNK/p38 MAPK pathway after intracerebral hemorrhage in mice. Journal of Neuroinflammation. 2018; 15:106.

28.

Zhang, X., Wu, Q., Zhang, Q., Lu, Y., Liu, J., Li, W., Lv, S., Zhou, M., Zhang, X. & Hang, C. Resveratrol attenuates early brain injury after experimental subarachnoid hemorrhage via inhibition of NLRP3 inflammasome activation. Frontiers in Neuroscience. 2017; 11:611.

29.

Wang, Z., Zhou, F., Dou, Y., Tian, X., Liu, C., Li, H., Shen, H. & Chen, G. Melatonin alleviates intracerebral hemorrhage-induced secondary brain injury in rats via suppressing apoptosis, inflammation, oxidative stress, DNA damage, and mitochondria injury. Transl Stroke Res. 2018; 9(1):74-91.

30.

Nakka, V.P., Gusain, A. & Raghubir, R. Endoplasmic reticulum stress plays critical role in brain damage after cerebral ischemia/reperfusion in rats. Neurotoxicity Research. 2010; 17:189-202.

31.

Catania, A., Lonati, C., Sordi, A., Carlin, A., Leonardi, P. & Gatti, S. The melanocortin system in control of inflammation. The Scientific World Journal. 2010; 10:1840-1853.

32.

Kleiner, S., Braunstahl, G.J., Rudrich, U., Gehring, M., Eiz-Vesper, B., Luger, T.A., Steelant, B., Seys, S.F., Kapp, A., Bohm, M., Hellings, P.W. & Raap, U. Regulation of melanocortin 1 receptor in allergic rhinitis in vitro and in vivo. Clinical and Experimental Allergy: Journal of the British Society for Allergy and Clinical Immunology. 2016; 46:1066-1074.

33.

Elvin, J., Buvall, L., Lindskog Jonsson, A., Granqvist, A., Lassén, E., Bergwall, L., Nyström, J. & Haraldsson, B. Melanocortin 1 receptor agonist protects podocytes through catalase and RhoA activation. Am J Physiol Renal Physiol. 2016; 310(9): F846-56.

34.

Schaible, E.V., Steinsträßer, A., Jahn-Eimermacher, A., Luh, C., Sebastiani, A., Kornes, F., Pieter, D., Schäfer, M.K., Engelhard, K. & Thal, S.C. Single administration of tripeptide α-MSH (11-13) attenuates brain damage by reduced inflammation and apoptosis after experimental traumatic brain injury in mice. PLoS One. 2013; 8(8): e71056.

35.

Chen, T., Wang, W., Li, J.R., Xu, H.Z., Peng, Y.C., Fan, L.F., Yan, F., Gu, C., Wang, L. & Chen, G. PARP inhibition attenuates early brain injury through NF-kappaB/MMP-9 pathway in a rat model of subarachnoid hemorrhage. Brain research. 2016; 1644:32-38.

36.

Yan, F., Tan, X., Wan, W., Dixon, B.J., Fan, R., Enkhjargal, B., Li, Q., Zhang, J., Chen, G. & Zhang, J.H. ErbB4 protects against neuronal apoptosis via activation of YAP/PIK3CB signaling pathway in a rat model of subarachnoid hemorrhage. Experimental Neurology. 2017; 297:92-100.

37.

Hamming, A.M., van der Toorn, A., Rudrapatna, U.S., Ma, L., van Os, H.J., Ferrari, M.D., van den Maagdenberg, A.M., van Zwet, E., Poinsatte, K., Stowe, A.M., Dijkhuizen, R.M. & Wermer, M.J. Valproate reduces delayed brain injury in a rat model of subarachnoid hemorrhage. Stroke. 2017; 48:452-458.

38.

Chen, W., Li, J., Qu, H., Song, Z., Yang, Z., Huo, J., Jiang, H., Huang, Q., Huo, M., Liu, B. & Zhang, Q. The melanocortin 1 receptor (MC1R) inhibits the inflammatory response in Raw 264.7 cells and atopic dermatitis (AD) mouse model. Molecular Biology Reports. 2013; 40: 1987-1996.

39.

Holloway, P.M., Durrenberger, P.F., Trutschl, M., Cvek, U., Cooper, D., Orr, A.W., Perretti, M., Getting, S.J. & Gavins, F.N. Both MC1 and MC3 receptors provide protection from cerebral ischemia-reperfusion-induced neutrophil recruitment. Arterioscler Thromb Vasc Biol. 2015; 35(9):1936-44.

40.

Hardie, D.G. AMPK--sensing energy while talking to other signaling pathways. Cell metabolism. 2014; 20:939-952.

41.

Xu, F., Cui, W.Q., Wei, Y., Cui, J., Qiu, J., Hu, L.L., Gong, W.Y., Dong, J.C. & Liu, B.J. Astragaloside IV inhibits lung cancer progression and metastasis by modulating macrophage polarization through AMPK signaling. J Exp Clin Cancer Res. 2018; 37(1):207.

42.

Sag, D., Carling, D., Stout, R.D. & Suttles, J. Adenosine 5'-monophosphate-activated protein kinase promotes macrophage polarization to an anti-inflammatory functional phenotype. J Immunol. 2008; 181(12):8633-41.
Acknowledgements
This work was supported by the National Institutes of Health (Grants NS081740 and NS082184); National Key Research and Development Program of China (2017YFC1308500), Key Program of Science and Technology Development of Zhejiang (2017C03021); Grant WKJ-ZJ-1615 (2016149634) from a major science and technology project in medical and health of Zhejiang province. Basic Public Interest Research Plan of Zhejiang Province (LY18H090001).
Author Contributions Statement
This study was designed by WX, JM, JT, JZ, and JHZ. The experiments were completed by WX, JM, UO, ZDT, TZ, PW, TL, and YZ. JP, BE and AS performed statistical analysis. WX and JM finished writing the manuscript. JZ and JHZ provided the supervision and final check. All the authors read the final version of this paper and approved it.
Required Author Forms
Disclosure forms provided by the authors are available with the online version of this article.
Ethics declarations
Ethical Approval and Consent to Participate
All animal experiments were performed according to the Institutional Animal Care and Use Committee (IACUC) at Loma Linda University. The procedures were conducted according to the National Institutes of Health's Guide for the Care and the Use of Laboratory Animals and the ARRIVE (Animal Research: Reporting In Vivo Experiments) guidelines.
Availability of Supporting Data
The datasets analyzed during the present study are available from the corresponding author on reasonable request.
Competing Interests
The authors report no conflicts of interest.
Additional information
Publisher's Note
Springer Nature remains neutral with regard to jurisdictional claims in published maps and institutional affiliations.
About this article
Cite this article
Xu, W., Mo, J., Ocak, U. et al. Activation of Melanocortin 1 Receptor Attenuates Early Brain Injury in a Rat Model of Subarachnoid Hemorrhage viathe Suppression of Neuroinflammation through AMPK/TBK1/NF-κB Pathway in Rats. Neurotherapeutics 17, 294–308 (2020). https://doi.org/10.1007/s13311-019-00772-x
Keywords
Early brain injury

Subarachnoid hemorrhage

Melanocortin 1 Receptor

TBK1

Neuroinflammation