Abstract
Dihydroartemisinin (DHA), a semisynthetic derivative of artemisinin isolated from the traditional Chinese herb Artemisia annua, has been shown to exhibit antitumor activity in various cancer cells, including colorectal cancer. However, the detailed mechanisms underlying its antitumor activity in colorectal cancer remain to be elucidated. In the present study, we investigated DHA-induced apoptosis in human colorectal cancer HCT-116 cells in vitro. The results showed that DHA treatment significantly reduced cell viability in a concentration- and time-dependent manner. Furthermore, DHA induced G1 cell cycle arrest, apoptotic cell death, and accumulation of reactive oxygen species (ROS). We also found that DHA decreased the mitochondrial membrane potential; activated the caspase-3, caspase-8, and caspase-9; and increased the ratio of Bax/Bcl-2. Meanwhile, the translocation of apoptotic inducing factor (AIF) and the release of cytochrome c from the mitochondria were observed. Strikingly, the free radical scavenger N-acetylcysteine or the caspase-3 inhibitor Ac-DEVD-CHO significantly prevented DHA-induced apoptotic cell death. Taken together, we concluded that DHA-triggered apoptosis in HCT-116 cells occurs through the ROS-mediated mitochondria-dependent pathway. Our data suggest that DHA has great potential to be developed as a novel therapeutic agent for the treatment of human colorectal cancer.
This is a preview of subscription content, log in to check access.
Access options
Buy single article
Instant access to the full article PDF.
US$ 39.95
Price includes VAT for USA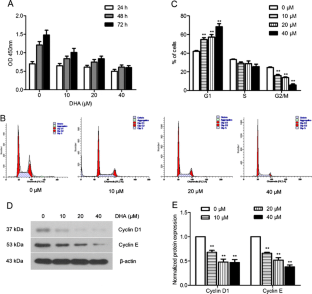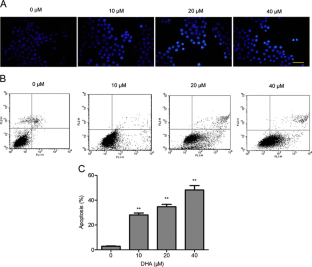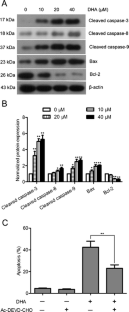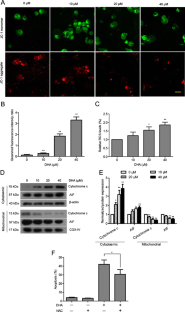 References
1.

Jemal A, Bray F, Center MM, Ferlay J, Ward E, Forman D. Global cancer statistics. CA Cancer J Clin. 2011;61(2):69–90. doi:10.3322/caac.20107.

2.

Davies RJ, Miller R, Coleman N. Colorectal cancer screening: prospects for molecular stool analysis. Nat Rev Cancer. 2005;5(3):199–209. doi:10.1038/nrc1545.

3.

Lurje G, Zhang W, Lenz HJ. Molecular prognostic markers in locally advanced colon cancer. Clin Colorectal Cancer. 2007;6(10):683–90. doi:10.3816/CCC.2007.n.037.

4.

Prabhudesai SG, Rekhraj S, Roberts G, Darzi AW, Ziprin P. Apoptosis and chemo-resistance in colorectal cancer. J Surg Oncol. 2007;96(1):77–88. doi:10.1002/jso.20785.

5.

Marin JJ, Sanchez de Medina F, Castano B, Bujanda L, Romero MR, Martinez-Augustin O, et al. Chemoprevention, chemotherapy, and chemoresistance in colorectal cancer. Drug Metab Rev. 2012;44(2):148–72. doi:10.3109/03602532.2011.638303.

6.

Tu Y. The discovery of artemisinin (qinghaosu) and gifts from Chinese medicine. Nat Med. 2011;17(10):1217–20. doi:10.1038/nm.2471.

7.

Gordi T, Lepist EI. Artemisinin derivatives: toxic for laboratory animals, safe for humans? Toxicol Lett. 2004;147(2):99–107.

8.

Li Y. Qinghaosu (artemisinin): chemistry and pharmacology. Acta Pharmacol Sin. 2012;33(9):1141–6. doi:10.1038/aps.2012.104.

9.

Lu YY, Chen TS, Wang XP, Li L. Single-cell analysis of dihydroartemisinin-induced apoptosis through reactive oxygen species-mediated caspase-8 activation and mitochondrial pathway in ASTC-a-1 cells using fluorescence imaging techniques. J Biomed Opt. 2010;15(4):046028. doi:10.1117/1.3481141.

10.

Mao H, Gu H, Qu X, Sun J, Song B, Gao W, et al. Involvement of the mitochondrial pathway and Bim/Bcl-2 balance in dihydroartemisinin-induced apoptosis in human breast cancer in vitro. Int J Mol Med. 2013;31(1):213–8. doi:10.3892/ijmm.2012.1176.

11.

Chen H, Sun B, Pan S, Jiang H, Sun X. Dihydroartemisinin inhibits growth of pancreatic cancer cells in vitro and in vivo. Anticancer Drugs. 2009;20(2):131–40. doi:10.1097/CAD.0b013e3283212ade.

12.

He Q, Shi J, Shen XL, An J, Sun H, Wang L, et al. Dihydroartemisinin upregulates death receptor 5 expression and cooperates with TRAIL to induce apoptosis in human prostate cancer cells. Cancer Biol Ther. 2010;9(10):819–24.

13.

Chen T, Li M, Zhang R, Wang H. Dihydroartemisinin induces apoptosis and sensitizes human ovarian cancer cells to carboplatin therapy. J Cell Mol Med. 2009;13(7):1358–70. doi:10.1111/j.1582-4934.2008.00360.x.

14.

Lu JJ, Chen SM, Zhang XW, Ding J, Meng LH. The anti-cancer activity of dihydroartemisinin is associated with induction of iron-dependent endoplasmic reticulum stress in colorectal carcinoma HCT116 cells. Invest New Drugs. 2011;29(6):1276–83. doi:10.1007/s10637-010-9481-8.

15.

Roue G, Bitton N, Yuste VJ, Montange T, Rubio M, Dessauge F, et al. Mitochondrial dysfunction in CD47-mediated caspase-independent cell death: ROS production in the absence of cytochrome c and AIF release. Biochimie. 2003;85(8):741–6.

16.

Chen H, Sun B, Wang S, Pan S, Gao Y, Bai X, et al. Growth inhibitory effects of dihydroartemisinin on pancreatic cancer cells: involvement of cell cycle arrest and inactivation of nuclear factor-kappaB. J Cancer Res Clin Oncol. 2010;136(6):897–903. doi:10.1007/s00432-009-0731-0.

17.

Sun H, Meng X, Han J, Zhang Z, Wang B, Bai X, et al. Anti-cancer activity of DHA on gastric cancer—an in vitro and in vivo study. Tumour Biol. 2013. doi:10.1007/s13277-013-0963-0.

18.

Du XX, Li YJ, Wu CL, Zhou JH, Han Y, Sui H, et al. Initiation of apoptosis, cell cycle arrest and autophagy of esophageal cancer cells by dihydroartemisinin. Biomed Pharmacother. 2013;67(5):417–24. doi:10.1016/j.biopha.2013.01.013.

19.

Jiao Y, Ge CM, Meng QH, Cao JP, Tong J, Fan SJ. Dihydroartemisinin is an inhibitor of ovarian cancer cell growth. Acta Pharmacol Sin. 2007;28(7):1045–56. doi:10.1111/j.1745-7254.2007.00612.x.

20.

Ji Y, Zhang YC, Pei LB, Shi LL, Yan JL, Ma XH. Anti-tumor effects of dihydroartemisinin on human osteosarcoma. Mol Cell Biochem. 2011;351(1–2):99–108. doi:10.1007/s11010-011-0716-6.

21.

Zhang CZ, Zhang H, Yun J, Chen GG, Lai PB. Dihydroartemisinin exhibits antitumor activity toward hepatocellular carcinoma in vitro and in vivo. Biochem Pharmacol. 2012;83(9):1278–89. doi:10.1016/j.bcp.2012.02.002.

22.

Gao X, Luo Z, Xiang T, Wang K, Li J, Wang P. Dihydroartemisinin induces endoplasmic reticulum stress-mediated apoptosis in HepG2 human hepatoma cells. Tumori. 2011;97(6):771–80.

23.

Kong R, Jia G, Cheng ZX, Wang YW, Mu M, Wang SJ, et al. Dihydroartemisinin enhances Apo2L/TRAIL-mediated apoptosis in pancreatic cancer cells via ROS-mediated up-regulation of death receptor 5. PLoS One. 2012;7(5):e37222. doi:10.1371/journal.pone.0037222.

24.

Simon HU, Haj-Yehia A, Levi-Schaffer F. Role of reactive oxygen species (ROS) in apoptosis induction. Apoptosis. 2000;5(5):415–8.

25.

Kim SJ, Kim MS, Lee JW, Lee CH, Yoo H, Shin SH, et al. Dihydroartemisinin enhances radiosensitivity of human glioma cells in vitro. J Cancer Res Clin Oncol. 2006;132(2):129–35. doi:10.1007/s00432-005-0052-x.

26.

Wang X. The expanding role of mitochondria in apoptosis. Genes Dev. 2001;15(22):2922–33.

27.

Yang J, Liu X, Bhalla K, Kim CN, Ibrado AM, Cai J, et al. Prevention of apoptosis by Bcl-2: release of cytochrome c from mitochondria blocked. Science. 1997;275(5303):1129–32.
Acknowledgement
This study was supported by a grant from the National Natural Science Foundation of China (grant no.: 81250020).
Conflict of interest
None
About this article
Cite this article
Lu, M., Sun, L., Zhou, J. et al. Dihydroartemisinin induces apoptosis in colorectal cancer cells through the mitochondria-dependent pathway. Tumor Biol. 35, 5307–5314 (2014). https://doi.org/10.1007/s13277-014-1691-9
Received:

Accepted:

Published:

Issue Date:
Keywords
Colorectal cancer

Dihydroartemisinin

Apoptosis

Mitochondria

Reactive oxygen species