Abstract
Treatment of gastric cancer remains a major challenge, and new anticancer drugs are urgently required. This study investigated whether dihydroartemisinin (DHA), a semi-synthetic derivative of artemisinin, could inhibit the growth of gastric cancer both in vitro and in vivo. A series of in vitro experiments including MTT, colony-forming, wound healing, invasion, cell cycle, cellular senescence, and apoptosis assays were performed to examine the antiproliferative and antimetastatic effects of DHA on three gastric cancer cell lines, SGC-7901, BGC823, and MGC803. The result showed that the proliferation rate and colony-forming abilities of gastric cancer cells were significantly suppressed by DHA together with significant suppression of the expressions of proliferation markers (PCNA, cyclin E, and cyclin D1), and upregulation of p21 and p27. Moreover, DHA induced cellular senescence, G1 phase cell cycle arrest and hindered the migration and invasion of gastric cancer cells corresponding with downregulation of MMP-9 and MMP-2. Furthermore, DHA significantly induced apoptosis through suppressing Bcl-2 as well as activating caspase-9 and PARP. Treatment of gastric cancer cells with DHA increased miR-15b and miR-16 expression, caused a downregulation of Bcl-2, resulting in apoptosis of gastric cancer cells. In vivo, our data showed that DHA significantly inhibited the growth of SGC7901 cell-transplanted tumors. In summary, we have shown that DHA is able to inhibit the growth and metastasis of human gastric cancer. The modulation of miR-15b and miR-16 mediated the apoptosis effects of DHA in gastric cancer cells. Our work suggested that DHA has significant anticancer effects against gastric cancer both in vivo and in vitro, indicating that it is a promising therapy for human gastric cancer.
This is a preview of subscription content, log in to check access.
Access options
Buy single article
Instant access to the full article PDF.
US$ 39.95
Price includes VAT for USA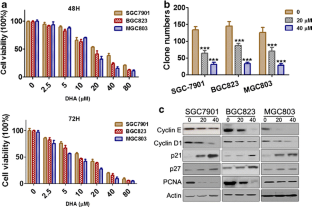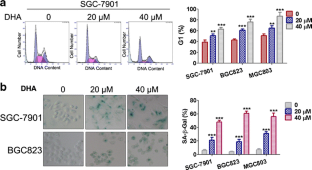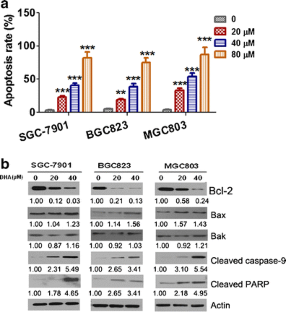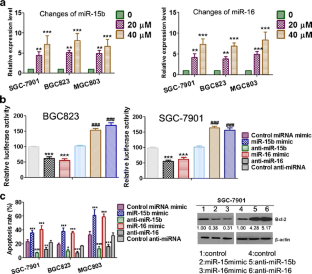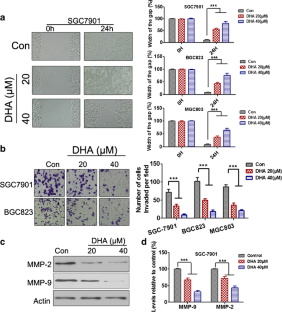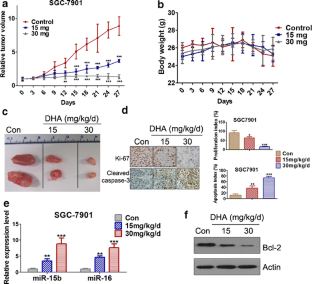 Abbreviations
DHA:

Dihydroartemisinin

miRNA:

MicroRNA

3′UTR:

3′ untranslated region

MTT:

3-(4,5-dimethylthiazol-2-yl)-2,5-diphenyltetrazolium bromide

MMP-2:

Matrix metalloproteinase 2

MMP-9:

Matrix metalloproteinase 9

ELISA:

Enzyme-linked immunosorbent assay
References
1.

Jemal A, Siegel R, Xu J, et al. Cancer statistics. CA Cancer J Clin. 2010;60(5):277–300.

2.

Jiang Y, Ajani JA. Multidisciplinary management of gastric cancer. Curr Opin Gastroenterol. 2010;26(6):640–6.

3.

Zhang D, Fan D. New insights into the mechanisms of gastric cancer multidrug resistance and future perspectives. Future Oncol. 2010;6(4):527–37.

4.

Chaturvedi D, Goswami A, Saikia PP, et al. Artemisinin and its derivatives: a novel class of anti-malarial and anti-cancer agents. Chem Soc Rev. 2010;39(2):435–54.

5.

Nakase I, Lai H, Singh NP, et al. Anticancer properties of artemisinin derivatives and their targeted delivery by transferrin conjugation. Int J Pharm. 2008;354(1–2):28–33.

6.

Hou J, Wang D, Zhang R, et al. Experimental therapy of hepatoma with artemisinin and its derivatives: in vitro and in vivo activity, chemosensitization, and mechanisms of action. Clin Cancer Res. 2008;14(17):5519–30.

7.

Wang SJ, Gao Y, Chen H, et al. Dihydroartemisinin inactivates NF-kappaB and potentiates the anti-tumor effect of gemcitabine on pancreatic cancer both in vitro and in vivo. Cancer Lett. 2010;293(1):99–108.

8.

Singh NP, Lai H. Selective toxicity of dihydroartemisinin and holotransferrin toward human breast cancer cells. Life Sci. 2001;70(1):49–56.

9.

Nam W, Tak J, Ryu JK, et al. Effects of artemisinin and its derivatives on growth inhibition and apoptosis of oral cancer cells. Head Neck. 2007;29(4):335–40.

10.

Kim SJ, Kim MS, Lee JW, et al. Dihydroartemisinin enhances radiosensitivity of human glioma cells in vitro. J Cancer Res Clin Oncol. 2006;132(2):129–35.

11.

Chen HH, Zhou HJ, Fang X. Inhibition of human cancer cell line growth and human umbilical vein endothelial cell angiogenesis by artemisinin derivatives in vitro. Pharmacol Res. 2003;48(3):231–6.

12.

Jiao Y, Ge CM, Meng QH, et al. Dihydroartemisinin is an inhibitor of ovarian cancer cell growth. Acta Pharmacol Sin. 2007;28(7):1045–56.

13.

Mu D, Chen W, Yu B, et al. Calcium and survivin are involved in the induction of apoptosis by dihydroartemisinin in human lung cancer SPC-A-1 cells. Methods Find Exp Clin Pharmacol. 2007;29(1):33–8.

14.

Mu D, Zhang W, Chu D, et al. The role of calcium, P38 MAPK in dihydroartemisinin-induced apoptosis of lung cancer PC-14 cells. Cancer Chemother Pharmacol. 2008;61(4):639–45.

15.

Lu YY, Chen TS, Qu JL, et al. Dihydroartemisinin (DHA) induces caspase-3-dependent apoptosis in human lung adenocarcinoma ASTC-a-1 cells. J Biomed Sci. 2009;16:16.

16.

Zhou HJ, Zhang JL, Li A, et al. Dihydroartemisinin improves the efficiency of chemotherapeutics in lung carcinomas in vivo and inhibits murine Lewis lung carcinoma cell line growth in vitro. Cancer Chemother Pharmacol. 2010;66(1):21–9.

17.

Lee J, Zhou HJ, Wu XH. Dihydroartemisinin downregulates vascular endothelial growth factor expression and induces apoptosis in chronic myeloid leukemia K562 cells. Cancer Chemother Pharmacol. 2006;57(2):213–20.

18.

Lu JJ, Meng LH, Cai YJ, et al. Dihydroartemisinin induces apoptosis in HL-60 leukemia cells dependent of iron and p38 mitogen-activated protein kinase activation but independent of reactive oxygen species. Cancer Biol Ther. 2008;7(7):1017–23.

19.

Zhou HJ, Wang Z, Li A. Dihydroartemisinin induces apoptosis in human leukemia cells HL60 via downregulation of transferrin receptor expression. Anticancer Drugs. 2008;19(3):247–55.

20.

Yang X, Wang W, Tan J, et al. Synthesis of a series of novel dihydroartemisinin derivatives containing a substituted chalcone with greater cytotoxic effects in leukemia cells. Bioorg Med Chem Lett. 2009;19(15):4385–8.

21.

Moore JC, Lai H, Li JR, et al. Oral administration of dihydroartemisinin and ferrous sulfate retarded implanted fibrosarcoma growth in the rat. Cancer Lett. 1995;98(1):83–7.

22.

Hosoya K, Murahari S, Laio A, et al. Biological activity of dihydroartemisinin in canine osteosarcoma cell lines. Am J Vet Res. 2008;69(4):519–26.

23.

Zheng T, Wang J, Chen X, et al. Role of microRNA in anticancer drug resistance. Int J Cancer. 2010;126(1):2–10.

24.

Xia L, Zhang D, Du R, et al. miR-15b and miR-16 modulate multidrug resistance by targeting BCL2 in human gastric cancer cells. Int J Cancer. 2008;123(2):372–9.

25.

Zhu W, Shan X, Wang T, et al. miR-181b modulates multidrug resistance by targeting BCL2 in human cancer cell lines. Int J Cancer. 2010;127(11):2520–9.

26.

Zheng T, Meng X, Wang J, et al. PTEN- and p53-mediated apoptosis and cell cycle arrest by FTY720 in gastric cancer cells and nude mice. J Cell Biochem. 2010;111(1):218–28.

27.

Chua CW, Lee DT, Ling MT, et al. FTY720, a fungus metabolite, inhibits in vivo growth of androgen independent prostate cancer. Int J Cancer. 2005;117:1039–48.

28.

Zhang CZ, Zhang H, Yun J, et al. Dihydroartemisinin exhibits antitumor activity toward hepatocellular carcinoma in vitro and in vivo. Biochem Pharmacol. 2012;83(9):1278–89.

29.

Chen T, Chen M, Chen J. Ionizing radiation potentiates dihydroartemisinin-induced apoptosis of A549 cells via a caspase-8-dependent pathway. PLoS One. 2013;8(3):e59827.

30.

Leber B, Geng F, Kale J, et al. Drugs targeting Bcl-2 family members as an emerging strategy in cancer. Expert Rev Mol Med. 2010;12:e28.
Conflict of interests
None.
Financial support
This study was supported by the National Natural Science Foundation of China for the youth (grant no. 81001081), the Foundation of the First Affiliated Hospital of Harbin Medical University (grant no. 2011BS018), the Foundation of Harbin Science and Technology bureau for creative young talents (grant no. 2010RFQXS069), The Foundation of Health Department of Heilongjiang Province (grant no. 2009-043). The funders had no role in study design, data collection and analysis, decision to publish, or preparation of the manuscript.
Additional information
Haijun Sun and Xianzhi Meng contributed equally to this work.
About this article
Cite this article
Sun, H., Meng, X., Han, J. et al. Anti-cancer activity of DHA on gastric cancer—an in vitro and in vivo study. Tumor Biol. 34, 3791–3800 (2013). https://doi.org/10.1007/s13277-013-0963-0
Received:

Accepted:

Published:

Issue Date:
Keywords
Dihydroartemisinin

Gastric cancer

Apoptosis

MicroRNA

Migration