Abstract
Backgrounds
Our previous work has confirmed that Hydra magnipapillata extract reduces the toxicity of nanomaterials. We investigated the effects of the Hydra protein (HP) and its role in reducing the toxicity of PVP-coated silver nanoparticles (Ag–PVP NPs) using the A549 lung epithelial cell line.
Results
The viability of cells exposed to Ag–PVP NPs or Ag–PVP NPs + HP was 77.93 ± 6.96% or 95.04 ± 9.20%, respectively, indicating increased viability when HP was added. Although Ag–PVP NPs may have caused apoptosis and necrosis in exposed cells, limited effects were observed in the Ag–PVP NPs + HP exposure group. There were no effects on gene expression between the control and all experimental groups. A549 cell in 3D cultures was affected less by the toxicity of Ag–PVP NPs than those in 2D cultures.
Conclusion
In conclusion, HP appears to be a non-cytotoxic substance and can reduce the cytotoxicity of Ag nanomaterials.
This is a preview of subscription content, log in to check access.
Access options
Buy single article
Instant access to the full article PDF.
US$ 39.95
Price includes VAT for USA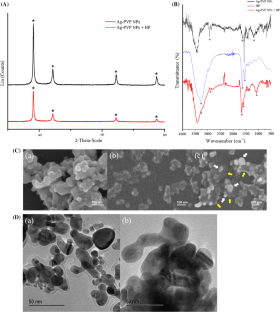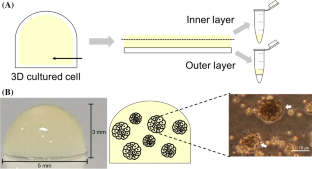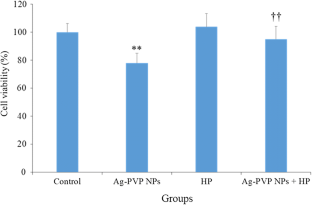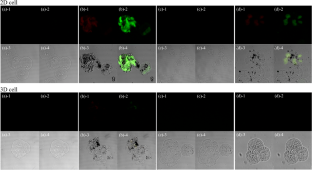 References
Adjei IM, Blanka S (2015) Modulation of the tumor microenvironment for cancer treatment: a biomaterials approach. J Funct Biomater 6:81–103

Akter M et al (2018) A systematic review on silver nanoparticles-induced cytotoxicity: physicochemical properties and perspectives. J Adv Res 9:1–16

Albanese A, Chan WC (2011) Effect of gold nanoparticle aggregation on cell uptake and toxicity. ACS Nano 5:5478–5489

Bosch TCG (2012) Understanding complex host-microbe interaction in Hydra. Gut Microbes 3:345–351

Böttger A, Alexandrova O (2007) Programmed cell death in Hydra. Semin Cancer Biol 17:134–146

Carlson C et al (2008) Unique cellular interaction of silver nanoparticles: size-dependent generation of reactive oxygen species. J Phys Chem B 112:13608–13619

Chairuangkitti P et al (2013) Silver nanoparticles induce toxicity in A549 cells via ROS-dependent and ROS-independent pathways. Toxicol In Vitro 27:330–338

Cooper JR et al (2016) Long term culture of the A549 cancer cell line promotes multilamellar body formation and differentiation towards an alveolar type II pneumocyte phenotype. PLoS One 11:e0164438

Dorniani D et al (2014) In vitro sustained release study of gallic acid coated with magnetite-PEG and magnetite-PVA for drug delivery system. Sci World J 2014:416354

Edmondson R, Broglie JJ, Adcock AF, Yang L (2014) Three-dimensional cell culture systems and their applications in drug discovery and cell-based biosensors. Assay Drug Dev Technol 12:207–218

Foldbjerg R, Dang DA, Autrup H (2011) Cytotoxicity and genotoxicity of silver nanoparticles in the human lung cancer cell line, A549. Arch Toxicol 85:743–750

Fujisawa T (2003) Hydra regeneration and epitheliopeptides. Dev Dyn 226:182–189

Gaiser BK et al (2011) Effects of silver and cerium dioxide micro- and nano-sized particles on Daphnia magna. J Environ Monit 13:1227–1235

Gajbhiye S, Sakharwade S (2016) Silver nanoparticles in cosmetics. J Cosmet Dermatol Sci Appl 6:48–53

Ge C et al (2011) Binding of blood proteins to carbon nanotubes reduces cytotoxicity. Proc Natl Acad Sci USA 108:16968–16973

Guo XZ et al (2002) Effect of bax, bcl-2 and bcl-xL on regulating apoptosis in tissues of normal liver and hepatocellular carcinoma. World J Gastroenterol 8:1059–1062

Ji JH et al (2007) Twenty-eight-day inhalation toxicity study of silver nanoparticles in Sprague-Dawley rats. Inhal Toxicol 19:857–871

Kapałczyńska M et al (2018) 2D and 3D cell cultures—a comparison of different types of cancer cell cultures. Arch Med Sci 14:910–919

Khondoker MAH, Mun SC, Kim J (2013) Synthesis and characterization of conductive silver ink for electrode printing on cellulose film. Appl Phys A 112:411–418

Klaine SJ et al (2008) Nanomaterials in the environment: behavior, fate, bioavailability, and effects. Environ Toxicol Chem 27:1825–1851

Koczkur KM, Mourdikoudis S, Polavarapu L, Skrabalak SE (2015) Polyvinylpyrrolidone (PVP) in nanoparticle synthesis. Dalton Trans 44:17883–17905

Kong J, Yu S (2007) Fourier transform infrared spectroscopic analysis of protein secondary structures. Acta Biochim Biophys Sin 39:549–559

Larsson M, Hill A, Duffy J (2012) Suspension stability; why particle size, zeta potential and rheology are important. Annu Trans Nord Rheol Soc 20:209–214

Lee J, Lilly GD, Doty RC, Podsiadlo P, Kotov NA (2009) In vitro toxicity testing of nanoparticles in 3D cell culture. Small 5:1213–1221

Liu W et al (2010) Impact of silver nanoparticles on human cells: effect of particle size. Nanotoxicology 4:319–330

Lu Z et al (2017) Matrine reduces the proliferation of A549 cells via the p53/p21/PCNA/eIF4E signaling pathway. Mol Med Rep 15:2415–2422

Müller WA (1996) Pattern formation in the immortal Hydra. Trends Genet 12:91–96

Park HG, Yeo MK (2013a) Comparison of gene expression changes induced by exposure to Ag, Cu-TiO2, and TiO2 nanoparticles in zebrafish embryos. Mol Cell Toxicol 9:129–139

Park HG, Yeo MK (2013b) Effects of TiO2 nanoparticles and nanotubes on zebrafish caudal fin regeneration. Mol Cell Toxicol 9:375–383

Park HG, Yeo MK (2015) Comparison of gene expression patterns from zebrafish embryos between pure silver nanomaterial and mixed silver nanomaterial containing cells of Hydra magnipapillata. Mol Cell Toxicol 11:307–314

Park HG, Yeo MK (2017) Toxic effects against bacteria of silver nanocolloids and silver nanotubes in the presence of hydra cells. Mol Cell Toxicol 13:37–47

Park SY et al (2001) Expression of p53, Bcl-2, Bax, and P-glycoprotein in relation to chemotherapeutic response in patients with advanced non-small-cell lung cancer. J Korean Cancer Assoc 33:158–162

Qiu Y et al (2010) Surface chemistry and aspect ratio mediated cellular uptake of Au nanorods. Biomaterials 31:7606–7619

Quadros ME, Marr LC (2010) Environmental and human health risks of aerosolized silver nanoparticles. J Air Waste Manag Assoc 60:770–781

Radhakrishna PG, Srivastava AS, Hassanein TI, Chauhan DP, Carrier E (2004) Induction of apoptosis in human lung cancer cells by curcumin. Cancer Lett 208:163–170

Ravi M, Paramesh V, Kaviya SR, Anuradha E, Solomon FD (2015) 3D cell culture systems: advantages and applications. J Cell Physiol 230:16–26

Reidy B, Haase A, Luch A, Dawson KA, Lynch I (2013) Mechanisms of silver nanoparticle release, transformation and toxicity: a critical review of current knowledge and recommendations for future studies and applications. Materials 6:2295–2350

Saikia J, Yazdimamaghani M, Hadipour MSP, Ghandehari H (2016) Differential protein adsorption and cellular uptake of silica nanoparticles based on size and porosity. ACS Appl Mater Interfaces 8:34820–34832

Sambale F et al (2015) Three dimensional spheroid cell culture for nanoparticle safety testing. J Biotechnol 205:120–129

Sarras MP Jr, Deutzmann R (2001) Hydra and Niccolo Paganini (1782–1840)—two peas in a pod? The molecular basis of extracellular matrix structure in the invertebrate, Hydra. BioEssays 23:716–724

Seo GS (2011) The Role of NF-κB in Colon Cancer. Korean J Gastroenterol 57:3–7

Sionkowska A (2003) Interaction of collagen and poly(vinyl pyrrolidone) in blends. Eur Polym J 39:2135–2140

Suliman YA et al (2015) Evaluation of cytotoxic, oxidative stress, proinflammatory and genotoxic effect of silver nanoparticles in human lung epithelial cells. Environ Toxicol 30:149–160

Sunatkari AL, Talwatkar SS, Tamgadge YS, Muley GG (2013) Synthesis, linear and nonlinear optical properties of Ag/PVP nanocomposite. IJNA 3:35–42

Tiwari DK, Jin T, Behari J (2011) Dose-dependent in vivo toxicity assessment of silver nanoparticle in Wistar rats. Toxicol Mech Methods 21:13–24

Trottier S, Blaise C, Kusui T, Johnson EM (1997) Acute toxicity assessment of aqueous samples using a microplate-based Hydra attenuata assay. Environ Toxicol Water Qual 12:265–271

Wang S, Yan Y, Cheng Z, Hu Y, Liu T (2018) Sotetsuflavone suppresses invasion and metastasis in non-small-cell lung cancer A549 cells by reversing EMT via the TNF-α/NF-κB and PI3K/AKT signaling pathway. Cell Death Discov 4:26

Werner AB, de Vries E, Tait SW, Bontjer I, Borst J (2002) Bcl-2 family member Bfl-1/A1 sequesters truncated bid to inhibit its collaboration with pro-apoptotic Bak or Bax. J Biol Chem 277:22781–22788

Yang H, Yang S, Kong J, Dong A, Yu S (2015) Obtaining information about protein secondary structures in aqueous solution using Fourier transform IR spectroscopy. Nat Protoc 10:382–396

Yeo MK, Kang MS (2010) The effect of nano-scale Zn-doped TiO2 and pure TiO2 particles on Hydra magnipapillata. Mol Cell Toxicol 6:9–17

Yin H et al (2015) Reducing the cytotoxicity of ZnO nanoparticles by a pre-formed protein corona in a supplemented cell culture medium. RSC Adv 5:73963–73973

Yum S, Woo S, Lee A, Won H, Kim J (2014) Hydra, a candidate for an alternative model in environmental genomics. Mol Cell Toxicol 10:339–346

Zhang XF, Shen W, Gurunathan S (2016) Silver nanoparticle-mediated cellular responses in various cell lines: an in vitro model. Int J Mol Sci 17:1603
Acknowledgements
This study was supported by the Basic Science Research Program of the National Research Foundation of Korea (NRF), which is funded by the Ministry of Education (NRF-2016R1A2B4016442 and NRF-2019R1A2C1004616).
Ethics declarations
Conflict of interest
Jin Ah Lee, Soon Seok Kim, and Min-Kyeong Yeo declare that they have no conflicts of interest.
Human and animal rights
The experimental procedures followed the actual law of animal protection that was approved by the Animal Care Advisory Committee of Kyung Hee University, Republic of Korea.
Informed consent
The study was reviewed and approved by the Research Ethics Committee of Kyung Hee University. Informed consent statement: All study participants, or their legal guardian, provided informed written consent prior to study enrollment.
Additional information
Publisher's Note
Springer Nature remains neutral with regard to jurisdictional claims in published maps and institutional affiliations.
About this article
Cite this article
Lee, J.A., Yeo, M. & Kim, S.S. Hydra protein reduces the toxicity of Ag–PVP nanoparticles in a 3D A549 cell line. Mol. Cell. Toxicol. 16, 73–81 (2020). https://doi.org/10.1007/s13273-019-00061-w
Accepted:

Published:

Issue Date:
Keywords
Hydra proteins

Nano-toxicity reduction

Ag nano-particle

Ag–PVP

A 549 lung epithelial cell