Looking beyond the thrombus: essentials of pulmonary artery imaging on CT
Open Access
Pictorial Review
Abstract
Background
Pulmonary arteries are not just affected by thrombus. Congenital and acquired conditions can also involve the pulmonary arteries. An awareness of these conditions is important for the radiologist interpreting chest computed tomography (CT).
Methods
The anatomy of the pulmonary arteries was reviewed. CT and magnetic resonance (MR) acquisition protocols for imaging the pulmonary arteries were discussed. The imaging appearances of congenital and acquired anomalies involving the pulmonary arteries, using CT and other modalities, were presented.
Results
Imaging features of congenital anomalies presented include pulmonary agenesis, partial pulmonary artery agenesis, patent ductus arteriosus, pulmonary artery sling, congenital pulmonary artery stenosis and coronary to pulmonary artery fistula. Acquired pulmonary artery anomalies discussed include arteritis, infected aneurysm and sarcoma. Pulmonary artery filling defects besides thromboembolism are also discussed, including foreign body emboli. Imaging features of bronchogenic carcinoma and mediastinal fibrosis demonstrating compression of the pulmonary arteries are presented, followed by a brief discussion of post repair appearance of the pulmonary arteries for congenital heart disease.
Conclusions
Congenital and acquired pulmonary artery anomalies have a characteristic appearance on a variety of imaging modalities. An acquaintance with the imaging features of these anomalies is needed to avoid misinterpretation and reach the correct diagnosis.
Teaching Points
• Discuss a variety of congenital and acquired anomalies of the pulmonary arteries.
• Discuss the imaging appearance of the presented congenital or acquired pulmonary artery anomalies.
• Describe CT and MR acquisition protocols for imaging the pulmonary arteries.
• Review the anatomy of the pulmonary arteries.
Keywords
Pulmonary artery 
Congenital anomalies 
Acquired anomalies 
Embryology 
Pulmonary embolus 
Introduction
Often, the frontal chest radiograph provides the first clue to the presence of an abnormal pulmonary artery (Fig. 
1a
). If the pulmonary artery is enlarged, it presents with an enlarged contour of the vessel below the aortopulmonary window. Transverse diameter of the normal right interlobar artery from its lateral aspect to the intermediate bronchus is 15 mm in women and 16 mm in men. Computed tomography (CT) with intravenous contrast (Fig. 
1b
) provides more detail of the lumen, vessel wall and adjacent mediastinal structures. Greater anatomical detail is obtained with magnetic resonance (MR) imaging, allowing for improved evaluation of the vessel wall and quantification of flow (Fig. 
1c
). It also allows for pulmonary artery maximal and minimal cross-sectional area measurement to be made perpendicular to the axis of blood flow, useful in identifying distensibility (Fig. 
1d
) [
1
]. Positron emission tomography (PET)-CT is useful to evaluate for malignancy and arteritis. More invasive methods of imaging the pulmonary artery include intravascular ultrasound and catheter angiography.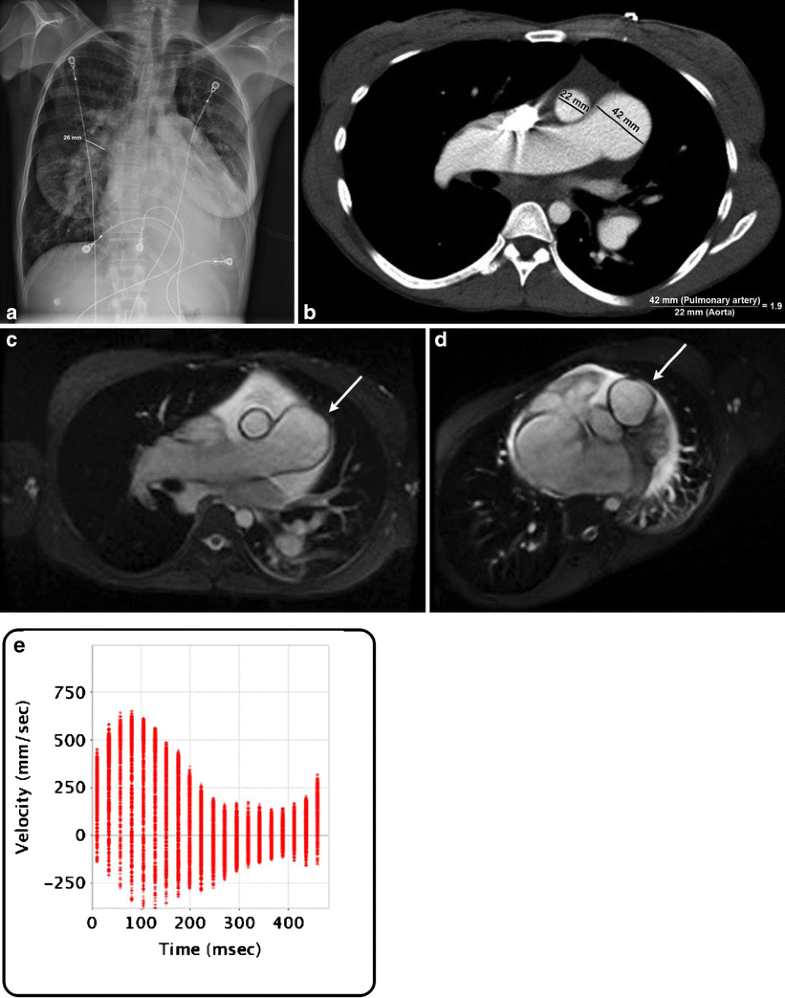 In this article, we will briefly review the embryology and anatomy of the pulmonary arteries, followed by a discussion of the CT appearance of the common congenital anomalies and acquired conditions affecting the pulmonary arteries. For ease of discussion, the acquired entities will be categorised as those affecting the vessel wall, intraluminal abnormalities and extraluminal abnormalities. In addition, a brief discussion of imaging appearance in patients with repaired congenital heart diseases affecting the pulmonary arteries is also included.
Embryology
During the 4th-5th week of embryogenesis, the aortic sac gives rise to six paired arteries called the aortic arches, which will eventually develop into the mature aortic arch and other major vessels (Fig. 
2
). The arches originate from the aortic sac and terminate in the right and left dorsal aorta. The right sixth aortic arch persists as the proximal right pulmonary and the distal main pulmonary artery. The primitive truncus arteriosus forms the proximal main pulmonary artery. The left pulmonary artery and the distal right pulmonary artery develop from arteries arising from the adjacent lung buds and surrounding mesoderm [
2
].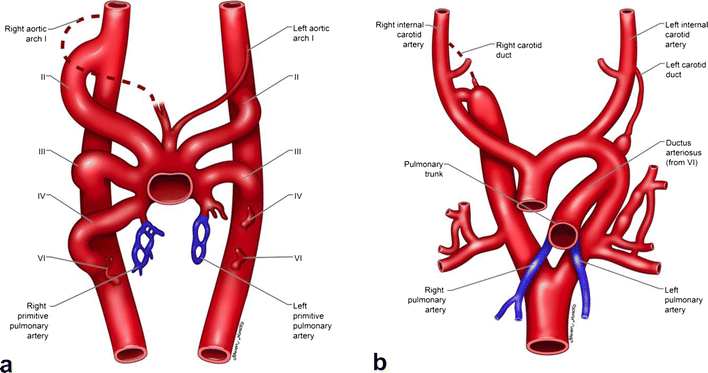 Anatomy
Two arterial circulations supply the lungs [3]. The bronchial circulation draws 1 % of systemic cardiac output and normally only supplies nutrients to the lungs. The primary circulation is the pulmonary arteries, which convey venous blood to the lungs from the heart. A pulmonary artery branch accompanies the bronchial tree and ends in capillary network within the alveolar wall [4]. The normal main pulmonary artery (MPA) divides into the right and left branches before it exits the pericardium. The left pulmonary artery (LPA) travels over the left mainstem bronchus before dividing into its two branches at the root of the left lung. The right pulmonary artery (RPA) continues from the MPA before diving into its two branches, the superior and inferior (interlobar) trunk, at the root of the right lung. The superior trunk supplies the right upper lobe with the interlobar trunk supplying the middle and lower lobes. The lobar branches divide into segmental and subsegmental arteries. Right middle lobe medial and lateral segmental arteries may arise as a common trunk from the interlobar artery or as separate branches. The right lower lobe artery first gives off an apical segmental branch and distal to this the right lower lobe artery is called the basal trunk. Lower lobe artery gives off the medial basal and anterior basal followed by the lateral and posterior basal segmental arteries. On the left, there is no truncus anterior, and the segmental branches originate directly from the LPA. For the left upper lobe and lingual arteries, there may be five to seven segmental branches. The superior segmental artery of the lower lobe arises from the left interlobar artery above the origin of lingular branches. Caudal to this, the left interlobar artery becomes basal trunk giving rise to lower lobe segmental branches [5]. The basal branches may be duplicated or triplicated [4].
On CT, the main pulmonary artery measures up to 28 mm, some studies have found 29 mm in men and 27 mm in women to be the upper limit for normal [3, 6]. A convenient method to evaluate for pulmonary artery enlargement is to determine whether the ratio of the main pulmonary artery to the ascending aorta (Fig. 1b) is greater than 0.9 [6].
Normal main pulmonary artery pressure ranges from 8 to 20 mmHg. In pulmonary hypertension (intraluminal pressure exceeding 25 mmHg at rest or 30 mmHg with exercise), frontal chest radiograph demonstrates a prominent pulmonary artery silhouette with dilated hilar vessels and diminished peripheral vascularity (Fig. 1a). Phase-contrast MR-derived mean average velocity <11.7 cm/s can help in detection of pulmonary hypertension (sensitivity 92.9 % and specificity 82.4 %) [7]. Pulmonary arterial transit times measured using time-resolved MR angiography can be used as a simple, non-invasive metric for detection of altered haemodynamics in pulmonary arterial hypertension [8]. Cine MR derived pulmonary artery distensibility of >10 % (systolic pulmonary artery area - diastolic pulmonary artery area ÷ systolic pulmonary artery area × 100) [1] is useful to evaluate pulmonary hypertensive patients who would respond to vasodilator therapy. In patients with Fontan circulation, pulmonary perfusion ratios are more accurately evaluated with phase contrast MR compared with lung perfusion scintigraphy [9].
Acquisition protocols
CT
Pulmonary CT angiography protocols have been evolving over the years for evaluating pulmonary embolus [10]. Adequate contrast opacification is critical for diagnostic quality, which depends upon patient weight, cardiac output, scan duration and contrast delivery protocol [11, 12]. Arterial enhancement depends on the amount of contrast delivered per unit of time (injection flow rate) and the injection duration, measured in seconds [13]. Suggested minimal luminal attenuation to see all acute and chronic pulmonary venous emboli (PE) is 93 and 211 HU respectively [14]. On a 64-detector CT, a mean pulmonary artery opacification of 250 HU could be achieved with 1.2 ml/kg of 350 mg I/ml injected at 4 ml/s [11]. Iodine flow rate of 1.6 g I/s has been suggested as optimal to reach the pulmonary artery enhancement of 300 HU [15]. The scan duration depends upon the scanner (16, 64, dual source, dual source high pitch, 256, 320 slice multidetector [MD] CT), which on a high pitch scanner this may be less than 2 seconds [16]. With a faster scanner, contrast volume can also be decreased by using a higher iodine concentration [12].
For CTA, a region of interest can be placed in the main pulmonary artery and a timing bolus or bolus tracking can be utilised to determine the time it takes for intravenously injected contrast to reach the pulmonary arteries [17]. Either of these techniques results in homogenous opacification and diagnostic image quality [18]. Contrast flow rate of at least 3 ml/s is associated with lower frequency of insufficient contrast enhancement during chest CT [19]. Flow rate of more than 4 ml/s using an 18-G cannula has been suggested for PE exams [20, 21] A lower volume of contrast and iodine dose can be administered using a higher concentration (350 mg iodine/ml vs 300 mg/ml) [22]. Wu et al. [23] have described a low contrast dose (30 ml) pulmonary 64-detector CT angiography technique without compromising diagnostic image quality. The duration of contrast administration is calculated as scan duration plus additional few seconds (6–8 s). This delay accounts for the interval between the scan trigger and the start of acquisition [12].
When evaluating for Fontan circulation, Park et al. [24] found that a 3-min delay time from the time of injection to be optimal for enhancement of the pulmonary arteries, irrespective of the intravenous route used for administration. Bolus tracking demonstrated a high failure rate in providing homogenous enhancement of the Fontan circulation and of the pulmonary arteries.
For all pulmonary CT angiography studies, a caudocranial direction of acquisition is recommended as it reduces the chances of having respiratory motion related artefacts [
14
]. At our institution, in-patients with normal (Stage 1, glomerular filtration rate [GFR mL/min/1.73 m2] = 90+) and mildly reduced renal function (Stage 2, GFR = 60–89) and no contraindication to CT contrast agent, contrast volume is determined from patient height, weight, age, sex, heart rate and scan duration using vendor-specified protocol (MEDRAD) with a timing bolus (test bolus of 20 ml contrast and 50 ml saline at 4 ml/s to find the time to peak in the main pulmonary artery is used to determine the scan delay, scan delay = time to peak in pulmonary artery + 9 s) [
25
]. The maximum allowed injection flow rate is 6 ml/s. In patients with moderately impaired renal function (stage 3 A, GFR = 45–60), bolus tracking with 75 ml of contrast at 4–5 ml/s is used. In patients with moderately reduced renal function (Stage 3 B, GFR = 30–44) 30 ml of contrast with bolus tracking from SVC, preferably on the 256 slice MDCT is used. Any contrast injection is avoided in patients with GFR less than 29 unless they are on haemodialysis. CT angiography protocol used at our institution is presented in Table 
1
.
Table 1
Pulmonary CT angiography protocol used at our institution
| Indication | Contrast, flow rate | kVpa | mAs(AP scout) | Reconstructions | Comments |
| --- | --- | --- | --- | --- | --- |
| Congenital | Power or hand injection 3 ml/s, 50 ml contrast (300 mg I/ml), no saline chaser | Small = 80, medium = 100, large =  120 80–120 | Tube current modulation | Axial: 3 × 2 mm, 2 × 1 mm Coronal: 3 × 2 Axial MIPS: 8 mm | 25 s delay, Complete thorax |
| Pulmonary embolism | Dual head power injector 4–5 ml/s (350 mg/ml), + 50 ml saline chaser | 80–140 | Tube current modulation | Axial: 3 × 2 mm, 2 × 1 mm Coronal: 3×2 Axial MIPS: 8 mm | Weight-based contrast, Bolus track or timing bolus, Minimal post threshold delay |
| Pulmonary hypertension | Power or hand injection 2–3 ml/s, no saline chaser | 80–140 | Tube current modulation | Axial: 1 × 0.5 mm, 3 × 2 Coronal: 3 × 2 Axial MIPS: 8 mm | Low kVp, 50–75 ml contrast, Additional expiratory scans, HRCT recons |
| Pregnant patient | Dual head power injector 4–5 ml/s, + 50 ml saline chaser | 80–100 | Tube current modulation | Axial: 3 × 2 mm Coronal: 3 × 2 Axial MIPS: 8 mm | Low kVp, max. 75 ml contrast, Z-axis coverage: Aortic arch - diaphragm |
| Renal dysfunction | Dual head power injector 3–4 ml/s, + 50 ml saline chaser | 80–120 | Tube current modulation | Axial: 3 × 2 mm Coronal: 3 × 2 Axial MIPS: 8 mm | 30–75 ml contrast, preferably on 256 MDCT, Trigger from SVC |
MR
MR imaging for the diagnosis of pulmonary artery disease can be performed using high-field MR scanners (>1.5 T) [
26
]. It is indicated when cardiac function and flow needs to be evaluated, such as congenital heart disease, calculating intra/extra-cardiac shunts, right ventricle strain in PE and pulmonary hypertension. Non-contrast sequences used include a bright blood steady state free precession (SSFP), T2-weighted inversion recovery and T1 GRE (gradient echo). Post-contrast MR angiography is performed with extracellular gadolinium contrast agent injected at 0.1–0.2 mmol/kg. When evaluating for PE, a combination of MR angiography GRE and SSFP images have the highest sensitivity [
27
]. MR is the imaging modality of choice for evaluating the right ventricle size and function [
28
]. Contrast-enhanced MR angiography with gadolinium-based MRI contrast agent, using both high–spatial-resolution and high–temporal-resolution protocols (high–spatial-resolution contrast-enhanced MR angiography and time-resolved contrast-enhanced MR angiography), is an excellent non-invasive imaging tool for the evaluation of surgical cavopulmonary connections [
29
]. Pulmonary MR angiography should be considered as an alternative to CT angiography when iodine contrast injection or radiation is a significant matter [
30
]. It has been proposed that electrocardiograph (ECG)-gated and respiratory navigator-gated MR angiography at 3 T using a blood-pool contrast agent at 0.3 mmol/kg can deliver better image quality and vessel sharpness [
31
]. Although, gadolinium-based contrast agents are not recommended in patients with a GFR less than 30 or acute renal failure in patients with hepatorenal syndrome unless essential due to risk for nephrogenic systemic sclerosis [
32
]. Pulmonary MR angiography protocol used at our institution is presented in Table 
2
.
Table 2
Pulmonary MR angiography protocol used at our institution on a 1.5-T magnet
 

Sequence type

Orientation

Slice thickness/gap (mm)

TE/TR (msec)

Flip angle (degrees)

Matrix

Field of view (mm)

Bandwidth (Khz)

NEX

Information acquired

Non-contrast

SSFP

Axial, coronal, ventricle short axis

4/0

1.4/3.4

45

200 × 160

350–420

125

0.75

Morphology, ventricle function

T1

Axial, short axis

6/0

42

90

256

38

62.5

1

Morphology, characterise mass lesions, oedema

T2

Axial, short axis

6/0

41/1,791

90

256 × 256

350

62.5

1

 

Phase Contrast

Perpendicular to pulmonary flow

8

2.7/5.6

25

192 × 128

350

31.25

1

Quantify pulmonary flow volume, peak-mean velocity, regurgitation

Contrast-enhanced MR angiography

MR angiography

Coronal

2.0

1.4/3.9

30

224 × 224

320–420

62.5

.5

Luminal assessment

Time resolved

Coronal

2.6

1.2/3.2

38

256 × 192

40

62.5

0.5–0.75

 

3D GRE

Axial

4/–2

1.9/3.9

12

320 × 160

320–420

83.3

0.75

 

Delayed enhanced

Axial, short axis

8/0

1.3/5.3

20

224 × 192

35

22.7

1

Thrombus, vessel wall, inflammation/scar
PET-CT
F-18 fluorodeoxyglucose (FDG) PET/CT is useful in identifying a pulmonary artery lesion as malignant if the luminal lesion has high FDG uptake [33] and is useful in preoperative evaluation [34]. It is also very useful in identifying active vasculitis in patients with pulmonary vasculitis such as Takayasu's arteritis [35] and monitoring response to immunosuppressive treatment [36]. At our institution, a PET-CT for these indications is combined with a contrast-enhanced CT angiography of pulmonary arteries to better depict the vascular anatomy rather than a non-contrast CT for attenuation correction.
Congenital
Partial pulmonary artery agenesis involves an absence of the proximal portion or a rudimentary pulmonary artery. Blood flow to the ipsalateral lung is achieved through collaterals provided from the brachial arteries and transpleural branches of the thoracic arteries. Patients with the anomaly show an increased predisposition to dyspnea, recurrent respiratory infections and pulmonary haemorrhage. Chest radiographs demonstrate ipsilateral volume loss with hyperinflation of the contralateral side. CT illustrates (Fig. 3b) a rudimentary proximal vessel and hypoplastic lung. Transpleural collaterals can be seen as pleural thickening and subpleural parenchymal bands on the CT [3, 40].
Conclusion
Congenital and acquired pulmonary artery anomalies have a characteristic appearance on a variety of imaging modalities. Even though imaging findings on CT were mainly discussed, the interpreting radiologist needs to be familiar with findings of these entities on a spectrum of imaging modalities to avoid misinterpretation and reach the correct diagnosis.
Notes
Conflict of interest
No potential conflicts of interest to disclose.
Copyright information
© The Author(s) 2014
Open Access This article is distributed under the terms of the Creative Commons Attribution License which permits any use, distribution, and reproduction in any medium, provided the original author(s) and the source are credited.