Abstract
Critical limb ischemia (CLI) is typically associated with a poor prognosis in the absence of a revascularization treatment. While surgical revascularization can be successful, there is an increasing desire for minimally invasive therapies, particularly in the more distal, infrapopliteal arteries. These small vessels contribute significantly to CLI, especially in diabetic CLI patients. This study describes a unique multi-segmented self-expanding stent developed specifically for use in infrapopliteal revascularization procedures. The number of segments deployed can be selected to optimize the stented length and location. The device may provide an adjunctive treatment in instances of sub-optimal balloon angioplasty when treating CLI. The clinical opportunity for the device is presented, followed by a description of the design and the design process. The results from a range of bench testing are presented as well as the findings of porcine studies to assess in vivo behaviour. In summary, while further development is needed, this study has demonstrated the feasibility of this novel device.
This is a preview of subscription content, log in to check access.
Access options
Buy single article
Instant unlimited access to the full article PDF.
US$ 39.95
Price includes VAT for USA
Subscribe to journal
Immediate online access to all issues from 2019. Subscription will auto renew annually.
US$ 99
This is the net price. Taxes to be calculated in checkout.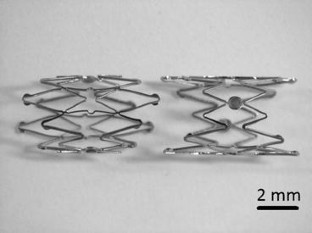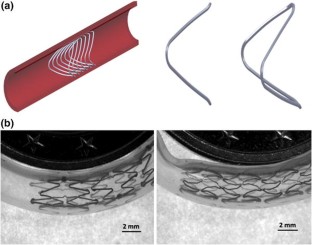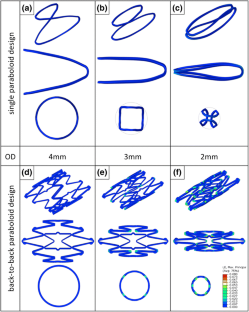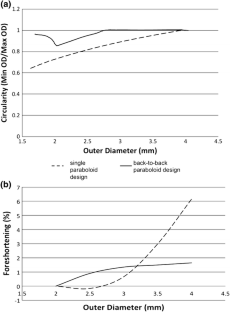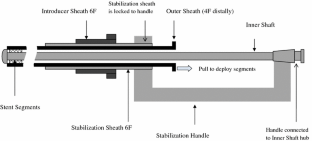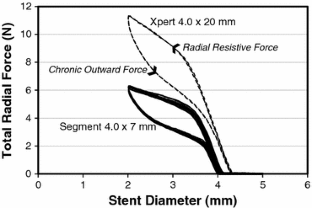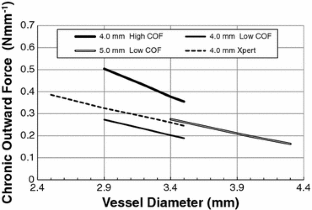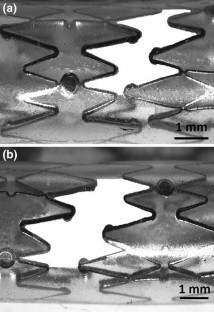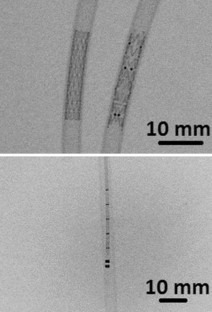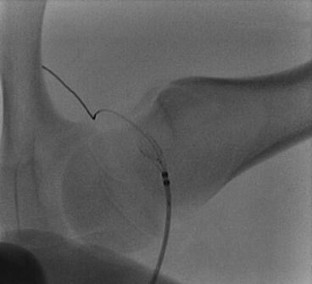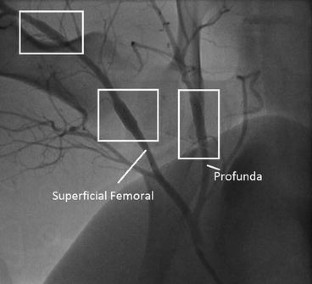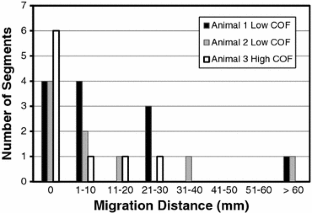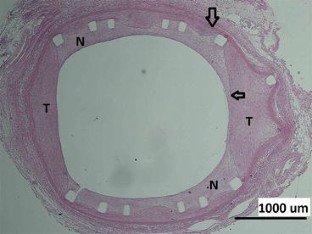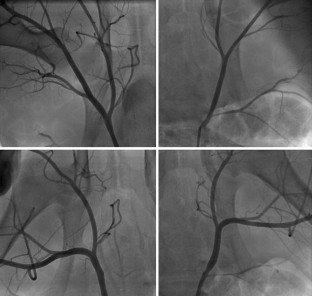 References
1.

Balar, N. N., R. Dodla, P. Oza, P. N. Patel, and M. Patel. Endovascular versus open revascularization for peripheral arterial disease. Endovasc. Today 8:61–64, 2011.

2.

Barshes, N. R., and M. Belkin. A framework for the evaluation of the "value" and cost-effectiveness in the management of critical limb ischemia. J. Am. Coll. Surg. 213(4):552–566, 2011.

3.

Bernstein, O., and N. Chalmers. New treatments for infrapopliteal disease: devices, techniques, and outcomes so far. Cardiovasc. Interv. Radiol 35:715–724, 2012.

4.

Bosiers, M., K. Deloose, R. Moreialvar, J. Verbist, and P. Peeters. Current status of infrapopliteal stenting in patients with critical limb ischemia. J. Vasc. Bras. 7(3):248–255, 2008.

5.

Bradbury, A. W., C. V. Ruckley, F. G. R. Fowkes, J. F. Forbes, and I. Gillespie. Bypass versus angioplasty in severe ischemia of the leg (BASIL): multicentre, randomized controlled trial. Lancet 366(9501):1925–1934, 2005.

6.

Deloose, K., M. Bosiers, and P. Peeters. One year outcome after primary stenting of infrapopliteal lesions with the Chromis Deep stent in the management of critical limb ischemia. Eurointervention 5(3):318–324, 2009.

7.

Donas, K. P., G. Torsello, A. Schwindt, E. Schoenefeld, O. Boldt, and G. A. Pitoulias. Below knee bare nitinol stent placement in high-risk patients with critical limb ischemia is still durable after 24 months of follow-up. J. Vasc. Surg. 52:356–361, 2010.

8.

Faglia, E., M. Mantero, M. Caminiti, C. Caravaggi, R. De Giglio, C. Pritelli, G. Clerici, P. Fratino, P. De Cata, L. Dalla Paola, G. Mariani, M. Poli, P. G. Settembrini, L. Sciangula, A. Morabito, and L. Graziani. Extensive use of peripheral angioplasty, particularly infrapopliteal, in the treatment of ischaemic diabetic foot ulcers: clinical results of a multicentric study of 221 consecutive diabetic subjects. J. Intern. Med. 252:225–232, 2002.

9.

Falluji, N., and D. Mukherjee. Contemporary management of infrapopliteal peripheral arterial disease. Angiology 62(6):490–499, 2011.

10.

Frantzen J.J. Segmented Stent for Flexible Stent Delivery System. U.S. Patent No. 6,187,034. 13 Feb 2001.

11.

Gates, J., and G. G. Hartnell. Optimized diagnostic angiography in high-risk patients with severe peripheral vascular disease. RadioGraphics 20:121–133, 2000.

12.

Gervaso, F., C. Capelli, L. Petrini, S. Lattanzio, L. Di Virgilio, and F. Migliavacca. On the effects of different strategies in modelling balloon-expandable stenting by means of finite element method. J. Biomech. 41(6):1206–1212, 2008.

13.

Graziani, L., A. Silvestro, V. Bertone, E. Manara, R. Andreini, A. Sigala, R. Mingardi, and R. De Giglio. Vascular involvement in diabetic subjects with ischemic foot ulcer: a new morphologic categorization of disease severity. Eur. J. Vasc. Endovasc. Surg. 33:453–460, 2007.

14.

Hirsch, A. T., et al. ACC/AHA 2005 practice guidelines for the management of patients with peripheral arterial disease (lower extremity, renal, mesenteric, and abdominal aortic). Circulation 113:e463–e654, 2006.

15.

Hsiao, H. M., S. Prabhu, A. Nikanorov, and M. Razavi. Renal artery stent bending fatigue analysis. J. Med. Dev. Trans. ASME 1(2):113–118, 2007.

16.

Im, S., S.-W. Rha, B. G. Choi, S. E. Choi, Y. Park, A. R. Goud, et al. Comparison of 12-month clinical outcomes of infrapopliteal balloon angioplasty alone versus balloon angioplasty with provisional stenting in patients with critical limb ischemia. J. Am. Coll. Cardiol. 63:S32–S32, 2014.

17.

Karnabatidis, D., K. Katsanos, S. Spiliopoulos, A. Diamantopoulos, G. C. Kagadis, and D. Siablis. Incidence, anatomical location, and clinical significance of compressions and fractures in infrapopliteal balloon-expandable metal stents. J. Endovasc. Ther. 16:15–22, 2009.

18.

Kasiri, S., and D. J. Kelly. An argument for the use of multiple segment stents in curved arteries. J. Biomech. Eng. 133(8):084501, 2011.

19.

Krol, K. L. Coding for lower extremity vascularization in 2011. Endovasc. Today 5:81–89, 2011.

20.

Liistro, F., I. Porto, P. Angioli, S. Grotti, L. Ricci, K. Ducci, G. Falsini, G. Ventoruzzo, F. Turini, G. Bellandi, and L. Bolognese. Drug-eluting balloon in peripheral intervention for below the knee angioplasty evaluation (DEBATE-BTK): a randomized trial in diabetic patients with critical limb ischemia. Circulation 128(6):615–621, 2013.

21.

Marrey, R. V., R. Burgermeister, R. B. Grishaber, and R. O. Ritchie. Fatigue and life prediction for cobalt-chromium stents: a fracture mechanics analysis. Biomaterials 27(9):1988–2000, 2006.

22.

Neville, R. F., J. Steinberg, J. Babrowicz, J. Laredo, D. Deaton, and C. E. Attinger. A comparison of endovascular revascularization and bypass in regards to healing rayes of ischemic wounds. J. Vasc. Surg. 51(6):11s–12s, 2010.

23.

Ní Ghriallais, R., and M. Bruzzi. Self-expanding stent modelling and radial force accuracy. Comput. Methods Biomech. Biomed. Eng. 17(4):318–333, 2014.

24.

Norgren, L., W. R. Hiatt, J. A. Dormandy, M. R. Nehler, K. A. Harris, and F. G. R. Fowkes. Inter-society consensus for the management of peripheral arterial disease (TASC II). Eur. J. Vasc. Endovasc. Surg. 33:S1–S75, 2007.

25.

Paley D. Principles of Deformity Correction. Berlin: Springer, 2002. ISBN 3-540-41665-X. p 287.

26.

Rastogi, S., and S. W. Stavropoulos. Infrapopliteal angioplasty. Tech. Vasc. Interv. Radiol. 7(1):33–39, 2004.

27.

Rocha-Singh, K. J., M. Jaff, J. Joyce, J. Laird, G. Ansel, and P. Schneider. Major adverse limb events and wound healing following infrapopliteal artery stent implantation in patients with critical limb ischemia: the XCELL trial. Catheter. Cardiovasc. Interv. 80(6):1042–1051, 2012.

28.

Ryu, H. M., J. S. Kim, Y. G. Ko, M. K. Hong, Y. Jang, and D. Choi. Clinical outcomes of infrapopliteal angiography in patients with critical limb ischemia. Korean Circ. J. 42:259–265, 2012.

29.

Saguner, A. M., T. Traupe, L. Raeber, N. Hess, Y. Banz, A. R. Saguner, N. Diehm, and O. M. Hess. Oversizing and restenosis with self-expanding stents in iliofemoral arteries. Cardiovasc. Interv. Radiol. 35:906–913, 2012.

30.

Schmidt, A., M. Piorkowski, M. Werner, M. Ulrich, Y. Bausback, S. Braunlich, H. Ick, J. Schuster, S. Botsios, H. J. Kruse, R. L. Varcoe, and D. Scheinert. First experience with drug-eluting balloons in infrapopliteal arteries: restenosis rate and clinical outcome. J. Am. Coll. Cardiol. 58:1105–1109, 2011.

31.

Selvarasu, N. K. C., D. K. Tafti, and P. P. Vlachos. Hydrodynamic effects of compliance mismatch in stented arteries. J. Biomech. Eng. 133(2):021008, 2011.

32.

Siablis, D., D. Karnabatidis, K. Katsanos, A. Diamantopoulos, S. Spiliopoulos, G. C. Kagadis, and J. Tsolakis. Infrapopliteal application of sirolimus-eluting versus bare metal stents for critical limb ischemia: analysis of long-term angiographic and clinical outcome. J. Vasc. Interv. Radiol. 20:1141–1150, 2009.

33.

Singh, K. P., and A. M. Sharma. Critical limb ischemia: current approach and future directions. J. Cardiovasc. Trans. Res. 7:437–445, 2014.

34.

Stoeckel, D., A. Pelton, and T. Duerig. Self-expanding nitinol stents: material and design considerations. Eur. Radiol. 14:292–301, 2004.

35.

Yang, X., X. Lu, K. Ye, X. Li, J. Qin, and M. Jiang. Systematic review and meta-analysis of balloon angioplasty versus primary stenting in the infrapopliteal disease. Vasc. Endovasc. Surg. 48:18–26, 2014.

36.

Zahedmanesh, H., and C. Lally. Determination of the influence of stent strut thickness using the finite element method: implications for vascular injury and in-stent restenosis. Med. Biol. Eng. Comput. 47(4):385–393, 2009.

37.

Zhao, H. Q., A. Nikanorov, R. Virmani, R. Jones, E. Pacheco, and L. B. Schwartz. Late stent expansion and neointimal proliferation of oversized nitinol stents in peripheral arteries. Cardiovasc. Interv. Radiol. 32:720–726, 2009.
Acknowledgments
The authors wish to acknowledge the design and development activities of Mr. Brendan Casey and Mr. Ronan Keating. This work has been co-funded by Enterprise Ireland and the European Regional Development Fund (ERDF) through Proof of Concept grant PC-2008-012 and Technology Development grant CFTD-09-0139.
Conflict of interest
Barry O'Brien, Eoin O'Cearbhaill and Mark Bruzzi declare that they have no conflict of interest.
Human Studies
No human studies were carried out by the authors for this article.
Animal Studies
All institutional and national guidelines for the care and use of laboratory animals were followed and approved by the appropriate institutional committees.
Additional information
Associate Editor Ajit P. Yoganathan oversaw the review of this article.
Electronic supplementary material
Below is the link to the electronic supplementary material.
Supplementary material 1 (WMV 20778 kb)
About this article
Cite this article
O'Brien, B., O'Cearbhaill, E. & Bruzzi, M. A Stent with Customizable Length for Treatment of Critical Limb Ischemia: Clinical Need, Device Development and Pre-clinical Testing. Cardiovasc Eng Tech 5, 317–333 (2014). https://doi.org/10.1007/s13239-014-0192-8
Received:

Accepted:

Published:

Issue Date:
Keywords
Self-expanding

Infrapopliteal

Angioplasty

Multi-segmented

Radial force

Oversizing