Atg7 in development and disease: panacea or Pandora's Box?
ABSTRACT
Macroautophagy is an evolutionarily conserved intracellular degradation system used by life ranging from yeasts to mammals. The core autophagic machinery is composed of ATG (autophagy-related) protein constituents. One particular member of the ATG protein family, Atg7, has been the focus of recent research. Atg7 acts as an E1-like activating enzyme facilitating both microtubule-associated protein light chain 3 (LC3)-phosphatidylethanolamine and ATG12 conjugation. Thus, Atg7 stands at the hub of these two ubiquitin-like systems involving LC3 and Atg12 in autophagic vesicle expansion. In this review, I focus on the pleiotropic function of Atg7 in development, maintenance of health, and alternations of such control in disease.
KEYWORDS
autophagy 
Atg7 
mouse model 
development 
disease 
ABBREVIATIONS
2D LC

two-dimensional liquid chromatography

Aβ

amyloid beta

ATG

autophagy-related

Atg7−/−

Atg7-deficient mice

Atg7flox/flox

Atg7-floxed mice

CryABR120G

αB-crystallin R120G mutation

EndMT

endothelial-to-mesenchymal transition

FOXO

forkhead box O

HCV

hepatitis C virus

HIV

human immunodeficiency virus

HUVECs

human umbilical vein endothelial cells

iTRAQ

isobaric tags for relative and absolute quantitation

LC3

light chain 3

MEF

mouse embryonic fibroblast

MS/MS

tandem mass spectrometry

mTOR

mammalian target of rapamycin

NIH

National Institutes of Health

NSCLC

non-small cell lung cancer

PINK1

PTEN-induced kinase 1

siRNA

small interference RNA

VWF

Von Willebrand factor

WT

wild-type
INTRODUCTION
As a cellular scavenger, autophagy is a fundamental catabolic process consisting of three primary classes of autophagy: macroautophagy (the most prevalent form of autophagy and hereafter referred to as autophagy), microautophagy, and chaperone-mediated autophagy (Feng et al., 2015). Central to the sequential events of autophagy is de novo formation of cup-shaped isolation membranes (also known as phagophores) to sequester cytoplasmic components, expansion of this membrane to create a seal for a double membrane-bound vesicles called an autophagosome, and fusion of the autophagosome with a lysosome membrane to generate an autolysosome allowing degradation and recycling of the cargoes (Nakatogawa et al., 2009). Eukaryotic cells have evolved a well-organized autophagic machinery to adapt to and survive adverse microenvironmental conditions, including dwindling nutrient supplies (Galluzzi et al., 2014). Genetic screening of autophagy-deficient mutants in yeast provides us with almost 40 ATG (autophagy-related) genes, among which approximately 18 genes possess orthologues in higher eukaryotes. These ATG-encoded products act as the core autophagy machinery and contribute to the sequential steps of autophagosome formation including (I) induction of autophagosome formation by Atg1 complex, (II) phagophore expansion by Atg9-related cycling system, (III) vesicle nucleation by the phosphatidylinositol 3-kinase complex, and (IV) vesicle expansion by two ubiquitin-like conjugation systems. One such protein is Atg7, which is uniquely shared by, and plays crucial roles in, the two ubiquitin-like conjugation systems of microtubule-associated protein light chain 3 (LC3, a mammalian homologue of Atg8) and Atg12 respectively (Feng et al., 2015).
The ubiquitin-like conjugation system of LC3 involves Atg3, Atg4, Atg7, and LC3 for LC3-phosphatidylethanolamine production, while the ubiquitin-like conjugation system of Atg12 involves the Atg5, Atg7, Atg10, Atg12, and Atg16 for Atg12-Atg5-Atg16 production. The common ubiquitin E1-like activating enzyme, Atg7, is essential for the assembly and function of these two conjugates in the expansion of autophagosomal membranes (Nakatogawa et al., 2009; Feng et al., 2015). Substantial progress has been made during the past decade revealing the pivotal roles of Atg7 in autophagy-related cell homeostasis. Recent studies have unveiled the diverse and complex autophagy-dependent function of the evolutionarily conserved Atg7 in varying species, especially plants and animals. This review focuses on how this dynamic function is achieved and discusses the implications of altered Atg7-mediated autophagic activities in molecular, cellular, and organismal levels.
FUNCTION OF ATG7 IN PLANTS
Phenotypic analyses of Atg7 mutants indicates that Atg7 disruption renders Arabidopsis (Arabidopsis thaliana) cells hypersensitive to a shortage of nutrients with features of premature leaf senescence, though the mutant is otherwise normal (Doelling et al., 2002). Increased expression of multiple LC3 isoforms are observed in Atg7 mutants due to impaired control of the two ubiquitin-like conjugation systems of LC3 and Atg12 (Thompson et al., 2005). Deletion of Atg7 in Nicotiana benthamiana and Arabidopsis leads to unrestricted hypersensitive responses during plant innate immunity (Liu et al., 2005; Hofius et al., 2009). Arabidopsis Atg7 mutant is also more susceptible to fungal infection (Lenz et al., 2011). Minina and colleagues showed that the autotroph Arabidopsis can benefit from caloric restriction-induced lifespan extension via Atg7-regulated autophagy (Minina et al., 2013).
FUNCTION OF ATG7 IN INVERTEBRATES
Nematode
A similar role of Atg7-regulated autophagy in dietary restriction-induced lifespan extension exists in Caenorhabditis elegans (C. elegans) (Jia and Levine, 2007). In addition, genetic inactivation of C. elegans Atg7 exacerbates accumulation of toxic polyglutamine expansion protein aggregates and accelerates progress of neurodegenerative disorders (Jia et al., 2007).
Fruit fly
Steroid- and radiation-triggered programmed cell death accompanies increased Atg7 transcripts in Drosophila cells (Lee et al., 2003). Normal levels of Atg7-modulated autophagy, albeit dispensable for metamorphosis, seem to be critical for preventing neurodegeneration, resisting stresses, and promoting longevity in Drosophila (Juhasz et al., 2007; Juhasz and Neufeld, 2008). Using the Drosophila eye as a model system, Chen et al. described Atg7 as a downstream effector of heat shock protein 27, and as a participant in the regulation of normal eye development, neuronal homeostasis, and lifespan (Chen et al., 2012). Such critical roles of fruit fly Atg7 has been reported not only in development but also in infection. Mycobacterium marinum infection is sufficient to counteract the effectiveness of antimycobacterial treatment, and thereby drastically affects the survival rate in Atg7 mutant Drosophila (Kim et al., 2012). In addition, a recent study reveals a novel example of Atg7-independent autophagy during the developmental shortening of Drosophila intestine (Chang et al., 2013).
FUNCTION OF ATG7 IN ZEBRAFISH AND RATS
In zebrafish, approximately one third of Atg7-knockdown morphants had ectopic expression of essential transcription factors and severe developmental defects in cardiac morphology encompassing heart looping, pericardial edema, and malformation of chamber and valve (Lee et al., 2014). Gain- and loss-of-function of Atg7 studies in the αB-crystallin R120G mutation (CryABR120G) model of rat desmin-related cardiomyopathy reveal the significant ability of ATG7 in reversing autophagic deficiency and maintaining physiological levels of basal autophagy (Pattison et al., 2011). As a consequence of Cathepsin B treatment, stimulated ATG7-mediated autophagy aggravates lipotoxicity via induction of nod-like receptor 3 proinflammatory response in rat insulinoma cells (Li et al., 2013).
FUNCTION OF ATG7 IN MICE
To investigate the
in vivo
function of ATG7 in mammals, Komatsu et al. generated Atg7-deficient mice (Atg7
−/−
). As anticipated, Atg7
−/−
mice exhibit impaired constitutive and starvation-induced autophagy; however, they die soon after birth (Komatsu et al.,
2005
). Therefore, Ubc-CreERT2 mice were crossed with Atg7-floxed (Atg7
flox/flox
) mice for the generation of tamoxifen-inducible whole body Atg7 knockout mice. Karsli-Uzunbas et al. further reported that acute systemic deletion of Atg7 in adult mice leads to perturbed glucose metabolism, but blocks the progression of non-small cell lung cancer (NSCLC)
in vivo
(Karsli-Uzunbas et al.,
2014
). Thus, cells from embryo/fetus of Atg7
−/−
mice and certain cell/tissue-specific Atg7-knockout postnatal mice were extensively employed in the quest for understanding the mechanisms underlying the pleiotropic effects of ATG7 in development, physiology, and pathology (Table 
1
).
Table 1
Function of Atg7 revealed by genetic mouse models.
Atg7-knockout targets

Tools

Predominant phenotypes

References

Whole-body

Zp3-Cre

Postnatal lethality; impaired bacteria clearance, unaffected obatoclax-induced toxicity, augmented genomic instability, aberrant cell apoptosis, and altered cell cycle, and cytoskeletal protein filamentous actin network in mouse embryonic fibroblasts

Komatsu et al., 2005; Sun et al., 2008; McCoy et al., 2010; Lee et al., 2012; Zhuo et al., 2013

iUbc-Cre

Perturbed glucose metabolism and inhibited progression of non-small cell lung cancer

Karsli-Uzunbas et al., 2014

Liver

Mx1-Cre

Hepatomegaly with malformations of organelles and ubiquitin-positive protein aggregates

Alb-Cre

Oxidative stress with increased total protein mass; excessive storage of triglyceride in lipid droplets during nutrient deprivation

GFAP-Cre

Inhibited lipid release and fibrogenesis in hepatic stellate cells

Hernandez-Gea et al., 2012

Pancreas

RIP-Cre

Impaired glucose tolerance; degenerated islets; decreased mitochondrial oxidation consumption and increased compensatory basal glycolytic rates and reactive oxygen species levels

Skeletal muscle

MCK-Cre

Decreased mitochondrial oxidation consumption and increased compensatory basal glycolytic rates and reactive oxygen species levels

Wu et al., 2009

Endothelium

VE-cadherin-Cre

Impaired von Willebrand factor (VWF) release; susceptibility to bleomycin-induced pulmonary fibrosis

Vascular smooth muscle

SM22α-Cre

Sarcoplasmic reticulum swelling and imbalanced Ca2+ homeostasis

Michiels et al., 2015

Adipose

Fab4 (aP2)-Cre

Lean body mass and acquisition of brown adipose tissue features

Mammary gland

WAP-Cre

Impaired keratin 8 homeostasis; defective phagocytosis and enhanced inflammatory responses

Neuron

Nestin-Cre

Neurodegenerative symptoms

Komatsu et al., 2006a

Pcp2-Cre

Axonal dystrophy

Komatsu et al., 2007

POMC-Cre

Elevated lipolysis; dysregulation of metabolic modulation

CamKII-Cre

Neurodegenerative symptoms

Cre-expressing viruses

Aberrant inflammation responses; repressed retrograde degeneration of dopaminergic axons

VAChT-Cre

No apparent phenotypes of amyotrophic lateral sclerosis

Tashiro et al., 2012

DAT-Cre

Neurodegenerative symptoms; altered dopaminergic axonal profile and morphology

Bone marrow/Hematopoiesis

EIIa-Cre

Impaired mitochondrial clearance during reticulocyte maturation

Zhang et al., 2009b

Lck-Cre

Aberrant production of IL-2 and IFN-γ; impaired stimulated proliferation, endoplasmic reticulum homeostasis, and calcium mobilization

Vav-iCre

Severe and fatal anemia and myeloproliferation; impaired response to α-herpesviruses infection and viral DNA recognition; compromised macrophagic differentiation induction and function acquisition

Mortensen et al., 2010, 2011; Rasmussen et al., 2011; Jacquel et al., 2012

Intestine

Villi-Cre or Villi-CreER

Elevated inflammatory responses; promoting tumorigenesis; impaired immune homeostasis; damaged Paneth cells

Cadwell et al., 2009; Fujishima et al., 2011; Wittkopf et al., 2012; Inoue et al., 2012b; Nishiumi et al., 2012; Adolph et al., 2013

Skin

K14-Cre

Impaired removal of reactive oxidized phospholipids and damaged protein aggregates; dispensible for skin barrier function

Kidney

PEPCK-Cre

Vulnerable to cisplatin- and ischemia-reperfusion induced acute renal injury

Jiang et al., 2012
FUNCTION OF ATG7 IN HUMAN
Prompted by the clues from model organisms, the architecture of the functional ATG7-mediated regulatory network has been explored in the settings of human biology and disease, such as cancer, infectious disease, and neurodegenerative diseases (Fig. 
1
).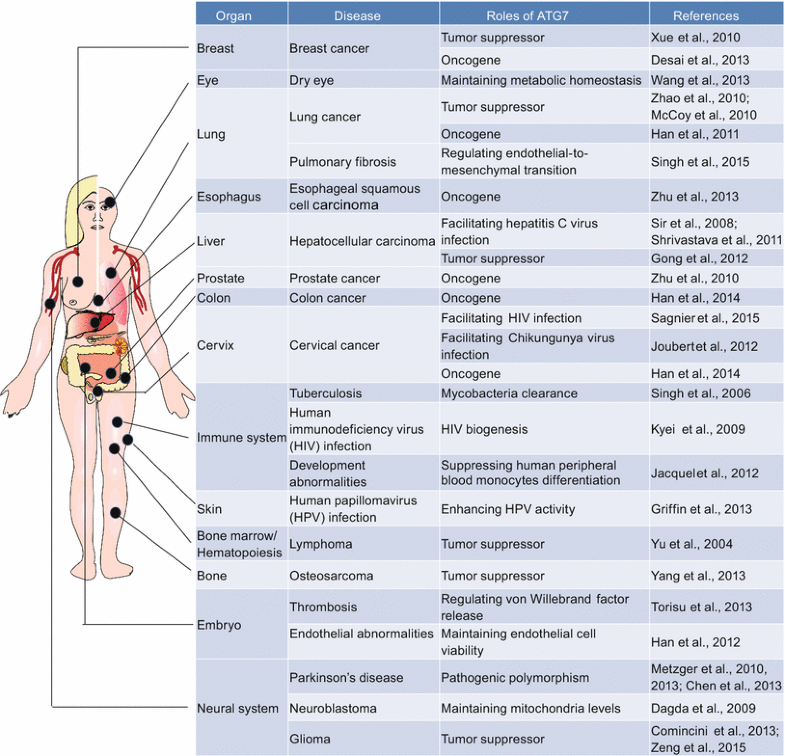 CONCLUDING REMARKS
The word "autophagy", literally auto-, meaning "self", and phagein, meaning "to eat", in Greek, was originally coined by Belgian cytologist Christian de Duve in 1963 (Klionsky,
2008
). More than 50 years have passed since autophagy was defined as a core mechanism underlying both elimination and recycling of intracellular materials in normal development and diverse disease categories (Mizushima and Komatsu,
2011
; Choi et al.,
2013
; Murrow and Debnath,
2013
). These include, but are not limited to, immunity (Virgin and Levine,
2009
), metabolism (Codogno and Meijer,
2010
; Rabinowitz and White,
2010
), aging (Madeo et al.,
2010
), and the cardiovascular (De Meyer et al.,
2015
; Nussenzweig et al.,
2015
), and nervous system (Komatsu et al.,
2006b
). Although still in the early stages, it appears to be almost clear how core machinery plays in Atg7-dependent and -independent autophagosome biogenesis (Nishida et al.,
2009
; Lamb et al.,
2013
). No less important than this ATG7-mediated autophagic assembly is the function and regulation of Atg7 in natural and stressed pathophysiological conditions. Thanks to the dedication and contribution of numerous laboratories over the years, recent exciting findings on ATG7 have caused a paradigm shift in the field of ATG7-mediated autophagic regulation. A brief historical overview of select prior landmark investigations has been summarized in the timeline of Fig. 
2
. Given that these studies reflect the nature of ATG7's intrinsic double-edged sword in development and disease, it is likely that excessive or deficient Atg7-mediated autophagy is harmful. Following advances in therapeutic manipulation of autophagy (Kroemer,
2015
), it will be important to determine the specific and safe methods for pharmacologic fine-tuning of ATG7 activity.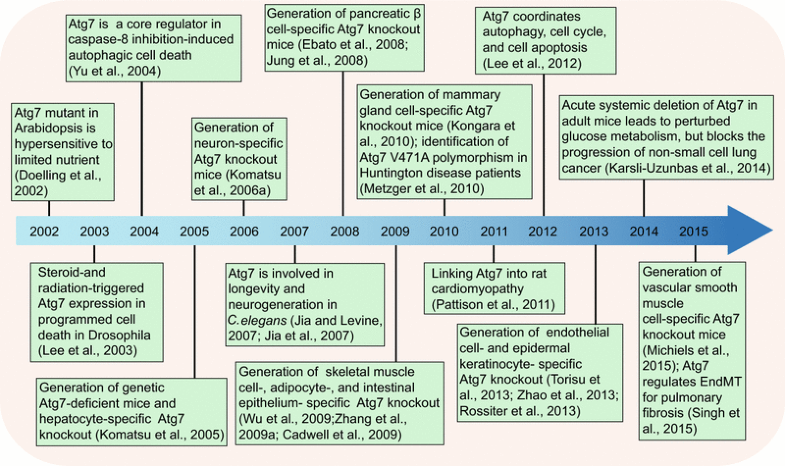 Another cardinal question concerns personal medicine for accurate and rapid diagnosis of ATG7-related disease. The complex role of ATG7 seems to be highly structured in a spatiotemporal fashion rather than ad libitum (Behrends et al., 2010). The diverse roles of Atg7 in different settings summarized by this review may be attributed to selective Atg7-mediated autophagy at distinct organelle, cell, tissue, organ, and organism levels. An accurate understanding of the specified and delicate roles of Atg7-autophagy requires the in-depth knowledge of both the contextual extracellular cues and the intracellular responses. Thus, it will be interesting to search for the exact niches responsible for how Atg7 activity is encoded. It is also plausible that certain intricate forms of crosstalk interactions between Atg7-mediated autophagy and other autophagy-dependent or -independent pathways are responsible for shaping the versatile functions of Atg7. Therefore, it might be essential to identify and characterize the key coordinators of Atg7-mediated autophagy and other regulatory networks. Despite these challenges to be faced, academic and industry's research progress in Atg7 offers new avenues towards refined autophagic mechanism and Atg7-based clinical treatment.
Notes
ACKNOWLEDGEMENTS
The author is grateful for the support from the National Institutes of Health (NIH) Intramural Program and the Leducq Foundation. The author thanks the NIH Fellows Editorial Board and Cindy Clark, NIH Library Writing Center, for manuscript editing assistance, and apologizes to colleagues whose work could not be cited or fully discussed due to space limitations.
COMPLIANCE WITH ETHICS GUIDELINES
Jianhua Xiong declares that he has no conflict of interest. This article does not contain any studies with human or animal subjects performed by the author.
Copyright information
© The Author(s) 2015
Open AccessThis article is distributed under the terms of the Creative Commons Attribution 4.0 International License (http://creativecommons.org/licenses/by/4.0/), which permits unrestricted use, distribution, and reproduction in any medium, provided you give appropriate credit to the original author(s) and the source, provide a link to the Creative Commons license, and indicate if changes were made.