Structural Effect of Ionic Liquid on Long-Term Stability in Poly(ethylene oxide)/Ag Ions/Ag Nanoparticles Composite for Olefin Separation
Abstract
In this study, the effect of ionic liquid cation on the long-term stability of membranes was investigated using 1-methyl-3-octylimidazolium tetrafluoroborate (MOIM
+
BF
4
-
). The initial permeance of the poly(ethylene oxide) (PEO)/AgBF
4
/MOIM
+
BF
4
-
membrane was 17 gas permeation unit (GPU), but after 100 hours of gas permeation experiment, it showed a low permeance of 5.3 GPU. Uv-vis spectra also showed that MOIM
+
BF
4
-
could not prevent aggregation of silver nanoparticles. This indicated t h a t t h e M OI M
+
BF
4
-
in the membrane could not stabilize the silver nanoparticles and thus the silver nanoparticles were aggregated and acted as a gas permeation barrier. MOIM
+
BF
4
-
could not stabilize the surface of silver nanoparticles because of the long chain length of the cation. This indicated that the cation of the ionic liquid, especially carbon length, was main factor affecting the stability of separation performance with time for polymer/silver salt/ionic liquid complex membranes.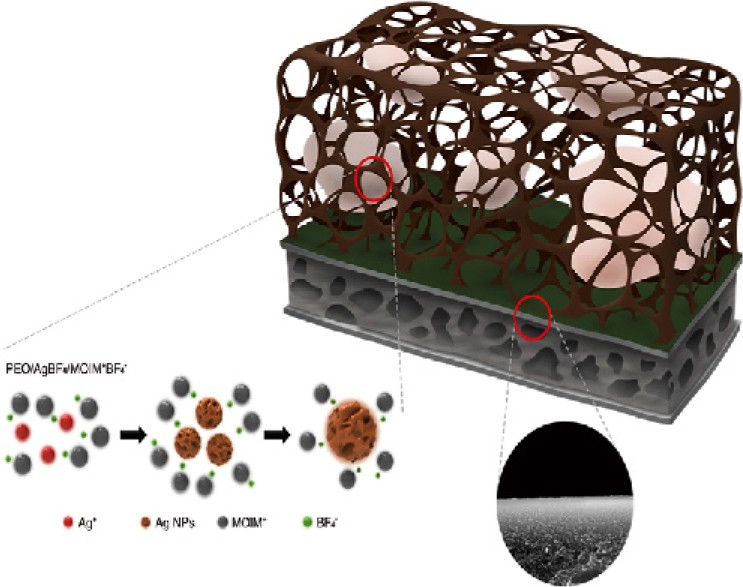 Keywords
facilitated transport 
carrier 
membrane 
ionic liquid 
Ag 
Notes
Acknowledgments
This work was supported by the Basic Science Research Program (2017R1D1A1B03032583) through the National Research Foundation of Korea (NRF), funded by the Ministry of Science, ICT, and Future Planning. This work was also supported by the Soon-chunhyang University Research Fund.
Copyright information
© The Polymer Society of Korea and Springer 2019