Abstract
Questin has favorable applications. Fractional factorial design, Box–Behnken design, and response surface methodology were adopted to optimize the fermentation conditions of the marine-derived fungus, Aspergillus flavipes HN4-13, thereby enhancing questin production. Optimal fermentation conditions in a 500-mL conical flask with 200 mL of medium were 4% soluble starch, 0.9% beef extract, 4% NaCl, 0.05% Na2HPO4, pH 6, 2% inoculum size, and shaking at 28 ℃ and 160 rpm/min for 7 days. The production of questin can achieve 64.93 ± 4.55 mg/L, with no significant difference from the predicted value (66.27 mg/L). Thus, this optimized process of questin production is feasible. Such production is 17-fold higher than that of the basal Sabouraud's dextrose medium. Results indicate the potential of A. flavipes HN4-13 in the large-scale production of questin through fermentation.
This is a preview of subscription content, log in to check access.
We're sorry, something doesn't seem to be working properly.
Please try refreshing the page. If that doesn't work, please contact support so we can address the problem.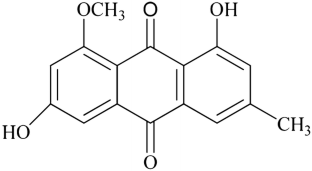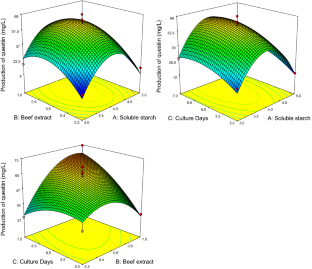 References
Cheng KC, Ren M, Ogden KL (2013) Statistical optimization of culture media for growth and lipid production of Chlorella protothecoides UTEX 250. Bioresour Technol. 128:44–48

Dey et al (2018) Dey P, Singh J, Scaria J, Anand AP (2018) Improved production of cellulase by Trichoderma reesei (MTCC 164) from coconut mesocarp-based lignocellulosic wastes under response surface-optimized condition. 3 Biotech. 8:402

Gerwick WH (2013) Fenner AM (2013) Drug discovery from marine microbes. Microb Ecol 65:800–806

Gomes NG, Lefranc F, Kijjoa A, Kiss R (2015) Can some marine-derived fungal metabolites become actual anticancer agents? Mar Drugs 13:3950–3991

Guo L, Wang C (2017) Optimized production and isolation of antibacterial agent from marine Aspergillus flavipes against Vibrio harveyi. 3 Biotech. 7:383

Guo L, Zhu W, Xu F, Liu M, Xie Y, Zhang J (2014) Optimized ultrasonic-assisted extraction of polysaccharides from Cyclina sinensis and evaluation of antioxidant activities in vitro. CyTA-J Food 12:32–39

Guo L, Wang C, Zhu W, Xu F (2016) Bioassay-guided fractionation and identification of active substances from the fungus Aspergillus tubingensis against Vibrio anguillarum. Biotechnol Biotechnol Equip 30:602–606

Guo L, Guo J, Xu F (2017) Optimized extraction process and identification of antibacterial substances from rhubarb against aquatic pathogenic Vibrio harveyi. 3 Biotech 7:377

Guo L, Cao X, Yang S, Wang X, Wen Y, Zhang F, Chen H, Wang L (2019) Characterization, solubility and antibacterial activity of inclusion complex of questin with hydroxypropyl-β-cyclodextrin. 3 Biotech 9:123

Guo L, Zhang F, Wang X, Chen H, Wang Q, Guo J, Cao X, Wang L (2019) Antibacterial activity and action mechanism of questin from marine Aspergillus flavipes HN4–13 against aquatic pathogen Vibrio harveyi. 3 Biotech 9:14

Jin L, Quan C, Hou X, Fan S (2016) Potential pharmacological resources: natural bioactive compounds from marine-derived fungi. Mar Drugs 14:76

Liu W, Yu Y, Yang R, Wan C, Xu B, Cao S (2010) Optimization of total flavonoid compound extraction from Gynura medica leaf using response surface methodology and chemical composition analysis. Int J Mol Sci 11:4750–4763

Song F, Ren B, Chen C, Yu K, Liu X, Zhang Y, Yang N, He H, Liu X, Dai H, Zhang L (2014) Three new sterigmatocystin analogues from marine-derived fungus Aspergillus versicolor MF359. Appl Microbiol Biotechnol 98:3753–3758

Wang C, Guo L, Hao J, Wang L, Zhu W (2016) α-Glucosidase inhibitors from the marine-derived fungus Aspergillus flavipes HN4-13. J Nat Prod 79:2977–2981

Wang H, Zhou W, Li H, Bu R (2018) Optimization of the fermentation conditions for the mutant strain of β-cyclodextrin glycosyltransferase H167C to produce cyclodextrins. 3 Biotech. 8:165

Zhao C, Liu H, Zhu W (2016a) New natural products from the marine-derived Aspergillus fungi—A review. Acta Microbiol Sin 56:331–362

Zhao C, Guo L, Wang L, Zhu G, Zhu W (2016b) Improving the yield of (+)-terrein from the salt-tolerant Aspergillus terreus PT06-2. World J Microbiol Biotechnol 32:77
Acknowledgments
This work financially supported by the Open-end Funds of Jiangsu Key Laboratory of Marine Pharmaceutical Compound Screening (HY201803), Natural Science Foundation of Jiangsu Higher Education Department (19KJB350007), Natural Science Foundation of Jiangsu Province (BK20151283, BK20181484), Priority Academic Program Development of Jiangsu Higher Education Institutions (PAPD) and Postgraduate Research and Practice Innovation Program of Jiangsu Province (SJCX19_1001).
Ethics declarations
Conflict of interest
The authors declare that they have no conflict of interest.
Ethical standards
This article does not contain any studies with human participants or animals performed by any of the authors.
About this article
Cite this article
Guo, L., Wang, L., Li, X. et al. Enhanced production of questin by marine-derived Aspergillus flavipes HN4-13. 3 Biotech 10, 54 (2020). https://doi.org/10.1007/s13205-020-2067-z
Received:

Accepted:

Published:
Keywords
Questin

Aspergillus flavipes HN4-13

Fermentation optimization

Response surface methodology