Abstract
This study examined the molecular mechanisms underlying the roles of the microRNAs miR-18a and miR-25 in the progression of human liver cancer. Liver cancer biopsies obtained from early-stage liver cancer patients were examined by qRT-PCR and Northern blotting to examine the expression of miR-18a and miR-25. Both microRNAs were overexpressed in mouse primary hepatocytes following transfection of the cells with vectors encoding the microRNAs. An analysis of biopsy samples from liver cancer patients indicated that both miR-18a and miR-25 were overexpressed during the early stages of liver cancer. Further, qRT-PCR and Northern blotting confirmed that both of these microRNAs play crucial roles in the progression of liver cancer. Our findings clearly indicate that miR-18a and miR-25 can be used as prognostic biomarkers for early-stage liver cancer. Hence, miR-18a and miR-25 may have value as prognostic indicators and may facilitate the development of novel therapeutics for liver cancer.
This is a preview of subscription content, log in to check access.
Access options
Buy single article
Instant access to the full article PDF.
US$ 39.95
Price includes VAT for USA
Subscribe to journal
Immediate online access to all issues from 2019. Subscription will auto renew annually.
US$ 210
This is the net price. Taxes to be calculated in checkout.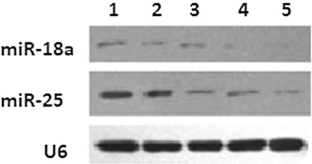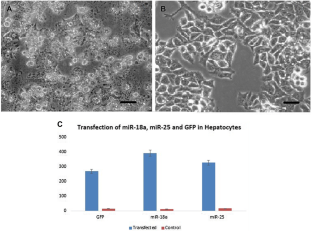 References
Bosch FX, Ribes J, Díaz M, Cléries R (2004) Primary liver cancer: worldwide incidence and trends. Gastroenterology 127:S5–S16

Braconi C, Patel T (2008) MicroRNA expression profiling: a molecular tool for defining the phenotype of hepatocellular tumors. Hepatology 47:1807–1809

Braconi C, Henry JC, Kogure T, Schmittgen T, Patel T (2011) The role of MicroRNAs in human liver cancers. Semin Oncol 38(6):752–763

Bruix J, Boix L, Sala M, Llovet JM (2004) Focus on hepatocellular carcinoma. Cancer Cell 5:215–219

Coulouarn C, Factor VM, Andersen JB, Durkin ME, Thorgeirsson SS (2009) Loss of miR-122 expression in liver cancer correlates with suppression of the hepatic phenotype and gain of metastatic properties. Oncogene 28:3526–3536

Farazi PA, DePinho RA (2006) Hepatocellular carcinoma pathogenesis: from genes to environment. Nat Rev Can 6:674

Fiedler J, Stöhr A, Gupta SK et al (2014) Functional microRNA library screening identifies the hypoxamir miR-24 as a potent regulator of smooth muscle cell proliferation and vascularization. Antioxid Redox Signal 21:1167–1176

Gao B, Jeong WI, Tian Z (2008) Liver: an organ with predominant innate immunity. Hepatology 47:729–736

Gramantieri L, Ferracin M, Fornari F, Veronese A, Sabbioni S, Liu CG, Calin GA, Giovannini C, Ferrazzi E, Grazi GL, Croce CM, Bolondi L, Negrini M (2007) Cyclin G1 is a target of miR-122a, a microRNA frequently down-regulated in human hepatocellular carcinoma. Cancer Res 67:6092–6099

Heindryckx F, Colle I, Van Vlierberghe H (2009) Experimental mouse models for hepatocellular carcinoma research. Int J Clin Exp Pathol 90:367–386

Huang Y, Qi Y, Du JQ, Zhang DF (2014) MicroRNA-34a regulates cardiac fibrosis after myocardial infarction by targeting Smad4. Expert Opin Ther Targets 18:1355–1365

Ladeiro Y, Couchy G, Balabaud C, Bioulac-Sage P, Pelletier L, Rebouissou S, Zucman-Rossi J (2008) MicroRNA profiling in hepatocellular tumors is associated with clinical features and oncogene/tumor suppressor gene mutations. Hepatology 47:1955–1963

le Sage C, Nagel R, Egan DA, Schrier M, Mesman E, Mangiola A, Anile C, Maira G, Mercatelli N, Ciafre SA, Farace MG, Agami R (2007) Regulation of the p27(Kip1) tumor suppressor by miR-221 and miR-222 promotes cancer cell proliferation. EMBO J 26:3699–3708

Li L, Guo Z, Wang J, Mao Y, Gao Q (2012) Serum miR-18a: a potential marker for hepatitis B virus-related hepatocellular carcinoma screening. Dig Dis Sci 57(11):2910–2916

Liu WH, Yeh SH, Lu CC, Yu SL, Chen HY, Lin CY, Chen DS, Chen PJ (2009) MicroRNA-18a prevents estrogen receptor-alpha expression, promoting proliferation of hepatocellular carcinoma cells. Gastroenterology 136:683–693

Liu G-H, Zhou Z-G, Chen R, Wang M-J, Zhou B, Li Y, Sun X-F (2013) Serum miR-21 and miR-92a as biomarkers in the diagnosis and prognosis of colorectal cancer. Tumor Biol 34:2175

Luo Z, Dai Y, Zhang L, Jiang C, Li Z, Yang J, McCarthy JB, She X, Zhang W, Ma J, Xiong W, Wu M, Lu J, Li X, Li X, Xiang J, Li G (2013) miR-18a promotes malignant progression by impairing microRNA biogenesis in nasopharyngeal carcinoma. Carcinogenesis 34(2):415–425

MenDell JT (2005) MicroRNAs: critical regulators of development, cellular physiology and malignancy. Cell Cycle 4:1179–1184

Mohammadian F, Pilehvar-Soltanahmadi Y, Mofarrah M, Dastani-Habashi M, Zarghami N (2016) Down regulation of miR-18a, miR-21 and miR-221 genes in gastric cancer cell line by chrysin-loaded PLGA-PEG nanoparticles. Artif Cells Nanomed Biotechnol 14(8):1972–1978

Morimura R, Komatsu S, Ichikawa D et al (2011) Novel diagnostic value of circulating miR-18a in plasma of patients with pancreatic cancer. Br J Cancer 105:1733–1740

Mott JL (2009) MicroRNAs involved in tumor suppressor and oncogene pathways: implications for hepatobiliary neoplasia. Hepatology 50:630–637

Van Rooij E, Sutherland LB, Thatcher JE et al (2008) Dysregulation of microRNAs after myocardial infarction reveals a role of miR-29 in cardiac fibrosis. Proc Natl Acad Sci USA 105:13027–13032

Yang ZF, Ngai P, Ho DW, Yu WC, Ng MN, Lau CK, Li ML, Tam KH, Lam CT, Poon RT (2008) Identification of local and circulating cancer stem cells in human liver cancer. Hepatology 47:919–928
Acknowledgements
The authors thank the funding agency for providing funds to complete the project. Also, the authors thank the patients for providing the consent for ethical clearance. Finally, authors thank the institution for providing infrastructure and instrumentation facility to perform the research.
Ethics declarations
Conflict of interest
The authors declare no conflicts of interest in any part of the manuscript.
About this article
Cite this article
Lu, Y., Min, Z., Qin, A. et al. Role of miR-18a and miR-25 disruption and its mechanistic pattern in progression of liver cancer. 3 Biotech 10, 74 (2020). https://doi.org/10.1007/s13205-020-2064-2
Received:

Accepted:

Published:
Keywords
Liver cancer

miR-18a

miR-25

Northern blotting

qRT-PCR