Abstract
The objective of this report is to demonstrate the potential of the proposed simple typing technique, double digest selective label (DDSL), which was initially developed to identify clinical isolates of Pseudomonas aeruginosa, for other bacterial species including Salmonella enterica, Clostridium difficile, Staphylococcus aureus, and Bacillus subtilis. The technique is based on digestion of bacterial genomic DNA with two restriction enzymes and simultaneous labeling fragments with biotinylated deoxycytidine triphosphate in fill-in reaction by Taq polymerase. The number and distribution of generated DNA fragments can be optimized by selecting restriction enzymes. DDSL is fast, reproducible, cost effective and sufficiently discriminatory typing method applicable for identification of bacterial strains at laboratories having no access to expensive sequencing equipment and with limited funding and lack of skilled personnel. Data concerning the potential of the technique for short-term epidemiological surveillance and bacterial strain certification are presented and discussed. Multiple locus variable number tandem repeat analysis performed on our set of Clostridium difficile isolates did not demonstrate sufficient discriminatory power both with TR6 and TR10 loci on a set of 24 isolates. In contrast, the DDSL analysis resolved all isolates into individual strains.
This is a preview of subscription content, log in to check access.
Access options
Buy single article
Instant access to the full article PDF.
US$ 39.95
Price includes VAT for USA
Subscribe to journal
Immediate online access to all issues from 2019. Subscription will auto renew annually.
US$ 210
This is the net price. Taxes to be calculated in checkout.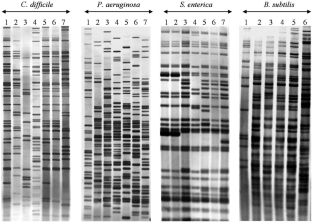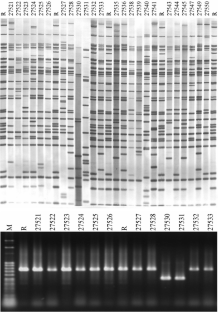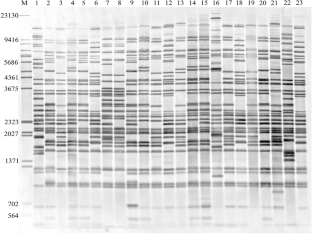 Acknowledgements
The research was supported by the Ministry of Science and Higher Education of the Russian Federation (the State Task N 0665-2019-0019) "Development of the ecological and genetic basis for the selection of antagonist microbial strains, entomopathogenic fungi and nematodes; development of technologies for the production and use of new multifunctional drugs to control the number of harmful organisms (pests, pathogens) and increase of soil supressiveness". The author acknowledge the staff of the Department of Immunology, Microbiology and Parasitology, University of the Basque Country UPV/EHU and Service of Hospital Preventive Medicine of Lausanne University Hospital for providing bacterial isolates and infrastructure for conducting research in their laboratories.
Ethics declarations
Conflict of interest
The author declares no conflicts of interest in the publication.
Ethical approval
This article does not contain any studies with human participants or animals performed by the author.
About this article
Cite this article
Terletskiy, V. Overview report on the application of double digest selective label (DDSL) bacteria genotyping technique for identification of strains and certification of commercially used bacteria. 3 Biotech 10, 68 (2020). https://doi.org/10.1007/s13205-019-2048-2
Received:

Accepted:

Published:
Keywords
Bacteria

Genotyping

Restriction enzymes