Abstract
A two-stage culture (with controlled sucrose concentrations and temperatures) of Sphingomonas paucimobilis for gellan gum production has been previously investigated. Herein, the mechanism of a two-stage culture favoring gellan gum overproduction was revealed by analysing the cell-membrane permeability and the proteomics for gellan gum biosynthesis. The two-stage culture, resulted in 79.8% increased content of unsaturated fatty acids, and 3.95% increased ratio of unsaturated to saturated fatty acids in the cell membrane. Moreover, cell membrane permeability increased and thus further enhanced gellan gum biosynthesis. Proteomic analysis results indicated that 13 identified protein spots were involved in energy generation, glycogen biosynthesis, and glycolysis. These findings revealed that two-stage culture impellel carbon flux flow toward gellan gum biosynthesis.
This is a preview of subscription content, log in to check access.
Access options
Buy single article
Instant access to the full article PDF.
US$ 39.95
Price includes VAT for USA
Subscribe to journal
Immediate online access to all issues from 2019. Subscription will auto renew annually.
US$ 210
This is the net price. Taxes to be calculated in checkout.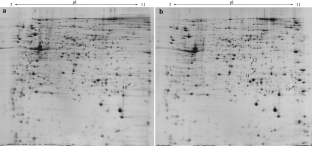 Acknowledgements
We are grateful for financial support from the National Natural Science Foundation of China (31401657).
Ethics declarations
Conflict of interest
On behalf of all authors, the corresponding author states that there is no conflict of interest.
About this article
Cite this article
Zhu, G., Cheng, X., Fu, Z. et al. The mechanism of improved gellan gum production by two-stage culture of Sphingomonas paucimobilis. 3 Biotech 10, 70 (2020). https://doi.org/10.1007/s13205-019-2047-3
Received:

Accepted:

Published:
Keywords
Two-stage culture

Gellan gum

Sphingomonas paucimobilis

Proteomics