Abstract
This study was conducted to determine the ability of a bacterial strain FSS2C to ameliorate growth of wheat plants grown under induced stress of reactive black-5 (RB-5). The strain was taxonomically identified as Bacillus firmus on the basis of its 16S rRNA gene sequence analysis. The B. firmus FSS2C was found physiologically potent in phosphate solubilization, indole-3-acetic acid production and ammonia synthesis in the presence of varying concentrations of azo dye RB-5. Moreover, it decolorized RB-5 in vitro with the maximum decolorization (%) found at pH 7 and 30 °C. Inoculation of wheat plants, growing under stress induced by RB-5 dye, with rifampicin-resistant derivatives of the strain FSS2C substantially reduced the cellular oxidative stress, thereby resulting in higher plant biomass as compared to non-inoculated plants. Similarly, the inoculated plants revealed higher nutrient content in shoots as compared to non-inoculated ones. It was concluded that B. firmus strain FSS2C alleviated the oxidative stress impairment caused by reactive black-5 in wheat plants. Therefore, the strain can be used as bio-inoculant in wastewater irrigated soils.
This is a preview of subscription content, log in to check access.
Access options
Buy single article
Instant unlimited access to the full article PDF.
US$ 39.95
Price includes VAT for USA
Subscribe to journal
Immediate online access to all issues from 2019. Subscription will auto renew annually.
US$ 210
This is the net price. Taxes to be calculated in checkout.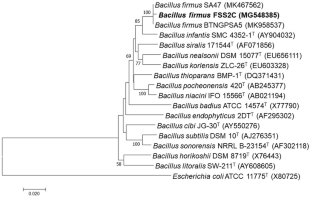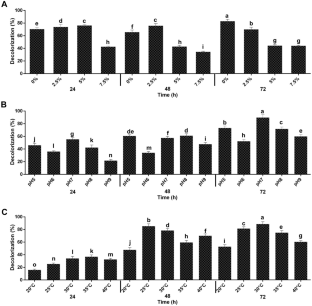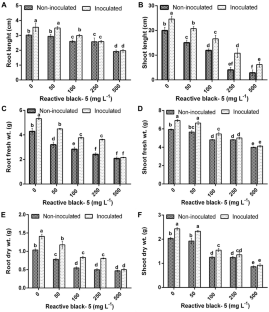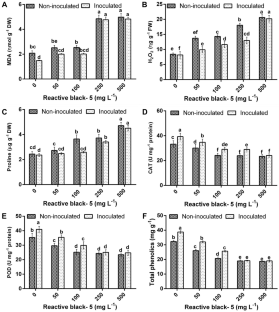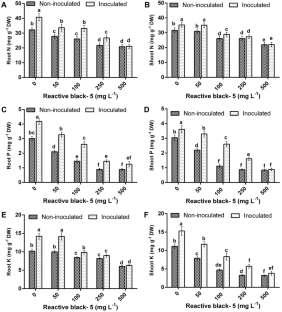 References
Abbas A, Al-Amer AM, Laoui T, Al-Marri MJ, Nasser MS, Khraisheh M, Atieh MA (2016) Heavy metal removal from aqueous solution by advanced carbon nanotubes: critical review of adsorption applications. Sep Purif Technol 157:141–161

Abubacker M, Mehala T (2012) Decolourization of congo red and crystal violet by bacterial consortium. Asian J Environ Sci 7(1):21–26

Aebi H (1984) [13] Catalase in vitro. Methods in enzymology, vol 105. Elsevier, New York, pp 121–126

Akram MS, Shahid M, Tariq M, Azeem M, Javed MT, Saleem S, Riaz S (2016) Deciphering Staphylococcus sciuri SAT-17 mediated anti-oxidative defense mechanisms and growth modulations in salt stressed maize (Zea mays L.). Front Microbiol 7:867

Aksu Z, Kılıç NK, Ertuğrul S, Dönmez G (2007) Inhibitory effects of chromium (VI) and Remazol Black B on chromium (VI) and dyestuff removals by Trametes versicolor. Enzyme Microb Technol 40(5):1167–1174

Alibrandi P, Cardinale M, Rahman MM, Strati F, Ciná P, de Viana ML, Giamminola EM, Gallo G, Schnell S, De Filippo C (2018) The seed endosphere of Anadenanthera colubrina is inhabited by a complex microbiota, including Methylobacterium spp. and Staphylococcus spp. with potential plant-growth promoting activities. Plant Soil 422(1–2):81–99

Arnon DI (1949) Copper enzymes in isolated chloroplasts. Polyphenoloxidase in Beta vulgaris. Plant Physiol 24(1):1

Bates L, Waldren R, Teare I (1973) Rapid determination of free proline for water-stress studies. Plant Soil 39(1):205–207

Chacko JT, Subramaniam K (2011) Enzymatic degradation of azo dyes—a review. Int J Environ Sci Tech 1(6):1250

Chan GF, Rashid NA, Koay LL, Chang SY, Tan WL (2011) Identification and optimization of novel NAR-1 bacterial consortium for the biodegradation of Orange II. Insight Biotechnol 1(1):7–16

Chance B, Maehly A (1955) [136] Assay of catalases and peroxidases. Methods in enzymology, vol 2. Elsevier, New York, pp 764–775

Chen L, Cheng X, Cai J, Zhan L, Wu X, Liu Q, Wu X (2016) Multiple virus resistance using artificial trans-acting siRNAs. J Virol Methods 228:16–20

Couillerot O, Combes-Meynet E, Pothier JF, Bellvert F, Challita E, Poirier M-A, Rohr R, Comte G, Moënne-Loccoz Y, Prigent-Combaret C (2011) The role of the antimicrobial compound 2,4-diacetylphloroglucinol in the impact of biocontrol Pseudomonas fluorescens F113 on Azospirillum brasilense phytostimulators. Microbiol 157(6):1694–1705

Couto SR (2009) Dye removal by immobilised fungi. Biotechnol Adv 27(3):227–235

Curá JA, Franz DR, Filosofía JE, Balestrasse KB, Burgueño LE (2017) Inoculation with Azospirillum sp. and Herbaspirillum sp. bacteria increases the tolerance of maize to drought stress. Microorganisms 5(3):41

Forni C, Duca D, Glick BR (2017) Mechanisms of plant response to salt and drought stress and their alteration by rhizobacteria. Plant Soil 410(1–2):335–356

Gkorezis P, Daghio M, Franzetti A, Van Hamme JD, Sillen W, Vangronsveld J (2016) The interaction between plants and bacteria in the remediation of petroleum hydrocarbons: an environmental perspective. Front Microbiol 7:1836

Glick BR (2014) Bacteria with ACC deaminase can promote plant growth and help to feed the world. Microbiol Res 169(1):30–39

Gordon SA, Weber RP (1951) Colorimetric estimation of indoleacetic acid. Plant Physiol 26(1):192

Goswami D, Dhandhukia P, Patel P, Thakker JN (2014) Screening of PGPR from saline desert of Kutch: growth promotion in Arachis hypogea by Bacillus licheniformis A2. Microbiol Res 169(1):66–75

Hafeez F, Farheen H, Mahmood F, Shahzad T, Shahid M, Iqbal M, Rasul S, Manzoor H, Hussain S (2018) Isolation and characterization of a lead (Pb) tolerant Pseudomonas aeruginosa strain HF5 for decolorization of reactive red-120 and other azo dyes. Ann Microbiol 68(12):943–952

Heath RL, Packer L (1968) Photoperoxidation in isolated chloroplasts: I. Kinetics and stoichiometry of fatty acid peroxidation. Arch Biochem Biophys 125(1):189–198

Hussain S, Maqbool Z, Ali S, Yasmeen T, Imran M, Mahmood F, Abbas F (2013) Biodecolorization of reactive black-5 by a metal and salt tolerant bacterial strain Pseudomonas sp. RA20 isolated from Paharang drain effluents in Pakistan. Ecotoxicol Environ Saf 98:331–338

Imran M, Crowley DE, Khalid A, Hussain S, Mumtaz MW, Arshad M (2015) Microbial biotechnology for decolorization of textile wastewaters. Rev Environ Sci Biol 14(1):73–92

Jana S, Choudhuri MA (1982) Glycolate metabolism of three submersed aquatic angiosperms during ageing. Aquat Bot 12:345–354

Johansson HE, Johansson MK, Wong AC, Armstrong ES, Peterson EJ, Grant RE, Roy MA, Reddington MV, Cook RM (2011) BTI1, an azoreductase with pH-dependent substrate specificity. Appl Environ Microbiol 77(12):4223–4225

Julkunen-Tiitto R (1985) Phenolic constituents in the leaves of northern willows: methods for the analysis of certain phenolics. J Agric Food Chem 33(2):213–217

Khalid A, Kausar F, Arshad M, Mahmood T, Ahmed I (2012) Accelerated decolorization of reactive azo dyes under saline conditions by bacteria isolated from Arabian seawater sediment. Appl Microbiol Biotechnol 96(6):1599–1606

Khaliq S, Khalid A, Saba B, Mahmood S, Siddique MT, Aziz I (2013) Effect of ACC deaminase bacteria on tomato plants containing azo dye wastewater. Pak J Bot 45:529–534

Liu M, Chen Y, Chen Y, Shin JH, Mila I, Audran C, Zouine M, Pirrello J, Bouzayen M (2018) The tomato ethylene response factor Sl-ERF. B3 integrates ethylene and auxin signaling via direct regulation of Sl-Aux/IAA 27. New Phytol 219(2):631–640

Mahmood F, Shahid M, Hussain S, Shahzad T, Tahir M, Ijaz M, Hussain A, Mahmood K, Imran M, Babar SAK (2017) Potential plant growth-promoting strain Bacillus sp. SR-2-1/1 decolorized azo dyes through NADH-ubiquinone: oxidoreductase activity. Bioresour Technol 235:176–184

Mansour HB, Houas I, Montassar F, Ghedira K, Barillier D, Mosrati R, Chekir-Ghedira L (2012) Alteration of in vitro and acute in vivo toxicity of textile dyeing wastewater after chemical and biological remediation. Environ Sci Pollut Res 19(7):2634–2643

Maqbool Z, Hussain S, Ahmad T, Nadeem H, Imran M, Khalid A, Abid M, Martin-Laurent F (2016) Use of RSM modeling for optimizing decolorization of simulated textile wastewater by Pseudomonas aeruginosa strain ZM130 capable of simultaneous removal of reactive dyes and hexavalent chromium. Environ Sci Pollut Res 23(11):11224–11239

Mate MS, Pathade G (2012) Biodegradation of CI Reactive Red 195 by Enterococcus faecalis strain YZ66. World J Microbiol Biotechnol 28(3):815–826

Mohan D, Pittman CU (2007) Arsenic removal from water/wastewater using adsorbents—a critical review. J Hazard Mater 142(1):1–53

Murphy J, Riley JP (1962) A modified single solution method for the determination of phosphate in natural waters. Anal Chim Acta 27:31–36

Narwal SK, Gupta R (2017) Biodegradation of xenobiotic compounds: an overview. Handbook of research on inventive bioremediation techniques. IGI Global, Pennsylvania, pp 186–212

Nasraoui-Hajaji A, Gouia H, Carrayol E, Haouari-Chaffei C (2012) Ammonium alleviates redox state in solanum seedlings under cadmium stress conditions. J Environ Anal Toxicol 2:116–120

Nigam S, Sinha S, Manglik M, Singh R (2016) Treatment of textile dye effluent by algae: an eco-friendly and sustainable approach to the environmental pollution. Int J Pharma Bio Sci 7:366–375

Pearce C, Lloyd J, Guthrie J (2003) The removal of colour from textile wastewater using whole bacterial cells: a review. Dyes Pigm 58(3):179–196

Penrose DM, Glick BR (2003) Methods for isolating and characterizing ACC deaminase-containing plant growth-promoting rhizobacteria. Physiol Plant 118(1):10–15

Pikovskaya R (1948) Mobilization of phosphorus in soil in connection with vital activity of some microbial species. Mikrobiologiya 17:362–370

Radhakrishnan R, Hashem A, Abd Allah EF (2017) Bacillus: a biological tool for crop improvement through bio-molecular changes in adverse environments. Front Physiol 8:667

Rehman K, Shahzad T, Sahar A, Hussain S, Mahmood F, Siddique MH, Siddique MA, Rashid MI (2018) Effect of Reactive Black 5 azo dye on soil processes related to C and N cycling. PeerJ 6:e4802

Shahid M, Hameed S, Imran A, Ali S, van Elsas JD (2012) Root colonization and growth promotion of sunflower (Helianthus annuus L.) by phosphate solubilizing Enterobacter sp. Fs-11. World J Microbiol Biotechnol 28(8):2749–2758

Shahid M, Hameed S, Tariq M, Zafar M, Ali A, Ahmad N (2015) Characterization of mineral phosphate-solubilizing bacteria for enhanced sunflower growth and yield-attributing traits. Ann Microbiol 65(3):1525–1536

Shahid M, Mahmood F, Hussain S, Shahzad T, Haider MZ, Noman M, Mushtaq A, Fatima Q, Ahmed T, Mustafa G (2018a) Enzymatic detoxification of azo dyes by a multifarious Bacillus sp. strain MR-1/2-bearing plant growth-promoting characteristics. 3 Biotech 8(10):425

Shahid M, Akram MS, Khan MA, Zubair M, Shah SM, Ismail M, Shabir G, Basheer S, Aslam K, Tariq M (2018b) A phytobeneficial strain Planomicrobium sp. MSSA-10 triggered oxidative stress responsive mechanisms and regulated the growth of pea plants under induced saline environment. J Appl Microbiol 124(6):1566–1579

Shen J, Yuan L, Zhang J, Li H, Bai Z, Chen X, Zhang W, Zhang F (2011) Phosphorus dynamics: from soil to plant. Plant Physiol 156(3):997–1005

Singh RP, Singh PK, Singh RL (2014) Bacterial decolorization of textile azo dye acid orange by Staphylococcus hominis RMLRT03. Toxicol Int 21(2):160

Somasegaran P, Hoben HJ (1994) Quantifying the growth of rhizobia. Handbook for rhizobia. Springer, Berlin, pp 47–57

Somasegaran P, Hoben HJ (2012) Handbook for rhizobia: methods in legume-rhizobium technology. Springer, Berlin

Steel R, Torrie J, Dickey D (1997) Principles and procedures of statistics: a biometrical approach, 3rd edn. New York, McGraw-Hill

Sun H, Mu B, Song Z, Ma Z, Mu T (2018) The in vitro antioxidant activity and inhibition of intracellular reactive oxygen species of sweet potato leaf polyphenols. Oxid Med Cell Longev 20:11

Tariq M, Noman M, Ahmed T, Hameed A, Manzoor N, Zafar M (2017) Antagonistic features displayed by plant growth promoting rhizobacteria (PGPR): a review. J Plant Sci Phytopathol 1:38–43

Trivedi P, Sa T (2008) Pseudomonas corrugata (NRRL B-30409) mutants increased phosphate solubilization, organic acid production, and plant growth at lower temperatures. Curr Microbiol 56(2):140–144

Vincent JM (1970) A manual for the practical study of the root-nodule bacteria. A manual for the practical study of the root-nodule bacteria

Waszczak C, Carmody M, Kangasjärvi J (2018) Reactive oxygen species in plant signaling. Ann Rev Plant Biol 69:209–236

Weisburg WG, Barns SM, Pelletier DA, Lane DJ (1991) 16S ribosomal DNA amplification for phylogenetic study. J Bacteriol 173(2):697–703

Wilson K (2001) Preparation of genomic DNA from bacteria. Curr Protoc Mol Biol 56(1):241–245

Younesi O, Moradi A (2014) Effects of plant growth-promoting rhizobacterium (PGPR) and arbuscular mycorrhizal fungus (AMF) on antioxidant enzyme activities in salt-stressed bean (Phaseolus vulgaris L.). Agric 60(1):10–21
Acknowledgements
This research work was partially supported by the "HEC Start-up Research Grant # 21-1093/SRGP/R&D/HEC/2016". The Department of Bioinformatics and Biotechnology is also highly acknowledged for the financial support from Departmental annual Grant.
Funding
This present research work was partially supported by the "HEC Start-up Research Grant # 21-1093/SRGP/R&D/HEC/2016". The Department of Bioinformatics and Biotechnology is also highly acknowledged for the financial support from Departmental annual Grant.
Ethics declarations
Conflict of interest
The authors declare that they have no conflict of interest.
Ethical approval
This article does not contain any studies with human participants or animals performed by any of the authors.
Informed consent
Informed consent was obtained from all individual participants included in the study.
Electronic supplementary material
Below is the link to the electronic supplementary material.
About this article
Cite this article
Mahmood, F., Shahid, M., Hussain, S. et al. Bacillus  firmus  strain  FSS2C  ameliorated  oxidative  stress  in  wheat  plants  induced  by  azo  dye  (reactive  black-5). 3 Biotech 10, 40 (2020). https://doi.org/10.1007/s13205-019-2031-y
Received:

Accepted:

Published:
Keywords
Abiotic stress

Antioxidants

Azo dyes

B. firmus

Oxidative damage

Wheat