Abstract
The biofilm inhibition and eradication potential of essential oils (EOs) extracted from six tropical medicinal herbs and food plants [Psiadia arguta (PA), Psiadia terebinthina (PT), Citrus grandis (CGp), Citrus hystrix (CH), Citrus reticulata (CR), and Cinnamomum zeylanicum (CZ)] were assessed. The mechanism of inhibition was studied via quenching of efflux pump. Cytotoxicity was evaluated using Artemia salina assay and cell lines [human cervix carcinoma (HeLa), human lung fibroblast (MRC-5), and murine melanoma (B16F10)]. EOs of CH, CR, PA, and PT were found to be prospective antibiofilm agents (IC50 of 0.29, 0.59, 0.22, and 0.11 mg/mL against Staphylococcus epidermidis; 0.39, 0.54, 0.09, and 0.13 mg/mL against Escherichia coli; and 0.54, 0.90, 0.44 and 0.51 mg/mL against Candida albicans for CH, CR, PA, and PT, respectively). The simultaneous actions of the EOs and efflux pump inhibitor impacted on the resistance of the biofilms. LC50 of the EOs ranged from 223 to 583 µg/mL against A. salina. The non-cytotoxic concentration of the EOs varied from 200 to 300 µg/mL (HeLa and MRC-5), and 150–200 µg/mL (B16F10). EOs from these tropical medicinal herbs and food plants are useful sources of new antimicrobials with low cytotoxicity which could open new horizons in the drug development process.
This is a preview of subscription content, log in to check access.
Access options
Buy single article
Instant unlimited access to the full article PDF.
US$ 39.95
Price includes VAT for USA
Subscribe to journal
Immediate online access to all issues from 2019. Subscription will auto renew annually.
US$ 210
This is the net price. Taxes to be calculated in checkout.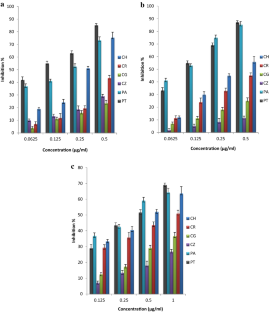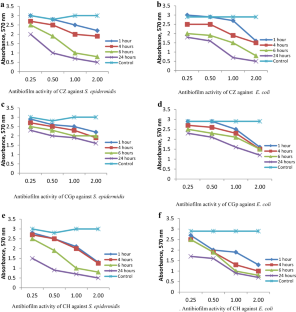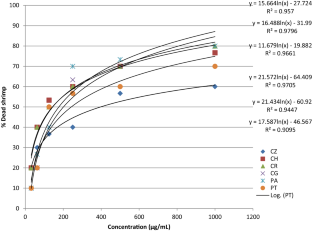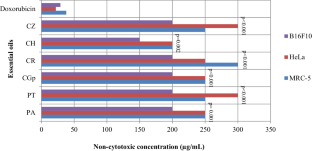 References
Aumeeruddy-Elalfi Z, Mahomoodally M (2016) Extraction techniques and pharmacological potential of essential oils from medicinal and aromatic plants of Mauritius. In: Peters M (ed) Essential oils: historical significance, chemical composition and medicinal uses and benefits. Nova Publisher, Hauppauge, pp 51–80

Aumeeruddy-Elalfi Z, Gurib-Fakim A, Mahomoodally F (2015) Antimicrobial, antibiotic potentiating activity and phytochemical profile of essential oils from exotic and endemic medicinal plants of Mauritius. Ind Crops Prod 71:197–204

Boto L (2010) Horizontal gene transfer in evolution: facts and challenges. Proc R Soc Lond B Biol Sci 277(1683):819–827

Budzynska A, Wieckowska-Szakiel M, Sadowska B, Kalemba D, Rozalska B (2011) Antibiofilm activity of selected plant essential oils and their major components. Pol J Microbiol 60(1):35–41

Cava-Roda RM, Taboada-Rodríguez A, Valverde-Franco MT, Marín-Iniesta F (2012) Antimicrobial activity of vanillin and mixtures with cinnamon and clove essential oils in controlling Listeria monocytogenes and Escherichia coli O157:H7 in milk. Food Bioprocess Technol 5(6):2120–2131

Crowell PL (1999) Prevention and therapy of cancer by dietary monoterpenes. J Nutr 129(3):775–778

Davies D (2003) Understanding biofilm resistance to antibacterial agents. Nat Rev Drug Discov 2(2):114–122

Donlan RM (2002) Biofilms: microbial life on surfaces. Emerg Infect Dis 8(9):881–890

Dvorak P, Benova K, Ždarsky M, Sklenar Z, Havelkova A (2010) Use of the crustacean Artemia franciscana for alternative biotests. J Acta Vet Brno 9:47–53

Hussain AI, Anwar F, Sherazi STH, Przybylski R (2008) Chemical composition, antioxidant and antimicrobial activities of basil (Ocimum basilicum) essential oils depends on seasonal variations. Food Chem 108(3):986–995

Jomaa S, Rahmo A, Alnori AS, Chatty ME (2012) The cytotoxic effect of essential oil of Syrian Citrus limon peel on human colorectal carcinoma cell line (Lim1863). Middle East J Cancer 3(1):15–21

Kavanaugh NL, Ribbeck K (2012) Selected antimicrobial essential oils eradicate Pseudomonas spp. and Staphylococcus aureus biofilms. Appl Environ Microbiol 78(11):4057–4061

Kulisic T, Radonic A, Katalinic V, Milos M (2004) Use of different methods for testing antioxidative activity of oregano essential oil. Food Chem 85(4):633–640

Lamers RP, Cavallari JF, Burrows LL (2013) The efflux inhibitor phenylalanine-arginine beta-naphthylamide (PAβN) permeabilizes the outer membrane of gram-negative bacteria. PLoS One 8(3):e60666

Laudy AE, Osińska P, Namysłowska A, Zając O, Tyski S (2015) Modification of the susceptibility of Gram-negative rods producing ESβLs to β-lactams by the efflux phenomenon. PloS One 10(3):e0119997

Laudy AE, Mrowka A, Krajewska J, Tyski S (2016) The influence of efflux pump inhibitors on the activity of non-antibiotic NSAIDs against Gram-negative rods. PloS One 11(1):e0147131

Lomovskaya O, Warren MS, Lee A, Galazzo J, Fronko R, Lee M, Blais J, Cho D, Chamberland S, Renau T (2001) Identification and characterization of inhibitors of multidrug resistance efflux pumps in Pseudomonas aeruginosa: novel agents for combination therapy. Antimicrob Agents Chemother 45(1):105–116

Melo JOD, Saltoratto ALF, Rizo WF, Jesus HCRD, Arrigoni-Blank MDF, Alves PB, Marins MDA, França SDC, Blank AF (2014) Cytotoxic effects of essential oils from three Lippia gracilis Schauer genotypes on HeLa, B16, and MCF-7 cells and normal human fibroblasts. Genet Mol Res 13(2):2691–2697

Nazzaro F, Fratianni F, De Martino L, Coppola R, De Feo V (2013) Effect of essential oils on pathogenic bacteria. Pharmaceuticals 6(12):1451–1474

Nett JE, Cain MT, Crawford K, Andes DR (2011) Optimizing a Candida biofilm microtiter plate model for measurement of antifungal susceptibility by tetrazolium salt assay. J Clin Microbiol 49(4):1426–1433

Nunkoo DH, Mahomoodally MF (2012) Ethnopharmacological survey of native remedies commonly used against infectious diseases in the tropical island of Mauritius. J Ethnopharmacol 143(2):548–564

Ouhayoun JP (2003) Penetrating the plaque biofilm: impact of essential oil mouthwash. J Clin Periodontol 30(s5):10–12

Pai V, Pai N (2007) Randomized, double-blind, comparative study of dexrabeprazole 10 mg versus rabeprazole 20 mg in the treatment of gastroesophageal reflux disease. World J Gastroenterol 13(30):4100–4102

Poole AM (2009) Horizontal gene transfer and the earliest stages of the evolution of life. Res Microbiol 160(7):473–480

Roilides E, Simitsopoulou M, Katragkou A, Walsh TJ (2015) How biofilms evade host defenses. Microbiol Spectr. https://doi.org/10.1128/microbiolspec.MB-0012-2014

Solis PN, Wright CW, Anderson MM, Gupta MP, Phillipson JD (1993) A microwell cytotoxicity assay using Artemia salina (brine shrimp). Planta Medica 59(03):250–252

Sonboli A, Babakhani B, Mehrabian AR (2006) Antimicrobial activity of six constituents of essential oil from Salvia. Zeitschrift für Naturforschung C 61(3–4):160–164

Subramenium GA, Vijayakumar K, Pandian SK (2015) Limonene inhibits streptococcal biofilm formation by targeting surface-associated virulence factors. J Med Microbiol 64(8):879–890
Ethics declarations
Conflict of interest
The authors declare that they have no conflict of interest with the publication.
About this article
Cite this article
Aumeeruddy-Elalfi, Z., Ismaël, I.S., Hosenally, M. et al. Essential oils from tropical medicinal herbs and food plants inhibit biofilm formation in vitro and are non-cytotoxic to human cells. 3 Biotech 8, 395 (2018). https://doi.org/10.1007/s13205-018-1413-x
Received:

Accepted:

Published:
Keywords
Antibacterial activity

Cytotoxicity

Herbal medicine

Essential oils

Medicinal plants

Traditional medicine

Efflux pump inhibitor