Abstract
The pink bollworm (PBW), Pectinophora gossypiella (Saund.) does not feed on leaves in natural circumstances. We made an attempt with the first instar larva (5 days old) and found it eats the leaf in the absence of other foods. Utilizing this new feeding behaviour, a simple methodology was developed for screening of resistance in PBW against Bt cotton plants. The PBW collected from BGII Bt cotton fields (BGII-resistant population) and NBAIR culture (susceptible population) were reared under laboratory conditions for two generations. Laboratory reared 5-day old larvae of PBW were released on cotton leaf discs individually for screening. The BGII-resistant and susceptible larvae fed an average leaf area of 75.52 ± 16.68 and 5.95 ± 0.93 mm2 with survival rate of 90 and 4% respectively, in BGII Bt cotton leaves. Whereas in case of non-Bt cotton (MCU13), the BGII-resistant and susceptible larvae consumed average leaf area of 114.84 ± 23.70 and 116.80 ± 24.14 mm2 with survival rate of 93.34 and 95.33%, respectively. In addition to the screening process, the larval survivors were transferred to an artificial diet after 7 days of experiment and observed up to their emergence as adults. To confirm the development of resistance in PBW, sequencing of larval DNA amplicons was carried out and it revealed mutation in the cadherin gene of the BGII-resistant PBW population. Hence, the detached leaf bit feeding assay described here could be used in a simple manner for screening of resistance developed by PBW against Bt cotton and also for evaluating Bt cotton plants for their inherent resistance to PBW. This method could also be used for studying toxicity of Bt isolates by coating spore-crystal mixture on non-transgenic cotton leaf discs.
This is a preview of subscription content, log in to check access.
Access options
Buy single article
Instant unlimited access to the full article PDF.
US$ 39.95
Price includes VAT for USA
Subscribe to journal
Immediate online access to all issues from 2019. Subscription will auto renew annually.
US$ 210
This is the net price. Taxes to be calculated in checkout.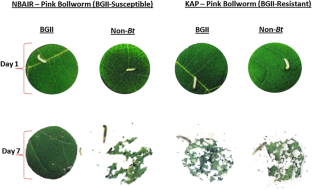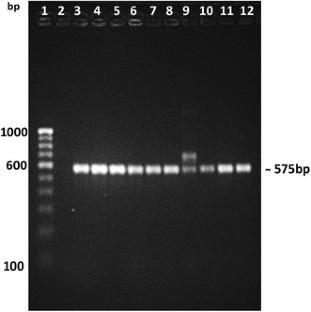 References
Bariola LA (1978) Suicidal emergence and reproduction by overwintered pink bollworm moths. Environ Entomol 7:189–192

Caccia S, Hernandez-Rodriguez CS, Mahon RJ, Downes S, James W, Bautsoens N, Rie JV, Ferré J (2010) Binding site alteration is responsible for field-isolated resistance to Bacillus thuringiensis Cry2A insecticidal proteins in two Helicoverpa species. PLoS One 5:9975. https://doi.org/10.1371/journal.pone.0009975

Carpenter JE (2010) Peer-reviewed surveys indicate positive impact of commercialized GM crops. Nat Biotechnol 28:319–321

Chapman AJ, Noble LW, Robertson OT, Fife LC, (1960) Survival of the pink bollworm under various cultural and climatic conditions. USDA Prod Res Rep 34:21

Dhara Jothi B, Chinna Babu Naik V, Kranthi S, Kranthi KR, Valarmathi R (2016) Viable mass production method for cotton pink bollworm, Pectinophora gossypiella (Saunders). J Basic Appl Zool 73:9–12

Fabrick JA, Ponnuraj J, Singh A, Tanwar RK, Unnithan GC, Yelich AJ, Xianchun L, Carriere Y, Tabashnik BE (2014) Alternative splicing and highly variable cadherin transcripts associated with field-evolved resistance of pink bollworm to Bt cotton in India. PLoS One 9(5):e97900. https://doi.org/10.1371/journal.pone.0097900

Fabrick JA, Unnithan GC, Yelich AJ, DeGain B, Masson L, Zhang J, Carrière Y, Tabashnik BE (2015) Multi-toxin resistance enables pink bollworm survival on pyramided Bt cotton. Sci Rep. https://doi.org/10.1038/srep16554

Hall TA (1999) BioEdit: a user-friendly biological sequence alignment editor and analysis program for Windows 95/98/NT. Nucleic Acids Symp Ser 41:95–98

Hofmann C, Lu¨thy P, Hu¨tter R, Pliska V (1988) Binding of the deltaendotoxin from Bacillus thuringiensis to brush-border membrane vesicles of the cabbage butterfly (Pieris brassicae). Eur J Biochem 173:85–91

ICAR-AICRP (Cotton) Annual Report (2016–17), ICAR—All India Coordinated Research Project on Cotton, Coimbatore-641 003, Tamil Nadu

ISAAA (2016) Global Status of Commercialized Biotech/GM Crops: 2016. ISAAA Brief No. 52. ISAAA: Ithaca

Jackson RE, Bradley JR, Duyn JWV (2003) Field performance of transgenic cottons expressing one or two Bacillus thuringiensis endotoxins against bollworm, Helicoverpa zea (Boddie). J Cotton Sci 7:57–64

Knowles BH, Ellar DJ (1987) Colloid-osmotic lysis is a general feature of the mechanism of action of Bacillus thuringiensis endotoxins with different insect specificity. Biochim Biophys Acta 924:507–518

Kranthi (2015) Pink bollworm strikes Bt cotton. Cotton Stat News 35:1–6

Lu Y, Wu K, Jiang Y, Guo Y, Desneux N (2012) Widespread adoption of Bt cotton and insecticide decrease promotes biocontrol services. Nature 487:362–365

Monsanto (2010) Cotton in India. http://www.monsanto.com/newsviews/ Pages/india-pink-bollworm.aspx (subsequently revised to ''Pink bollworm resistance to GM cotton in India')

Morin S, Biggs RW, Sisterson MS, Shriver L, Ellers-Kirk C, Higginson D, Holley D, Gahan LJ, Heckel DG, Carrière Y, Dennehy TJ, Brown JK, Tabashnik BE (2003) Three cadherin alleles associated with resistance to Bacillus thuringiensis in pink bollworm. Proc Natl Acad Sci USA 100:5004–5009

Muralimohan K, Kamath SP, Mohan KS, Ravi KC, Deeba F, Sivasupramaniam S, Head GP (2009) Mass rearing diet for the pink bollworm Pectinophora gossypiella (Lepidoptera: Gelechiidae) and its susceptibility to insecticidal Bt proteins. Int J Trop Insect Sci 29:102–107

Pigott CR, Ellar DJ (2007) Role of receptors in Bacillus thuringiensis crystal toxin activity. Microbiol Mol Biol Rev 71:255–281

Sievers F, Wilm A, Dineen D, Gibson TJ, Karplus K, Li W, Lopez R, McWilliam H, Remmert M, Söding J, Thompson JD, Higginsa DG (2011) Fast, scalable generation of high-quality protein multiple sequence alignments using Clustal Omega. Mol Syst Biol 7:539

Singh AK, Paritosh K, Kant U, Burma PK, Pental D, (2016). High expression of Cry1Ac protein in cotton (Gossypium hirsutum) by combining independent transgenic events that target the protein to cytoplasm and plastids. PLoS One. https://doi.org/10.1371/journal.pone.0158603

Sosa-Gómez DR, Miranda JE (2012) Fitness cost of resistance to Bacillus thuringiensis in velvetbean caterpillar Anticarsia gemmatalis Hübner (Lepidoptera, Noctuidae). Rev Bras Entomol 56:359–362

Tabashnik BE (1994) Evolution of resistance to Bt. Annu Rev Entomol 39:47–79

Zhao JZ, Cao J, Li Y, Collins HL, Roush RT, Earle ED, Shelton AM (2003) Transgenic plants expressing two Bacillus thuringiensis toxins delay insect resistance evolution. Nat Biotechnol 21:493–1497
Acknowledgements
We thank Science and Engineering Research Board (SERB), Department of Science and Technology (DST), India, for sponsoring the National Post-Doctoral Fellowship (NPDF) to Dr. Reyaz Ahmad Lone (Fellowship reference no. PDF/2016/000399). We would like to thank Dr. A. Sitha Rama Sarma, Scientist (Entomology), Regional Agricultural Research Station (RARS), Nandyal, for his kind help during the collection of cotton bolls from Andhra Pradesh. We extend our sincere thanks to NBAIR, Bengaluru, India, for providing the pink bollworm culture maintained in their institution.
Ethics declarations
Conflict of interest
The authors declare that there is no conflict of interest regarding the publication of this paper.
Electronic supplementary material
Below is the link to the electronic supplementary material.
Supplementary material 2 (MP4 32475 KB)
About this article
Cite this article
Reyaz, A.L., Balakrishnan, N. & Udayasuriyan, V. A new observation on feeding behaviour of pink bollworm and its application in screening Bt-resistant population. 3 Biotech 8, 237 (2018) doi:10.1007/s13205-018-1262-7
Received:

Accepted:

Published:
Keywords
Pectinophora gossypiella

Bioassay

Resistance

Bt cotton

Cadherin