Water-dispersible ascorbic-acid-coated magnetite nanoparticles for contrast enhancement in MRI
Open Access
Original Article
Abstract
Superparamagnetic iron oxide nanoparticles of size ~5 nm surface functionalized with ascorbic acid (vitamin C) form a stable dispersion in water with a hydrodynamic size of ~30 nm. The anti-oxidant property of ascorbic acid is retained after capping, as evidenced from the capability of converting methylene blue to its reduced leuco form. NMR relaxivity studies show that the ascorbic-acid-coated superparamagnetic iron oxide aqueous nanofluid is suitable as a contrast enhancement agent for MRI applications, coupled with the excellent biocompatibility and medicinal values of ascorbic acid.
Keywords
Ascorbic acid 
Iron oxide nanoparticles 
Magnetic fluids 
Water dispersion 
Superparamagnetic 
Relaxivity 
MRI applications 
Introduction
Superparamagnetic iron oxide nanoparticles (SPIONs) are known for their very good response to external magnetic fields which make them unique in magnetic hyperthermia, targeted drug delivery, biosensing and magnetic resonance imaging (MRI) applications (Laurent et al. 2008; Gupta and Gupta 2005; Hergt et al. 2006; De et al. 2008; Colombo et al. 2012; Xu and Sun 2013). Intensive research works are in progress on the application of these nanoparticles as multifunctional probes rather than their use in single in vivo applications (Liong et al. 2008). To be used as an efficient MRI probe requires magnetic nanoparticles with properties like superparamagnetism, high magnetization, suitable size, apt surface chemistry and above all good water dispersibility and biocompatibility. Hence, water based, biocompatible, and suitably functionalized magnetic nanofluids are highly desirable for various biomedical applications.
Even though there are many reports in the literature on the synthesis of superparamagnetic iron oxide nanoparticles, their application is still limited due to agglomeration and the difficulty in dispersing the particles in aqueous media, which limit their use for in vivo applications. The superior magnetic properties of the iron oxide nanoparticles make them highly useful in theranostic applications. But to be used widely, the physicochemical properties of the nanoparticles need to be optimized. There are various reports on the synthesis of magnetite nanoparticles with polymer surface coatings like dextran, lipids, polyethylene glycol, polyvinyl alcohol, etc., giving significantly stable aqueous dispersions (Liong et al. 2008; Xu et al. 2005; Larsen et al. 2012). In spite of the biocompatibility of these polymers, they are not preferred for in vivo applications as they detach from the surface of the nanoparticles, resulting in unfavourable aggregation. Also, the large non-magnetic polymer shell will reduce the effect of the superparamagnetic core properties limiting the applications in various fields.
Ascorbic acid (vitamin C) is water soluble and is very well known for its anti-oxidant property (Pardoe et al. 2001), and therefore, it is of much interest in the present context to prepare water-soluble stable magnetic nanofluids using ascorbic acid. As an anti-oxidant, ascorbic acid scavenges free radicals and reactive oxygen species (Songping and Shuyuan 2005; Davies et al. 1991). It has been proved to be toxic to cancer cells and is also a well-known reducing agent both in vitro and in vivo. Ascorbic acid has two ionizable hydroxyl groups with pKa of 4.2 and 11.6; hence it exists as ascorbate (AscH−) at physiological pH (Deutsch 1998). Ascorbate has many biological functions and is an excellent one-electron reducing agent which reduces ferric (Fe3+) ions to ferrous (Fe2+), while being oxidized to ascorbate radical (Du et al. 2012). Also, ascorbic acid has a striking effect on the absorption of non-heme iron thereby increasing the bioavailability of iron and also it reduces and binds dietary non-heme iron (Frei and Lawson 2008).
Successful application of magnetic resonance imaging in clinical diagnosis requires the support of contrast enhancement agents. Gadolinium chelate complexes are mainly used as contrast enhancement agents in MRI which efficiently alters the T1 relaxivity (Caravan 2006). SPIONs are capable of replacing the gadolinium complexes due to their biocompatibility and efficiency to alter the T2 relaxivity (Hoffman et al. 1991). The nanoparticles of maghemite (γ-Fe2O3) and magnetite (Fe3O4) can produce local magnetic field inhomogeneities, thereby reducing the relaxivity of neighbouring water protons. At present there are formulations of SPIONs available which are efficiently used for clinical diagnosis, such as ferumoxide (dextran-coated particles) and ferucarbotran (carboxydextran-coated nanoparticles), with a hydrodynamic size of 120–180 and 60 nm, respectively (Qiao et al. 2009). Ultra-small superparamagnetic iron oxide nanoparticles (USPIONs) also act as T1 contrast agents. Park et al. (2008) reported the synthesis of polyethylene-glycol-capped iron oxide nanoparticles which act both as T1 and T2 contrast agents. The corresponding relaxivities r1 and r2 have been reported as 4.46 and 15.01 mM−1 s−1 in a magnetic field of 1.5 T.
Blood residence time of nanoparticles is known to increase with decreasing particle size (Arruebo et al. 2007) and larger particles are rapidly absorbed by the reticuloendothelial system and accumulated in the liver or spleen preventing their availability in the blood. Hence, ultra-small particles of iron oxide (USPIO) of hydrodynamic size smaller than 40 nm are more advantageous for MRI applications due to long blood circulation time (Qiao et al. 2009). Here we report the synthesis of superparamagnetic iron oxide nanoparticles capped with ascorbic acid (vitamin C) of much smaller size and better biocompatibility to avoid the drawbacks caused by larger molecules. Apart from being successful as a capping agent, the coated ascorbic acid can efficiently act as an anti-oxidant too, which is proved by methylene blue reduction studies. The water dispersibility, smaller hydrodynamic size (30 nm) and the superparamagnetic properties of the synthesized nanoparticles make it a good candidate to be used as MRI contrast agent. Hence, relaxivity measurements have been carried out using NMR and found to be comparable with values reported in the literature for other iron oxide based contrast enhancement agents.
Experimental details
Iron oxide nanoparticles were synthesized by the reverse co-precipitation method, wherein iron(II) chloride and iron(III) chloride were used as the iron precursor (Sreeja and Joy 2011; Jayaprabha and Joy 2014) and ammonium hydroxide was used as the base. A mixed solution of 1 mM of FeCl2·4H2O and 2 mM of FeCl3·6H2O (1:2 molar ratio of Fe2+ to Fe3+) was added to 100 ml 10 N deaerated ammonium hydroxide solution (15 min deaeration of NH4OH before adding the mixed iron chloride solution). The mixture was stirred under argon atmosphere for 30 min to obtain magnetite nanoparticles. Magnetite nanoparticles were capped with ascorbic acid by adjusting the pH and temperature. The pH of the dispersion was maintained at 12.5 by adding 10 N ammonia solution and to this 0.5 g of ascorbic acid was added. Ascorbic acid added magnetite dispersion was stirred for 1 h at 80 °C to obtain a stable, ascorbic-acid-coated magnetite nanoparticle dispersion. The dispersion was dialysed against water for three days to remove excess ascorbic acid and base. The product was then dried in a vacuum oven and used for further analysis. Uncoated magnetite nanoparticles were also synthesized for comparison. The vitamin C capped iron oxide nanoparticles are labeled as CIO and the uncoated nanoparticles are labeled as UIO.
The anti-oxidant property of vitamin C coated on iron oxide nanoparticles was checked by using methylene blue (MB) as oxidizing agent (Mills et al.
2009
). The reduction behavior was studied using the magic blue bottle reaction where ascorbic acid reduces the dye to its leuco form as shown by the reaction given in Scheme 
1
(Kundu et al.
2003
). 1 g of the as-synthesized coated sample was mixed with 10 ml of 1 mM methylene blue solution and was shaken vigorously until the MB becomes colorless. The magnetite nanoparticles were separated using an external magnetic field, and the resultant solution was analyzed using UV–Vis spectroscopy to study the conversion of MB to its leuco form.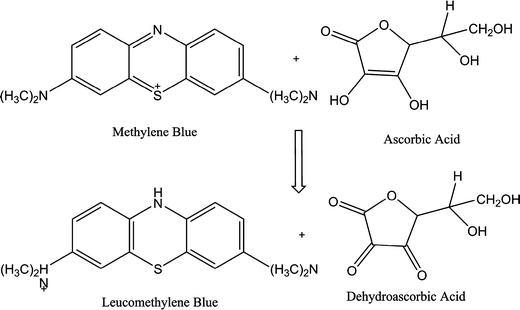 PANalytical X'PERT PRO model X-ray diffractometer was used to check the phase purity of the nanoparticles. An EG&G PAR 4500 vibrating sample magnetometer was used for the magnetic measurements. Room temperature magnetic response of the sample was analyzed up to a field of 1.5 T. Temperature-dependent studies were done in the temperature range 10–300 K in a magnetic field of 50 Oe. A FEI, TECNAI G2 TF30 transmission electron microscope (TEM) was used for recording the morphology of the nanoparticles. The sample was prepared by placing a drop of dilute dispersion in water on carbon-coated 200 mesh copper grid and imaged at an accelerating voltage of 200 kV. Infrared spectra were recorded on a PerkinElmer Spectrum-One FTIR spectrometer in the frequency range 400–4,000 cm−1. Spectroscopic grade potassium bromide was used as background for IR analysis. Thermogravimetric analysis was performed on a PerkinElmer TGA7 analyzer. UV–Vis spectra were recorded on a Jasco UV–visible spectrophotometer (V570 UV–VIS–NIR). Relaxation studies were carried out on an AV400 NMR spectrometer equipped with a 9.4 T magnet. Particle size of the sample was measured by dynamic light scattering (DLS) method using a Brookhaven instrument model 90 plus particle size analyzer.
Results and discussion
Thus, the present study shows that ascorbic acid coated on superparamagnetic iron oxide nanoparticles is as efficient as an anti-oxidant similar to free ascorbic acid and that the water based nanofluid is efficient for contrast enhancement in MRI applications.
Conclusions
Ascorbic acid coated on superparamagnetic iron oxide nanoparticles of uniform size were successfully synthesized by a simple co-precipitation method. IR and magnetic measurements showed that the ascorbic acid is effectively coated on the nanoparticles. The coated ascorbic acid is as efficient as an anti-oxidizing agent as the free molecule as evidenced from the reduction of methylene blue to its leuco form. The relaxivity studies using NMR give values comparable to that of well-established clinical MRI contrast agents, like ferumoxtran. Hence, the ascorbic-acid-coated superparamagnetic iron oxide nanoparticles can be considered as a potential candidate as contrast agent in MRI, along with its anti-oxidant and medicinal properties.
Notes
Acknowledgments
KNJ is grateful to Council of Scientific and Industrial Research (CSIR), India, for a research fellowship.
Copyright information
© The Author(s) 2014
Open AccessThis article is distributed under the terms of the Creative Commons Attribution License which permits any use, distribution, and reproduction in any medium, provided the original author(s) and the source are credited.