Waste tea as a novel adsorbent: a review
Open Access
Review Article
Abstract
This paper surveys the various developments in the usage of tea beverage industry-based wastes for adsorption and the generation of activated carbon while emphasizing the applied methodology, removal efficiencies, characteristics of the material and the production methods. From the review, it can be determined that the tea industry-based wastes offer a promising, low-cost and effective alternative adsorbent for the removal of various effluents from the water. The full review is about the usage of waste tea as an adsorbent has been done while considering two aspects. Firstly, initial emphasis was placed on reviewing the research work on the removal of various heavy metal ions and pollutants such as copper, chromium, lead, reactive dyes and phenols using tea leaves as an adsorbent. Secondly, research work on the various activation methods and conditions, and the usage of physical and chemical activating agents such as steam, carbon dioxide, phosphoric acid, zinc chloride and potassium salts for the activation of tea leave-based activated carbon have been reviewed and presented here.
Keywords
Activated carbon 
Adsorption 
Bio-adsorbents 
Wastewater treatment 
Waste tea leaves 
Introduction
The rise of industrialization has been of great economic benefit around the world, but unfortunately, it has come with a firm price. Reckless and unchecked growth has resulted in detrimental consequences where we increasingly find our natural resources being polluted to levels beyond imaginable. Water being the elixir of life; its contamination is of particular concern. The hydrosphere is being increasingly contaminated by growing levels of organic and inorganic industrial effluents including heavy metals such as chromium and copper, waste acids and bases, phenols and oils. A significant number of the effluents found in wastewater cannot be degraded nor destroyed. While a number of techniques such as evaporation, ion–ion exchange, reverse osmosis, membrane-based solvent extraction, destruction by catalytic wet air oxidation (Bhargava et al. 2006), photocatalytic oxidation, membrane pervaporation, (Kondo and Sato 1994) precipitation have been devised for the treatment of wastewater, the disadvantages allied with these methods cannot be ignored. Adsorption, on the other hand, has been considered a comparatively efficient method and has been used extensively for the removal of organic and inorganic micropollutants from wastewater.
However, the production of commercially available activated carbon that is widely used for adsorptive purposes entails high manufacturing costs (Ajmal et al. 2005; Ahmad and Hameed 2009; Mahvi 2009; Pajooheshfar and Saeedi 2009; Demiral and Gündüzog 2010). The precursor materials such as coal, wood and coconut shells that are widely used for the production of activated carbon are expensive and often need to be imported (Baccar et al. 2009). As a result, several studies have been undertaken that investigated the potential of using agricultural and household wastes such as olive stones (Shalaby et al. 2006; Ubago-Pérez et al. 2006; Kula et al. 2008), spent grains (Li et al. 2010), rice husks (Khan et al. 2010), almond shells (Plaza et al. 2010), herb residues (Yang and Qiu 2011), cotton stalks (Deng et al. 2009), bamboo (Ahmad and Hameed 2009), macadamia nutshells (Ahmadpour and Do 1997), durian shells (Chandra et al. 2009), giant reeds (Yue et al. 2010) and coffee husks (Oliveira et al. 2009) as AC precursors for the treatment of wastewater. Furthermore in recent times, the usage of dead biomass such as fertilizer husk (Srivastava et al. 1997), rice husks (Srinivasan et al. 1988), mustard oil cake (Ajmal et al. 2005), green algae (Nuhoglu et al. 2002; Malkoç and Nuhoglu 2003), pine bark and almond shell (Rossner and Snyder 2009) for the removal of pollutants from wastewater has shown increasing promise. One particular area of interest revolved around the usage of waste tea leaves for the adsorptive purposes due to the comparatively easier availability. Tea is obtained from the leaves of the Camellia sinensis L Camellia assamica and Cambodiensis plants (Kazmi et al. 2013). Although there exists a wide variety of tea in the commercial realm, those derived from the leaves of the plants mentioned above can be divided into six main categories: black, oolong, green, white, pure and dark. The differences among the varieties arise from the variations in the withering and oxidation processes.
Several studies have evaluated the usage of waste tea leaves (Khosla et al.
2011
; Cheraghi et al.
2015
) or tea factory wastes (Wasewar et al.
2008
) or factory-rejected tea (Nasuha and Hameed
2011a
,
b
) as an adsorbent for the removal of effluents from water. Composition wise, black tea consists of the cell wall material, hot water soluble polysaccharides and proteins along with hot water insoluble proteins, lignin, a structural protein and cellulose (Tan
1985
). The insoluble cell walls themselves contain cellulose, hemicellulose, lignin and condensed tannins (Thapak et al.
2015
). About 3% of the dry weight of tea is constituted by caffeine which translates to somewhere between 30 to 90 mg per 250 ml cup depending on the type of tea and the brewing method. Polyphenols such as flavonoids and epigallocatechin gallate are the most abundant compounds in tea leaves, and they constitute about 30–40% of its dry weight. These compounds contribute to the astringency found in tea beverages (Chatterjee et al.
2012
). A minuscule amount of theobromine and theophylline are also found in tea leaves (Harbowy et al.
1997
). In a physical sense, tea possesses the properties of a suspension and solution as well, i.e., it is a solution that contains all the water soluble compounds such as the polyphenols and amino acids while at the same time being a suspension resulting from the presence of insoluble components such as cellulose and lignin (Troup et al.
2015
). The percentage composition of insoluble material present in black tea is shown in Table 
1
.
Table 1
Percentage composition of ethanol insoluble material of black tea (dry weight basis) (Harler 1963)
| Constituent | Percentage |
| --- | --- |
| Cell wall material | 46.8 |
| Hot water soluble polysaccharide and proteins | 9.6 |
| Hot water insoluble proteins | 12.1 |
| Lignin and structural proteins | 14.7 |
| Cellulose | 37.2 |
It is without a doubt that the tea is the most popular and widely consumed beverage that is consumed around the world. The consumption of tea alone equals that of coffee, chocolate, soft drinks and alcohol combined (Macfarlane and Macfarlane 2011). It has been estimated that around the world somewhere between 18 to 20 billion cups of tea are drunk on a daily basis. The prosperity of the tea beverage industry in China has resulted in it being accountable for over 20% of the domestic beverage market alone. Such a staggering level of consumption brings forth with the issues regarding the safe disposal of the tea leaves as about 90% of the tea is left behind post-extraction and consumption (Auta and Hameed 2011b; Peng et al. 2013). The issues do not stop with the waste generated post-consumption as the manufacturing process also contributes to the amount of tea-based organic wastes. It has been reported that about 30,000 tons of tea factory waste in Turkey are disposed of in the small bays surrounding Black Sea (Malkoç and Nuhoglu 2003; Yagmur et al. 2008). The factory-rejected tea that is generated mainly during the withering process of production alone amounted to 100,000 tons per annum in Malaysia (Nasuha and Hameed 2011a, b). The annual production of about 857,000 tons of tea in India results in the generation of about 190,000 tons of tea factory waste (Wasewar et al. 2008). Furthermore, the rising popularity of tea seed oil results in the generation of over a million tons of tea seed shells as agro-industrial wastes in China alone (Gao et al. 2013). It is quite evident that the generation of such massive quantities of wastes from the tea industry alone will undoubtedly result in a host of environmental problems associated with their improper disposal. Furthermore, the lack of sustainable waste management practices concerning tea industry wastes exacerbates the issue further. Waste tea leaves and the factory generated tea wastes can be classified as carbonaceous adsorbents. Their physiochemical characteristics such as large surface capacity and the fast kinetics of adsorption make it suitable low-cost adsorbent for the removal of effluents from wastewater and also as an inexpensive precursor material for the production of activated carbon.
This paper focuses its attention on the review and evaluation of the literature that focuses on the usage of tea-based organic material as an adsorbent for the removal of various effluents from wastewater with or without carbonization while summarizing various aspects such as methodology, adsorption mechanisms, results of characterization studies and effluent removal efficiencies.
Adsorption using waste tea
Material pre-treatment
Before the actual usage of waste tea leaves or tea factory waste either as an adsorbent or a precursor for the production of activated carbon, it needs to undergo few preliminary stages such as milling, sieving and washing. Washing plays an essential role in the pre-treatment process as tea-based wastes contain considerable amounts of hydrolyzable tannins, polysaccharides and proteins along with other soluble and colored components which need to be eliminated before being used to avoid undue contamination. The usage of hot distilled water to wash the raw material several times until the supernatant solution remained colorless, was a technique shared among several studies. Wasewar et al. (2008) and Cay et al. (2004) reported that the usage of hot dilute solutions of NaOH for washing the raw material reduced the number of washing cycles required. Particle size plays a vital role in the handling of the raw material when it comes to mixing with a catalyst or impregnation and can also affect the properties of the subsequent AC. Malakahmad et al. (2016) reported that the particle size distribution determined the surface area of the adsorbent and smaller particle size account for larger surface area available for adsorption. Few researchers used the raw material in the original form, whereas others either milled or sieved the raw material to a particle size below 300 µm. The adsorbents were always oven-dried before the usage.
Waste tea as an adsorbent
About one-third of the net dry matter in tea leaves contains mainly carboxylate, aromatic, phenolic, hydroxyl and oxyl groups. This composition is responsible for its ion-exchange behavior (Ahmaruzzaman and Gayatri
2010
) which in turn improves its potential to be used as a metal scavenger from solutions and wastewaters. The EDS curve of tea wastes as shown in Fig. 
1
revealed the presence of a high concentration of elements found in commercial activated carbon such as carbon and calcium that allowed waste tea to demonstrate a high adsorption capacity (Matta et al.
2008
).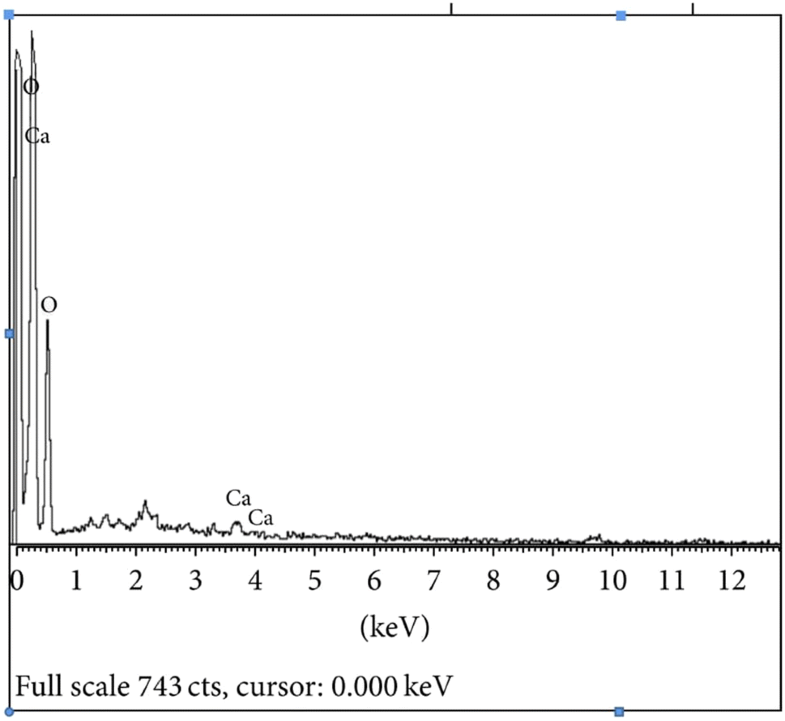 Adsorption using waste tea derived activated carbon
The relatively high content of cellulose, hemicellulose and lignin within the cell walls of tea leaves and tea factory wastes make it a suitable precursor material for the production of activated carbon (Li et al. 2010; Wang et al. 2006). There have been several studies that utilized either factory-rejected tea waste or spent tea leaves to produce AC which in turn were used as an adsorbent for the removal of organic and inorganic pollutants from wastewater.
Conclusions
The widespread ability and the ease with which waste tea leaves can be obtained combined with attractive physiochemical characteristics make it a potential replacement for commercially used adsorbents. In addition to the cost-benefits, the usage of tea leaves as a bio-adsorbent eliminates the multitude of environmental issues generated by its disposal. Adequate pre-treatment methods such as the usage of formaldehyde can reduce the problems associated with leaching when tea leaves are used for sorption purposes. Furthermore, it is an ideal low-cost precursor material for the production of activated carbon using conventional physical activation or impregnation methods due to its widespread availability when compared to the commonly used adsorbents. The properties of the activated carbons produced from waste tea leaves depend heavily on the activation method, type of activating agent and the process conditions such as temperature, retention time and impregnation ratios. Chemical activation methods seem to produce activated carbons possessing better properties as compared to physical activation methods. Results from the studies show that under ideal conditions, waste tea derived activated carbons can have features that are at par with the commercially available one. Waste tea-based AC's demonstrates a high level of efficiency in the removal of several classes of pollutants at the optimum parameters.
Waste tea leaves when chemically activated have potential to be used as low-cost adsorbents for various metal ions and other wastewater effluents. The problems related to leaching commonly associated with tea-based adsorbents can be overcome by treating it with mild solutions of formaldehyde.

It is preferable to convert the waste tea leaves into activated carbon before being used for adsorptive purposes as the latter boasts significantly higher effluent adsorptive capacities which in turn reduces the amount of adsorbent needed.

Under right impregnation ratios, activation temperature and time, the activated carbon produced from waste tea precursor possess properties similar to some grades of commercially available granular activated carbon. However, when the use of potassium acetate as the chemical activating agent is combined with a prolonged activation time, the resultant AC possesses remarkably high values of BET surface area and net pore volume.

One of the limitations of the study was that the influence of using microwave energy-assisted activation for the synthesis of activated carbon from waste tea leaves was not critically evaluated. Although this was attributed to the limited number of associated literature, it does represent untapped potential for expanding this work.

However, detailed studies are required to comprehend the efficiency of using waste tea for adsorption purposes in real life and the economics of using it as an alternative precursor material for the industrial production of activated carbon.
Copyright information
© The Author(s) 2018
Open AccessThis article is distributed under the terms of the Creative Commons Attribution 4.0 International License (http://creativecommons.org/licenses/by/4.0/), which permits unrestricted use, distribution, and reproduction in any medium, provided you give appropriate credit to the original author(s) and the source, provide a link to the Creative Commons license, and indicate if changes were made.