Abstract
Increasing urbanization, busy lifestyles has been providing a huge impetus to prefer ready to cook (RTC) food products. The research project was conducted to develop such a RTC product which fits the busy lifestyle of people as well as does not compromise on part of nutritional profile. The curry was prepared by washing, cutting, boiling (till vegetables gets soft) and blanching (5 min in 5% brine solution) followed by drying of five seasonal vegetables viz., carrot, peas, potato, cauliflower, beans in hot air dryer at 65 ± 5 °C for 10–12 h. A standardized gravy mix powder (onion, garlic, spices and herbs) was used to add flavor. Serving size for one person i.e. sachet contained 25 g dried vegetables, 10 g gravy mix powder and 200 ml water was prepared and packed. The recipe was finalized after sensory trials. The curry was ready in approximately 5 min in pressure cooker. The product remained well acceptable up to 4 months when packed in LDPE pouches under normal room temperature conditions. However, the shelf life of 4 months at 25 °C for a dried product is by all means considered good by the general expectations of dried foods and keeping the quality of dried foods reported in the literature.
This is a preview of subscription content, log in to check access.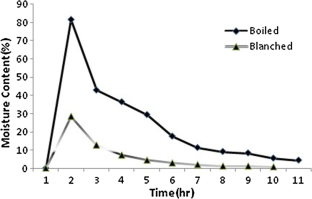 References
Abasi S, Mousavi SM, Mohebi M, Kiani S (2009) Effect of time and temperature on moisture content, shrinkage, and rehydration of dried onion. Iran J Chem Eng 6(3):57–60

AOAC (2005) Determination of proximate. Official method of analysis of the association of analytical chemists, 18th edn. AOAC, Washington, DC

Boyer RR, Huff K (2019) Using dehydration to preserve fruits, vegetables, and meats. Produced by Virginia Cooperative Extension, Virginia Tech, Virginia State University. Publication 348–597

Chantaro P, Devahastin S, Chiewchan N (2008) Production of antioxidant high dietary fiber powder from carrot peels. LWT Food Sci Technol 41(10):1987–1994

David E, Whitefield V (2000) Solar drying system, an important resource to improve food preparation. Kimberly South Afr Food J 12:1–4

Deng LZ, Mujumdar AS, Zhang Q, Yang XH, Wang J, Zheng ZA, Gao ZJ, Xiao HW (2019) Chemical and physical pretreatments of fruits and vegetables: effects on drying characteristics and quality attributes–a comprehensive review. Crit Rev Food Sci Nutr 59(9):1408–1432

Eldahshan OA, Singab ANB (2013) Carotenoids. J Pharmacogn Phytochem 2(1):225–234

Eze JI, Akubor PI (2012) Effect of drying methods and storage on the physicochemical properties of okra. J Food Process Technol 3(8):177

Forni E, Sormani A, Scalise S, Torreggiani D (1997) The influence of sugar composition on the color stability of osmodehydrofrozen intermediate moisture apricots. Food Res Int 30(2):87–94

Guida V, Ferrari G, Pataro G, Chambery A, Di Maro A, Parente A (2013) The effects of ohmic and conventional blanching on the nutritional, bioactive compounds and quality parameters of artichoke heads. LWT Food Sci Technol 53(2):569–579

Gwala W, Padmavati R (2016) Comparative study of indirect solar drying, electric tray drying and open sun drying of pineapple slices using drying kinetics and drying models. Int J Latest Technol Eng Manag Appl Sci 5:1–9

Leeratanarak N, Devahastin S, Chiewchan N (2006) Drying kinetics and quality of potato chips undergoing different drying techniques. J Food Eng 77(3):635–643

Loveday SM, Ye A, Anema SG, Singh H (2013) Heat-induced colloidal interactions of whey proteins, sodium caseinate and gum arabic in binary and tertiary mixtures. Food Res Int 54(1):111–117

Mahendran T, Prasannath K (2010) Influence of pre-treatments on quality of dehydrated ripe banana (Musa acuminata cv. Embul). J Food Agric 1(2):11–16

Malik T, Saxena M, Sonu KS (2018) Development of a ready to cook curry. Int J Innov Sci Res Technol 3(3):354–357

Moody B (1985) Drying vegetables–part one from April 1985 "Drying Times". http://www.dryit.com/dryingveg1.html. Retrieved 15 Apr 2018

Negi PS, Roys K (2001) Effect of drying conditions on quality of green vegetables during long-term storage. Plant Food Hum Nutr 61(1):13–21

Nilnakara S, Chiewchan N, Devahastin S (2009) Production of antioxidant dietary fiber powder from cabbage outer leaves. Food Biol Prod Process 87(4):301–307

Onwuka GI, Nwabara CC, Nwokedi PM, Echendu CA, Asumugha U, Igboekwe MU (2002) Comparative studies of the efficacy of sun drying, solar dryer and hot air oven in the preservation of tomatoes, okra, pepper and onion. Nig Food J 20:10–14

Polyak-Feher K, Horti K, Koncz A, Kriston A, Meszaros L, Urbanyi G (1993) Modernization of the technology of precooking. Acta Aliment Int J Food Sci 22(1):54

Ranganna S (1986) Handbook of analysis and quality control for fruits and Vegetables, 2nd edn. Tata McGraw Hill, New Delhi

Saxena A, Bawa AS, Raju PS (2009) Phytochemical changes in fresh-cut jackfruit (Artocarpus heterophyllus L.) bulbs during modified atmosphere storage. Food Chem 115(4):1443–1449

Sheikh SA, Mirani BN, Nizamani SM, Panhwar AA, Memon M (2019) Nutritional composition of wild-non-traditional vegetables of sindh, under different postharvest processing methods. Pak J Bot 51:1

Shrivastava PP, Nath N (1985) Development of a process for drying fresh and brined cauliflower. J Food Sci Technol 22(5):334–441

Tressler DK, Mack GL, King CG (1936) Vitamin C content of vegetables. I. Spinach. J Food Sci 1(1):3–7
Additional information
Publisher's Note
Springer Nature remains neutral with regard to jurisdictional claims in published maps and institutional affiliations.
About this article
Cite this article
Malik, T., Kajla, P. Comparative nutritional and microbiological quality of ready to cook mixed vegetable curry. J Food Sci Technol (2020). https://doi.org/10.1007/s13197-020-04245-4
Revised:

Accepted:

Published:
Keywords
Blanching

Boiling

Vegetables

Drying rate

Microbiology

Shelf-stability