Abstract
The aim of this work was to characterize goat milk chocolates with different concentrations of cocoa (35%, 45%, 55% and 65%) and apply correlations between sensory features and analytical measures. The chocolates were evaluated through moisture, ashes, fat content, protein, acidity, pH, water activity, texture, instrumental color and sensory profile. The correlations showed that the brown color can be represented by the chromaticity coordinates a* and b* and the flavor attributes (sweet taste and bitter taste), by the ashes analysis, fat content and pH. Canonic scores superior to 0.5 indicate chocolates with better acceptance.
This is a preview of subscription content, log in to check access.
Access options
Buy single article
Instant access to the full article PDF.
US$ 39.95
Price includes VAT for USA
Subscribe to journal
Immediate online access to all issues from 2019. Subscription will auto renew annually.
US$ 99
This is the net price. Taxes to be calculated in checkout.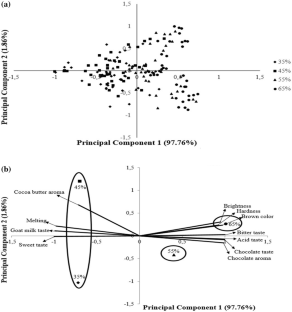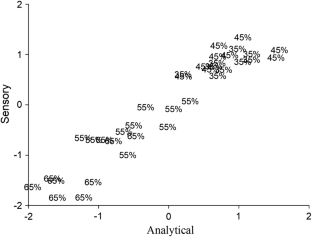 References
Afoakwa EO, Paterson A, Fowler M (2007) Factors influencing rheological and textural qualities in chocolate—a review. Trends Food Sci Technol 18:290–298. https://doi.org/10.1016/j.tifs.2007.02.002

Afoakwa EO, Paterson A, Fowler M, Ryan A (2008a) Flavor formation and character in cocoa and chocolate: a critical review. Food Sci Nutr 48:840–857. https://doi.org/10.1080/10408390701719272

Afoakwa EO, Paterson A, Fowler M, Vieira J (2008b) Particle size distribution and compositional effects on textural properties and appearance of dark chocolates. J Food Eng 87:181–190. https://doi.org/10.1016/j.jfoodeng.2007.11.025

Afoakwa EO, Paterson A, Fowler M, Vieira J (2009) Microstructure and mechanical properties related to particle size distribution and composition in dark chocolate. J Food Eng 44:111–119. https://doi.org/10.1111/j.1365-2621.2007.01677.x

Aidoo RP, De Clercq N, Afoakwa EO, Dewettinck K (2014) Optimisation of processing conditions and rheological properties using Stephan Mixer as conche in small-scale chocolate processing. Int J Food Sci Technol 49:740–746. https://doi.org/10.1111/ijfs.12360

Bourne M (2002) Food texture and viscosity: concept and measurement. Academic Press, Cambridge

Brazil. Ministério da Saúde. Agência Nacional de Vigilância Sanitária. Resolução – RDC nº 12 (2001) Regulamento Técnico sobre padrões microbiológicos para alimentos. Diário Oficial da União, Brasília, DF

Callegari-Jacques SM (2006) Bioestatística: princípios e aplicações. Artmed, Porto Alegre

Carvalho FIF (2004) Estimativas e implicações da correlação no melhoramento vegetal. Pelotas, Ed. Universitária da UFPel

Chaves JBP, Sproesser RL (2005) Práticas de Laboratório de Análise Sensorial de Alimentos e Bebidas. Editora da Universidade Federal de Viçosa, Viçosa

CIE Commission Internationale de L'Éclairage (2004) Colorimetry. CIE Publication, Vienna

Do TAL, Hargreaves JM, Wolf B, Hort J, Mitchell JR (2007) Impact of particle size distribution on rheological and textural properties of chocolate models with reduced fat content. J Food Sci 72:541–552. https://doi.org/10.1111/j.1750-3841.2007.00572.x

Efraim P, Pezoa-García NH, Jardim DCP, Nishikawa A, Haddad R, Eberlin MN (2010) Influence of cocoa beans fermentation and drying on the polyphenol content and sensory acceptance. Food Sci Technol 30:142–150. https://doi.org/10.1590/S0101-20612010000500022

FDA Food and Drug Administration (2005) Bacteriological analytical. http://www.cfsan.fda.gov/ebam/bam-5.html/. Accessed 28 July 2016

Ferreira DF (2011) Estatística Multivariada. Lavras, Editora UFLA

Glicerina V, Balestra F, Rosa MD, Romani S (2016) Microstructural and rheological characteristics of dark, milk and white chocolate: a comparative study. J Food Eng 169:165–171. https://doi.org/10.1016/j.jfoodeng.2015.08.011

IAL Instituto Adolfo Lutz (2008) Métodos físico-químicos para análise de alimentos Brasília, Ministério da Saúde

Johnson RA, Wichern DW (1999) Applied multivariate statistical analysis. Prentice-Hall, Englewood Cliffs, NJ

Jolliffe IT (1972) Discarding variables in a principal component analysis. I: artificial data. J R Stat Soc 21:160–173. https://doi.org/10.2307/2346488

Larrigaudiere C, Lentheric I, Puy J, Pinto E (2004) Biochemical characterization of core browning and brown heart disorders in pear by multivariate analysis. Postharvest Biol Technol 31:29–39. https://doi.org/10.1016/S0925-5214(03)00132-7

Lawless HT, Heymann H (2010) Sensory evaluation of food: principles and practices. Springer, New York

Massart DL, Vandeginste BGM, Buydens LMC, JongS Lewi PJ, Smeyers-Berbeke J (1998) Handbook of chemometrics and qualimetrics: part A. Elsevier Science B. V., Amsterdam

Mingoti SA (2005) Análise de dados através de métodos de estatística multivariada: uma abordagem aplicada. Belo Horizonte, Editora UFMG

Morrison DF (1978) Multivariate statistical methods. Tokyo, Mc Graw Hill

Moskowitz HR (1983) Product testing and sensory evaluation of foods. Food and Nutrition Press, Westport

Richter VB, Almeida TCA, Prudencio SH, Benassi MT (2010) Proposing a ranking descriptive sensory method. Food Qual Prefer 21:611–620. https://doi.org/10.1016/j.foodqual.2010.03.011

Silva RCSN, Minim VPR, Carneiro JDS, Nascimento M, Lucia SMD, Minim LA (2013) Quantitative sensory description using the optimized descriptive profile: comparison with conventional and alternative methods for evaluation of chocolate. Food Qual Prefer 30:169–179. https://doi.org/10.1016/j.foodqual.2013.05.011

Steel RGD, Torrie JH, Dickey DA (1997) Principles and procedures of statistics: a biometrical approach. McGraw Hill Book, New York

Stone H, Sidel JL, Oliver S, Wooley A, Sinon RC (1974) Sensory evaluation by quantitative descriptive analysis. Food Technol 28:24–34. https://doi.org/10.1002/9780470385036.ch1c

Szczesniak AS (2002) Texture is a sensory property. Food Qual Prefer 13:215–225. https://doi.org/10.1016/S0950-3293(01)00039-8
Acknowledgements
The authors acknowledge the Coordenação de Aperfeiçoamento de Pessoal de Nível Superior (Capes) for providing study scholarships and the CEPLAC for the contribution on the production of the chocolates.
Additional information
Publisher's Note
Springer Nature remains neutral with regard to jurisdictional claims in published maps and institutional affiliations.
About this article
Cite this article
de Jesus Silva, G., Gonçalves, B.R.F., Conceição, D.G. et al. Multivariate analysis applied for correlations between analytical measures and sensory profile of goat milk chocolate. J Food Sci Technol 57, 444–453 (2020). https://doi.org/10.1007/s13197-019-04072-2
Revised:

Accepted:

Published:

Issue Date:
Keywords
Chemometry

Chocolate

Cocoa

Goat

Milk