Abstract
In this work, high performance liquid chromatography (HPLC) and fluorescence spectrometry methods for determination of natural coumarins in Tokaj wine were developed and compared. Molecularly imprinted solid phase extraction procedure was applied for sample preparation. The separation of esculin, coumarin, herniarin, 4-methylumbelliferone, scoparone, scopoletin was performed on core–shell C18 type of stationary phase (100 × 4.6 mm, 5 µm) with a gradient elution of mobile phase containing 1% aqueous solution of acetic acid and methanol, UV–VIS (280 nm for coumarin) and fluorescence detection (Ex 320 nm, Em 450 nm for other coumarins). The HPLC method was validated in term of linearity, limit of detection, limit of quantification, precision and accuracy. Fluorescence detection offers high sensitivity with limit of detection in the ng mL−1 range. Scopoletine and 4-methylumbelliferone were identified and quantified in tested wines. Emission spectral data, synchronous fluorescence spectra of coumarins from fluorescence spectrometry and total concentrations of coumarins quantified by the HPLC method were used in the partial least squares regression. The linear regression between the concentrations predicted by the partial least squares model versus true values obtained by HPLC method confirmed good agreement between the two methods.
This is a preview of subscription content, log in to check access.
Access options
Buy single article
Instant unlimited access to the full article PDF.
US$ 39.95
Price includes VAT for USA
Subscribe to journal
Immediate online access to all issues from 2019. Subscription will auto renew annually.
US$ 99
This is the net price. Taxes to be calculated in checkout.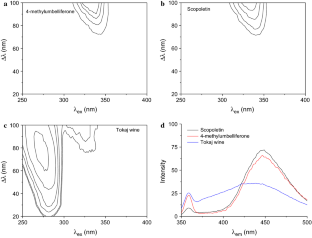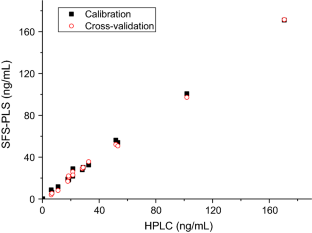 References
Aleixandre-Tudo JL, Buica A, Nieuwoudt H, Aleixandre JL, Du Toit W (2017) Spectrophotometric analysis of phenolic compounds in grapes and wines. J Agric Food Chem 65:4009–4026

Barciela-Alonso MC, Otero-Lavandeira N, Bermejo-Barrera P (2017) Solid phase extraction using molecular imprinted polymers for phthalate determination in water and wine samples by HPLC-ESI-MS. Microchem J 132:233–237

Bitar M, Cayot P, Bou-Maroun E (2014) Molecularly imprinted polymer solid phase extraction of fungicides from wine samples. Anal Methods 6:6467–6472

Borges F, Roleira F, Milhazes N, Santana L, Uriarte E (2005) Simple coumarins and analogues in medicinal chemistry: occurrence, synthesis and biological activity. Curr Med Chem 12:887–916

Büyüktuncel E, Porgali E, Özkara S (2018) Catechin-molecularly imprinted cryogel for determination of catechin in red wines by HPLC–DAD–fluorescence detector. Acta Chromatogr 30:54–61

Canas S (2017) Phenolic compounds and related properties of aged wine spirits: influence of barrel characteristics. A review. Beverages 55:1–22

Da Silva AA, Pereira do Nascimento ES, Cardoso DR, Franco DW (2009) Coumarins and phenolic fingerprints of oak and Brazilian woods extracted by sugarcane spirit. J Sep Sci 32:3681–3691

De Rosso M, Panighel A, Dalla Vedova A, Stella L, Flamini R (2009) Changes in chemical composition of a red wine aged in acacia, cherry, chestnut, mulberry, and oak wood barrels. J Agric Food Chem 57:1915–1920

De Simon BF, Sanz M, Cadahia E, Martinez J, Esteruelas E, Munoz AM (2014) Polyphenolic compounds as chemical markers of wine ageing in contact with cherry, chestnut, false acacia, ash and oak wood. Food Chem 143:66–76

De Villiers A, Albertsa P, Tredoux AGJ, Nieuwoudt HH (2012) Analytical techniques for wine analysis: an African perspective; a review. Anal Chim Acta 730:2–23

Garrido J, Borges F (2013) Wine and grape polyphenols: a chemical perspective. Food Res Int 54:1844–1858

Giovannoli C, Passini C, Di Nardo F, Anfossi L, Baggiani C (2014) Determination of ochratoxin A in italian red wines by molecularly imprinted solid phase extraction and HPLC analysis. J Agric Food Chem 62:5220–5225

Gomez FJ, Silva MF (2016) Microchip electrophoresis for wine analysis. Anal Bioanal Chem 408:8643–8653

Huang J, Liang P, Xu J, Wu Y, Shen W, Xu B, Zhang D, Xia J, Zhuang S (2017) Qualitative and quantitative determination of coumarin using surface-enhanced Raman spectroscopy coupled with intelligent multivariate analysis. RSC Adv 7(77):49097–49101

Izquierdo MEF, Granados JQ, Mir MV, Martinez MCL (2000) Comparison of methods for determining coumarins in distilled beverages. Food Chem 70:251–258

Jandera P, Škeříková V, Řehová L, Hájek T, Baldriánová L, Škopová G, Kellner V, Horna A (2005) PR-HPLC analysis of phenolic compounds and flavonoids in beverages and plant extracts using a CoulArray detector. J Sep Sci 28:1005–1022

Machyňáková A, Hroboňová K (2017a) Simultaneous determination of coumarin derivatives in natural samples by ultrahigh performance liquid chromatography. J Food Nutr Res 56:179–188

Machyňáková A, Hroboňová K (2017b) Synthesis and evaluation of molecularly imprinted polymers as sorbents for selective extraction of coumarins. Chromatographia 80:1015–1024

Machyňáková A, Lhotská I, Hroboňová K, Šatinsky D (2017) On-line coupling of molecularly imprinted solid phase extraction with liquid chromatography for the fast determination of coumarins from complex samples. J Pharm Biomed Anal 145:144–150

Molinelli A, Weiss R, Mizaikoff B (2002) Advanced solid phase extraction using molecularly imprinted polymers for the determination of quercetin in red wine. J Agric Food Chem 50:1804–1808

Poláček R, Májek P, Hroboňová K, Sádecká J (2015) Fluorescence spectroscopy as a tool for determination of coumarins by multivariate calibration. J Fluoresc 25:297–303

Puech JL, Moutounet M (1988) Liquid chromatographic determination of scopoletin in hydroalcoholic extract of oak wood and in matured distilled alcoholic beverages. J Assoc Anal Chem 71:512–514

Rentzsch M, Wilkens A, Winterhalter P (2009) In: Moreno-Arribas MV, Polo MC (eds) Wine chemistry and biochemistry. Springer, New York

Ribéreau-Gayon P, Glories Y, Maujean A, Dubourdieu D (2006) Handbook of enology. The chemistry of wine: stabilization and treatment, vol 2, 2nd edn. Wiley, New York, pp 143–144

Sádecká J, Jakubíková M, Májek P (2018) Fluorescence spectroscopy for discrimination of botrytized wines. Food Control 88:75–84

Salagoity-Auguste MH, Tricard C, Sudral P (1987) Simultaneous determination of aromatic aldehydes and coumarins by high-preform liquid chromatography. Application to wines and brandies stored in oak barrels. J Chromatogr 392:379–387

Sanagi MM, Salleh S, Ibrahim WAW, Naim AA (2011) Determination of organophosporus pesticides using molecular imprinted polymer solid phase extraction. Malaysian Journal of Analytical Sciences 15:175–183

Sikorska E, Gliszczyńska-Świgło A, Insińska-Rak M, Khmelinskii I, De Keukeleire D, Sikorski M (2008) Simultaneous analysis of riboflavin and aromatic amino acids in beer using fluorescence and multivariate calibration methods. Anal Chim Acta 613:207–217

Stauffer TM (2017) Ideas and applications toward sample preparation for food and beverages analysis. InTech, Rijeka

Wang L, Wu HL, Yin XL, Hu Y, Gu HW, Yu RQ (2017) Simultaneous determination of umbelliferone and scopoletin in Tibetan medicine Saussurea laniceps and traditional Chinese medicine Radix angelicae pubescentis using excitation-emission matrix fluorescence coupled with second-order calibration method. Spectrochim Acta A Mol Biomol Spectrosc 170:104–110

Wise BM, Gallagher NB, Bro R, Shaver JM, Windig W, Koch RS (2006) PLS toolboox 4.0 for use with Matlab™. Eigenvector Research Inc, Wenatchee

Wold S, Sjostrom M, Eriksson L (2001) PLS-regression: a basic tool of chemometrics. Chemom Intell Lab Syst 58:109–130

Yang M, Chen JL, Shi XF, Niu HJ (2011) Rapid determination of aesculin, aesculetin and fraxetin in cortex fraxini extract solutions based on ultraviolet spectroscopy. E J Chem 8(S1):S225–S236

Zhang B, Cai J, Duan CQ, Reeves MJ, He F (2015) A review of phenolics in oak woods. Int J Mol Sci 16:6978–7014

Žiak Ľ, Sádecká J, Májek P, Hroboňová K (2014) Simultaneous determination of phenolic acids and scopoletin in brandies using synchronous fluorescence spectrometry coupled with partial least squares. Food Anal Methods 7:563–570
Acknowledgements
The authors thanks J & J Ostrožovič spol. s r.o. and Tokaj & CO, s.r.o. for cooperation and providing of wines. The authors thanks Eva Brokešová for cooperation in sample preparation.
Funding
This research was financially supported by the Slovak Research and Development Agency under the Contract No. APVV-15-0355.
Ethics declarations
Conflict of interest
Katarína Hroboňová declares that she has no conflict of interest. Jana Sádecká declares that she has no conflict of interest.
Ethical approval
This article does not contain any studies with human participants or animals performed by any of the authors.
Informed consent
Informed consent was obtained from all individual participants included in the study.
Additional information
Publisher's Note
Springer Nature remains neutral with regard to jurisdictional claims in published maps and institutional affiliations.
About this article
Cite this article
Hroboňová, K., Sádecká, J. Coumarins content in wine: application of HPLC, fluorescence spectrometry, and chemometric approach. J Food Sci Technol 57, 200–209 (2020). https://doi.org/10.1007/s13197-019-04048-2
Revised:

Accepted:

Published:

Issue Date:
Keywords
Wine

Coumarins

High performance liquid chromatography

Fluorescence spectrometry