Abstract
This study evaluated the effect of treatment with gum Arabic edible coatings on shelf life and quality parameters of mangoes during 20 days at room temperature. Apple variety of mangoes of uniform size were obtained from small holder farms in Makueni County, Kenya and dipped in various concentrations of gum Arabic solutions [0, 10, 15 and 20% (w/v)] for 1 h, ensuring the coating solution uniformly covered the surface. Control fruits were dipped in distilled water only. The fruits were then air-dried on trays, packed in cardboard boxes and stored at room temperature (23 ± 2 °C) and normal relative humidity (45–60%). Changes in weight loss, ascorbic acid content, ß-carotene, total soluble solids (TSS), titratable acidity (TA) and pH were determined using standard methods. Gum Arabic coatings (all levels) significantly (p < 0.05) reduced weight loss, delayed increase in TSS and development of ß-carotene, while retaining ascorbic acid in the mangoes during storage compared to the controls. Gum Arabic treatments resulted into higher TA that corresponded with low pH in the mangoes compared to the control. Ripening was slower with gum Arabic treatments and a shelf life of 15 days was obtained for gum Arabic-treated mangoes compared to less than 10 days for the control. Gum Arabic coatings demonstrated gas and water vapour barrier properties, hence extending the shelf life of mangoes while maintaining quality. Gum Arabic treatment can therefore serve as an alternative preservation method for mangoes at farm and transit levels without affecting quality parameters; giving farmers more revenue and reducing post-harvest losses.
This is a preview of subscription content, log in to check access.
We're sorry, something doesn't seem to be working properly.
Please try refreshing the page. If that doesn't work, please contact support so we can address the problem.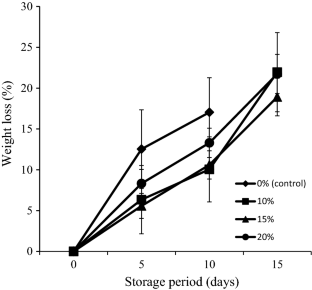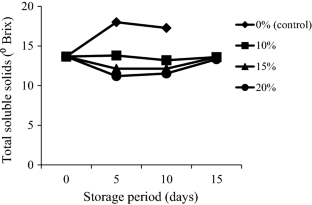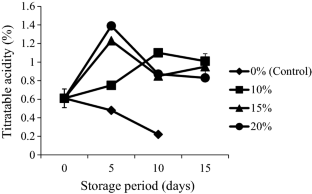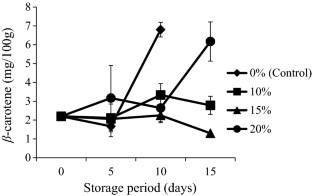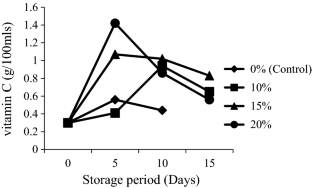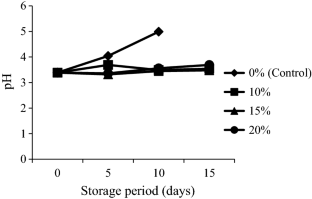 References
Ali A, Maqbool M, Ramachandran S, Alderson PG (2010) Gum Arabic as a novel edible coating for enhancing shelf-life and improving postharvest quality of tomato (Solanum lycopersicum L.) fruit. Postharvest Biol Technol 58(1):42–47

Amin M, Malik AU, Mazhar MS, Din IU, Khalid MS, Ahmad S (2008) Mango fruit de-sapping in relation to time of harvesting. Pak J Bot 40(4):1587–1593

Baldwin EA (1994) Edible coatings for fresh fruits and vegetables: past, present, and future. In: Krochta JM, Baldwin EA, Nisperos-Carriedo MO (eds) Edible coating and films to improve food quality. Technomic Publishing Co., Lancaster, pp 25–64

Baldwin EA, Burns JK, Kazokas W, Brecht JK, Haigenmaier RD, Bender RJ, Pesis E (1999) Effect of two edible coatings with different permeability characteristics on mango (Mangifera indica L.) ripening during storage. Postharvest Biol Technol 17:215–226

Dioha I, Olugbemi O, Onuegbu T, Shahru Z (2011) Determination of ascorbic acid content of some tropical fruits by iodometric titration. Int J Biol Chem Sci 5(5):2180–2184

El-Anany AM, Hassan GFA, Rehab Ali FM (2009) Effects of edible coatings on the shelf-life and quality of Anna apple (Malus domestica Borkh) during cold storage. J Food Technol 7:5–11

Fan X, Blankenship SM, Mattheis JP (1999) 1-Methylcyclopropene inhibits apple ripening. J Am Soc Hortic Sci 124(6):690–695

Fonseca MJO, Salomao LCC, Cecon PR, Puschmann R (2004) Fungicides and wax in postharvest preservation of mango 'Haden'. Acta Hortic 645:557–563

Gathambiri CW, Karanja CN, Kiiru SN (2006) Effects of drying on the quality of mango slices. In: Proceedings of tenth Kenya Agricultural Research Institute Biennial Conference. Nairobi, Kenya

Guilbert S (1986) Technology and application of edible protective films. In: Mathlouthi M (ed) Food packaging and preservation. Elsevier Applied Science, New York, pp 371–394

Herianus JD, Singh LZ, Tan SC (2003) Aroma volatiles production during fruit ripening of Kensington Pride mango. Post Harvest Biol Technol 27:323–336

Islam AM, Phillips GO, Sljvo A, Snowden MJ, Williams PA (1997) A review of recent developments on the regulatory, structural and functional aspects of gum arabic. Food Hydrocoll 11:493–505

Islam MK, Khan MZH, Sarkar MAR, Absar N, Sarkar SK (2013) Changes in acidity, TSS, and sugar content at different storage periods of the postharvest mango (Mangifera indica L.) influenced by Bavistin DF. Int J Food Sci 2013, Article ID 939385. https://doi.org/10.1155/2013/939385

Jain SK, Mukherjee S (2011) Enhancing keeping quality of fruits in mango cv. Langra. Ind J Hortic 68:142–144

Ketsa S, Prabhasavat T (1992) Effect of skin coating on shelf life andquality of 'Nang Klanwan' mangoes. Acta Hortic 321:764–770

Kramchote S, Jirapong C, Wongs-Aree C (2008) Effects of 1-MCP and controlled atmosphere storage on fruit quality and volatile emission of 'Nam Dok Mai' mango. Acta Hortic 804:485–492

Majidi H, Minaei S, Almasi M, Mostofi Y (2011) Total soluble solids, titratable acidity and repining index of tomato in various storage conditions. Aust J Basic Appl Sci 5(12):1723–1726

Mandal D, Sailo L, Hazarika TK, Shukla AC (2018) Effect of edible coating on shelf life and quality of local mango cv. Rangkuai of Mizoram. Res Crops 19(3):419–424. https://doi.org/10.31830/2348-7542.2018.0001.10

Mazumdar BC, Majumder K (2003) Methods on physicochemical analysis of fruits. Daya Publishing House, New Delhi

Mocak J, Jurasek P, Phillips GO, Varga S, Casadei E, Chikemai BN (1998) The classification of natural gums. X. Chemometric characterization of exudate gums that conform to the revised specification of the gum arabic for food use, and the identification of adulterants. Food Hydrocoll 12(2):141–150

Motlagh S, Ravines P, Karamallah KA, Ma Q (2006) The analysis of Acacia gums using electrophoresis. Food Hydrocoll 20:848–854

Muhammad I, Ashiru S, Ibrahim DI, Kanoma AI, Sani I, Garba S (2014) Effect of ripening stage on vitamin C content in selected fruits. Int J Agric Forest Fish 2(3):60–65

Narayana CK, Pal RK, Roy SK (1996) Effect of pre-storage treatments and temperature regimes on shelf life and respiratory behaviour of ripe Baneshan Mango. J Food Sci Technol Mysore 33:79–82

Olivas GI, Barbosa-Cánovas GV (2005) Edible coatings for fresh-cut fruits. Crit Rev Food Sci Nutr 45:657–670

Rangana S (1979) Manual analysis of fruits and vegetables product. Tata McGraw- Hill Co., Ltd., New Delhi

Sammi S, Masud T (2007) Effect of different packaging systems on storage life and quality of tomato (Lycopersicon esculentum var. Rio Grande) during different ripening stages. Int J Food Saf 9:37–44

Shahnawz M, Sheikh SA, Khaskheli SG (2012) Effect of storage on the physicochemical characteristics of the mango (Mangifera indica L.) variety. Langra. Afr J Biotechnol 11(41):9825–9828. https://doi.org/10.5897/ajb11.3487

Vivas N, Vivas de Gaulejac N, Nonier MF, Nedjma M (2001) Effect of gum arabic on wine astringency and colloidal stability. Progres Agricole et Viticole (France) 118(8):175–176

Wills RBH, Bambridge P, Scott KJ (1980) Use of flesh firmness and other objective tests to determine consumer acceptability of delicious apples. Aus J Exp Agric 20(103):252–256

Yaman O, Bayoιndιrlι L (2002) Effects of an edible coating and cold storage on shelf-life and quality of cherries. LWT Food Sci Technol 35(2):146–150
Acknowledgements
We wish to acknowledge the Centre of Excellence in Sustainable Agriculture and Agribusiness Management (CESAAM) at Egerton University for their support during the experiments. This work was supported by German Academic Exchange Service DAAD Exceed/International Centre for Development and Decent Work (ICDD) (PhD GAPs), Project ID: 57160015.
Additional information
Publisher's Note
Springer Nature remains neutral with regard to jurisdictional claims in published maps and institutional affiliations.
About this article
Cite this article
Daisy, L.L., Nduko, J.M., Joseph, W.M. et al. Effect of edible gum Arabic coating on the shelf life and quality of mangoes (Mangifera indica) during storage. J Food Sci Technol 57, 79–85 (2020). https://doi.org/10.1007/s13197-019-04032-w
Revised:

Accepted:

Published:

Issue Date:
Keywords
Gum Arabic

Mangoes

Post-harvest losses

Edible coatings