Abstract
β-Glucan, is a soluble dietary fiber and is obtained from number of sources including cereals. It possesses the nutraceutical characteristics and acts as functional bioactive ingredient in the fermented dairy product including yoghurt. In this concern, β-glucan isolated from barley having purity of (91.52%) was incorporated in different proportions (0.5, 1, 1.5 and 2%, w/v) during the full fat yoghurt preparation. The analysis of β-glucan carried out initially, indicated that the viscosity, water binding capacity, swelling power and solubility values were 92 Pa s, 3.17 g/g, 18.50 g/g and 3%, respectively, whereas, the total antioxidant activity obtained in terms of DPPH free radical scavenging activity was 27%. Based on these characteristics β-glucan extract had been considered as the choicest material for set type products like yoghurt. Thereafter, physiochemical, rheological and sensory characteristics of β-glucan incorporated yoghurt were evaluated during 1st, 7th and 14th days of refrigerated storage. Addition of β-glucan significantly (p ≤ 0.05) improved whey separation (syneresis), viscosity, texture profile and sensory characteristics during storage. The TPA characteristics such as hardness, cohesiveness and resilience of yoghurt samples improved significantly during storage with the incorporation of β-glucan whereas, β-glucan added yoghurt obtained higher consistency coefficient (K), thus, indicated a thicker and compact texture. Sensory analysis of stored yoghurt indicated that yoghurt samples in the present study containing even higher (1.5–2%) β-glucan level had obtained the higher average overall acceptability (8.1 to 8.3 on 9-point scale) score as compared to a low fat yoghurt containing lower β-glucan level (0.5%) reported in the literature.
This is a preview of subscription content, log in to check access.
Access options
Buy single article
Instant unlimited access to the full article PDF.
US$ 39.95
Price includes VAT for USA
Subscribe to journal
Immediate online access to all issues from 2019. Subscription will auto renew annually.
US$ 99
This is the net price. Taxes to be calculated in checkout.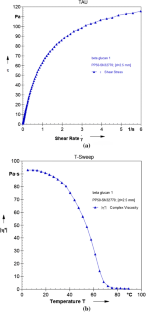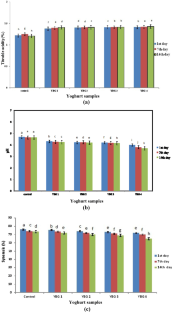 References
AACC (2003) Method no. 32-23, 46-13, 08-01.44-16, 08-01 and 30-10. Approved methods of american association of cereal chemists. Inc., The American Association of Cereal Chemists, St Paul

Aboushanab S, Vyrova D, Selezneva I (2018) Characterization of low- and non-fat yoghurt manufactured with addition of β-glucanas a dietary supplement, physics, technologies and innovation (PTI-2018). In: Proceedings of the V international young researchers' conference. https://doi.org/10.1063/1.5055076

Ahmad A, Anjum FM, Zahoor T, Nawaz H, Din A (2009) Physicochemical and functional properties of barley β-glucan as affected by different extraction procedures. Int J Food Sci Technol 44:181–187

Ahmad A, Anjum FM, Zahoor T, Nawaz H, Ahmed Z (2010) Extraction and characterization of β-D-glucan from oat for industrial utilization. Int J Biol Macromol 46(3):304–309

Annuziata A, Vecchio R (2013) Consumer perception of functional foods: a conjoint analysis with probiotic. Food Qual Prefer 28:348–355

Babic A, Fincher GB, Stone BA (2009) Chemistry, biochemistry, and biology of (1-3)-β-glucans and related polysaccharides, 1st edn. Academic Press, Amesterdam

Batista ALD, Silva R, Cappato LP, Almada CN, Garcia KA, Silva MC et al (2015) Quality parameters of probiotic yoghurt added of glucose oxidase compared to commercial products through microbiological, physical-chemical and metabolic activity analyses. Food Res Int 77(3):627–635

Bhaskar D, Khatkar SK, Chawla R, Panwar H, Kapoor S (2017) Effect of β-glucan fortification on physico-chemical, rheological, textural, colour and organoleptic characteristics of low fat dahi. J Food Sci Technol 54(9):2684–2693

Brand-Williams W, Cuvelier ME, Berset C (1995) Use of a free radical method to evaluate antioxidant activity. LWT-Food Sci Technol 28:25–30

Brennan CS, Cleary LJ (2005) The potential use of cereal (1-3), (1-4) -β-glucan as functional food ingredient. J Cereal Sci 42:1–13

Christopher MD, Reddy VP, Venkateswarlu K (2009) Viability during storage of two Bifidobacterium bifidum strains in set and stirred flavoured yoghurts containing whey protein concentrates. Nat Prod Radiance 8:25–31

Cruz AG, Cadena RSMB, Alvaro VB, Santana AS, Oliveira CAF (2013a) Assessing the use of different chemometric techniques to discriminate low-fat and full-fat yoghurts. LWT-Food Sci Technol 50:210–214

Cruz AG, Cadenaa WF, Castroc EA, Rodriguesa EB, Fariaa GAF, Freitasd FMQ et al (2013b) Consumer perception of probiotic yoghurt: performance of check all that apply (CATA), projective mapping, sorting and intensity scale. Food Res Int 54(1):601–610

Esmerino EA, Filho ERT, Carr BT, Ferraz JP, Silva HLA, Pinto LPF, Freitas MQ, Cruz AG, Bolini HMA (2017) Consumer-based product characterization using pivot profile, projective mapping and check-all-that-apply (CATA): a comparative case with Greek yoghurt samples. Food Res Int 99(1):375–384

Gee VLT, Vasanthan T, Temelli F (2007) Viscosity of model yogurt systems enriched with barley β-glucan as influenced by starter cultures. Int Dairy J 17(9):1083–1088

Grausgruber H, Scheiblauer J, Schonlechner R, Ruckenbauer P, Berghofer E (2004) Variability in chemical composition and biologically active constituents of cereals. In: Vollmann J, Grausgruber H, Ruckenbauer P (eds) Genetic variation for plant breeding. Proceedings of the 17th EUCARPIA General Congress, Tulln, Austria, 8–11 Sept 2004. University of Natural Resources and Life Sciences, pp 23–26. ISBN: 3900962561

Guleria P, Kumari S, Dangi N (2015) β-glucan: health benefits and role in food industry—a review. Int J Enhanc Res Sci Technol Eng 4(8):2319–7463

Guzel-Seydim ZB, Sezgin E, Seydim AC (2005) Influences of exo-polysaccharide producing cultures on the quality of plain set type yoghurt. Food Control 16:205–209

Hamad MNF, El-Nemr MK (2015) Development of guava probiotic dairy beverages: application of mathematical modeling between consumer acceptance degree and whey ratio. Int J Sci Res Sci Technol 1(5):2395–6011

Inglett GE, Chen D, Liu SX (2015) Pasting and rheological properties of quinoa-oat composites. Int J Food Sci Technol 50(4):878–884

Jirdehi S, Qajarbeygi Z, Khaksar P (2013) Effect of prebiotic β-glucan composite on physical, chemical, rheological and sensory properties of set-type low-fat Iranian yoghurt. Egypt J Basic Appl Sci 3(1):205–210

Khoury DEL, Cuda C, Luhovy BL, Anderson GH (2012) β-glucan: health benefits in obesity and metabolic syndrome. J Nutr Metabol 2012:1–28

Kofuji K, Aoki A, Tsubaki K, Konishi M, Isobe T, Musrata Y (2012) Antioxudant activity of β-glucan. Int Sch Res Netw. https://doi.org/10.5402/2012/125864

Kogan G, Stasko A, Bauerov K, Polovka M, Soltes L, Brezov V (2005) Antioxidant properties of yeast (1/3)-β-D-glucan studied by electron paramagnetic resonance spectroscopy and its activity in the adjuvant arthritis. Carbohyr Polym 61:18–28

Kruif CG, Tuinier R (2011) Polysaccharide protein interactions. Food Hydrocoll 15:555–563

Lee YE, Osman EM (1991) Correlation of morphological changes of rice starch granules with rheological proper-ties during heating in excess water. J Korean Agric Chem Soc 34:379–385

Lucey JA (2002) Formation and physical properties of milk protein gels. J Dairy Sci 85:281–294

Meilgard M, Civille GV, Caar BT (1999) Sensory evaluation techniques, 3rd edn. CRC Publishers, Boca Raton

Mudgil D, Barak S, Khatkar BS (2016) Development of functional yoghurt via soluble fiber fortification utilizing enzymatically hydrolyzed guar gum. Food Biosci 14:28–33

Nikoofar E, Hojjatoleslamy M, Shakerian A, Molavi H, Shariaty MA (2013) Surveying the effect of oat β-glucan as a fat replacer on rheological and physicochemical characteristics of non-fat set yoghrt. Int J Farm Allied Sci 2(20):790–796

Panesar PS, Shinde C (2011) Effect of storage on syneresis, pH, Lactobacillus acidophilus count, Bifidobacterium bifidium count of aloe vera fortified probiotic yoghurt. Curr Res Dairy Sci 4(1):17–23

Patel S, Majumder A, Goyal A (2012) Potential of exo-polysaccharides from lactic acid bacteria. Indian J Microbiol 52(1):3–12

Singh S, Kaur M (2017) Steady and dynamic shear rheology of starches from different oat cultivars in relation to their physiochemical and structural properties. Int J Food Prop 20(12):3282–3294

Subaric D, Babic J, Lalic A, Ackar D, Kopjar M (2011) Isolation and characterization of starch from different barley and oat varieties. Czech J Food Sci 29(4):354–360

Vanegas-Azuero AM, Gutiérrez LF (2018) Physicochemical and sensory properties of yogurts containing sacha inchi (Plukenetia volubilis L.) seeds and β-glucans from Ganoderma lucidum. J Dairy Sci 101:1020–1033

Vizhi VK, Many JN (2012) Study on estimation, extraction and analysis of barley β-glucan. Int J Sci Res 3(10):1480–1484

Wong JMW, Souza RD, Kendall CWC, Emam A, Jenkins DA (2005) Colonic health: fermentation and short chain fatty acids. J Clin Gastroenterol 40(3):235–243

Zhao CB, Wu F, Li YP, Liu XL (2014) Effects of β-glucans on properties of soya bean protein isolate thermal gels. Int J Food Sci Technol 50(2):347–355
Ethics declarations
Conflict of interest
The authors declare no conflict of interest.
Ethical approval
The ethical approval for this study has been taken from the departmental concern as per the set procedure followed through a committee comprising (HOD, FE&T)), Prof. & PG Coordinator (Dr. Sukhcharn Singh) and Dr. Kamlesh Prasad, (Professor, FE&T). The written consent from participants including staff and students of the FE&T Department as per requirements have been taken for carrying out the sensory analysis of the developed product and has been kept in record.
Additional information
Publisher's Note
Springer Nature remains neutral with regard to jurisdictional claims in published maps and institutional affiliations.
Electronic supplementary material
Below is the link to the electronic supplementary material.
About this article
Cite this article
Kaur, R., Riar, C.S. Sensory, rheological and chemical characteristics during storage of set type full fat yoghurt fortified with barley β-glucan. J Food Sci Technol 57, 41–51 (2020) doi:10.1007/s13197-019-04027-7
Revised:

Accepted:

Published:

Issue Date:
Keywords
Yoghurt

β-Glucan

Texture profile analysis

Sensory analysis

Storage

Antioxidant activity