Abstract
A blend of oregano and thyme essential oils (EOs) incorporated edible film was evaluated to improve the storage quality of chicken meat patties. Several preliminary trials were carried out to optimize the levels of bio-polymer to obtained desired edible film as a carrier and blend of EOs as bio preservatives. Preliminary studies indicated that 1.5% (w/v) solution of carrageenan as bio-polymer and 0.10% (v/v) oregano with 0.15% (v/v) thyme EOs in blend form as antimicrobial were suitable. Chicken meat patties wrapped with edible film incorporated with aforementioned EOs, packaged aerobically were stored at refrigeration temperature (4 ± 1 °C) for further studies. Results of refrigeration storage, showed that control samples had significantly higher pH and thiobarbituric acid reacting substances value than EOs treated products. There were significantly lower microbial counts observed in treatment samples (with EOs) and found well within permissible limit as compared to control. All the treatment samples showed lower or comparable flavour score in regard with control. It was found that shelf-life of chicken meat patties increased significantly (P < 0.05) during refrigerated storage and showed acceptable quality up to storage period of 30 days.
This is a preview of subscription content, log in to check access.
Access options
Buy single article
Instant access to the full article PDF.
US$ 39.95
Price includes VAT for USA
Subscribe to journal
Immediate online access to all issues from 2019. Subscription will auto renew annually.
US$ 99
This is the net price. Taxes to be calculated in checkout.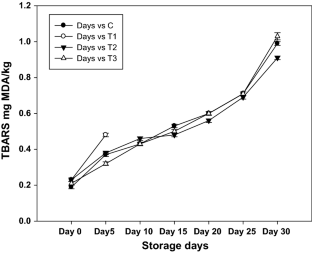 References
AOAC (1995) Official methods of analysis, 17th edn. Association of Official Analytical Chemist, Washington, DC

APHA (2001) Compendium of methods for the microbiological examination of foods, 4th edn. In: Speck ML (ed) American Public Health Association, Washington, DC

Brewer MS, Ikins WG, Harbers CAZ (1992) TBA values, sensory characteristics and volatiles in ground pork during long-term frozen storage Effect of packaging. J Food Sci 57(3):558–563

Cha DS, Choi JH, Chinnan MS, Park HJ (2002) Antimicrobial films based on Na-alginate and κ-carrageenan. Lebensm Wiss Technol 35:715–719

Dadalioglu I, Evrendilek GA (2004) Chemical compositions and antibacterial effects of essential oils of Turkish oregano (Origanumminutiflorum), bay laurel (Laurusnobilis), Spanish lavender (Lavandulastoechas L.) and fennel (Foeniculumvulgare) on common food borne pathogens. J Agric Food Chem 52:8255–8260

Djenane D, Sánchez-Escalante A, Beltrán JA, Roncalé SP (2002) Ability of α-tocopherol, taurine and rosemary, in with vitamin C, to increase the oxidative stability of beef steaks packaged in modified atmosphere. Food Chem 76:407–415

Emiroglu ZK, Yemis GP, Coskun BK, Candogan K (2010) Antimicrobial activity of soy films incorporated with thyme and oregano essential oils on fresh ground beef patties. Meat Sci 86:283–288

Fernandez-Pan I, Carrión-Granda X, Mate JI (2014) Antimicrobial efficiency of edible coatings on the preservation of chicken breast fillets. Food Control 36:69–75

Gennadios A, Hanna MA, Kurth LB (1997) Application of edible coatings on meats, poultry and seafoods: a review. LebensmWiss Technol 30:337–350

Jay JM (1996) Modern food microbiology, 5th edn. CBS Publishers and Distributors, New Delhi

Karbowiak T, Debeaufort F, Champion D, Voilley A (2006) Wetting properties at the surface of iota-carrageenan-based edible films. J Colloid Interface Sci 294:400–410

Keeton JT (1983) Effect of fat and sodium chloride salt/phosphate level on the chemical and sensory properties of pork patties. J Food Sci 48:878–885

Kenawi MA, Zaghlul MMA, Abdel-Salam RR (2011) Effect of two natural antioxidants in combination with edible packaging on stability of low fat beef product stored under frozen condition. Biotechnol Anim Husb 27:345–356

Khanjari A, Karabagias IK, Kontominas MG (2013) Combined effect of N, O-carboxy methyl chitosan and oregano essential oil to extend shelf life and control listeria monocytogens in raw chicken meat fillets. Food Sci Technol 53:94–99

Liu DC, Tsau RT, Lin YC, Jan SS, Tan FJ (2009) Effect of various levels of rosemary or chinese mahogany on the quality of fresh chicken sausage during refrigerated storage. Food Chem 117:106–113

Oussalah M, Caillet S, Salmiéri S, Saucier L, Lacroix M (2004) Antimicrobial and antioxidant effects of milk protein-based films containing essential oils for the preservation of whole beef muscle. J Agric Food Chem 52:5598–5605

Park H, Kim S, Kim KM, You Y, Kim SY, Han J (2012) Development of antioxidant packaging materials by corn zein to LLDPE film in combination with phenolic compounds. J Food Sci 77:273–279

Pavlath AE, Gossett C, Camirand W, Rovertson GH (1999) Ionomeric films of alginic acid. J Food Sci 4:61–63

Quintavalla S, Vicini L (2002) Antimicrobial food packaging in meat industry. Meat Sci 62:373–380

Salgado PR, Lopez-Caballero ME, Gomez-Guillen MC (2013) Sunflower protein films incorporated with clove essential oil have potential application for the preservation of fish patties. Food Hydrocoll 33:74–84

Seol KH, Lim DG, Jang A, Jo C, Lee M (2009) Antimicrobial effect of κ-carrageenan based edible film containing ovo-transferrin in fresh chicken breast stored at 5 °C. Meat Sci 83:479–483

Sharma H, Mendiratta SK, Agarwal RK, Kumar S, Soni A (2017) Evaluation of anti-oxidant and anti-microbial activity of various essential oils in fresh chicken sausages. J Food Sci Technol 54:279–292

Siracusa V, Pietro R, Santina R, Marco DR (2008) Biodegradable polymers for food packaging: a review. Trends Food Sci Technol 19:634–643

Snedecor GW, Cochran WG (1994) Statistical methods, 8th edn. Iowa State University Press, Ames

Soni A, Kandeepan G, Agarwal RK, Vishnuraj MR (2015) Antimicrobial effect of oregano and thyme essential oils coated carrageenan based edible film. J Pure Appl Microbiol 19:1657–1663

Soni A, Kandeepan G, Mendiratta SK, Shukla V, Kumar A (2016) Development and Characterization of essential oils incorporated carrageenan based edible film for packaging of chicken meat patties. Nutr Food Sci 46:82–95

Steel RGD, Torrie JH (1981) Principles and procedures of statistics: a biometrical approach, 2nd edn. Mcgraw Hill International Book Co, New Delhi

Suppakul P, Miltz J, Sonneveld K, Bigger SW (2003) Active packaging technologies with an emphasis on antimicrobial packaging and its applications. J Food Sci 68:408–420

Sylvestre MN, Feidt C, Brun-Bellut J (2001) Post-mortem evolution of non-protein nitrogen and its peptide composition in growing lamb muscles. Meat Sci 58:363–369

Tarladgis BG, Watts BM, Yaunathan MT, Dugan LR (1960) Distillation methods for the quantitative determination of malonaldehyde in rancid foods. J Am Oil Chem Soc 37:66–71

Trout ES, Hunt MC, Johnson DE, Claus JR, Kastner CL, Kropt DH (1992) Characterstics of low fat ground beef containing texture modifying ingredients. J Food Sci 57:19–24

Zinoviadou KG, Koutsoumanis KP, Biliaderis CG (2009) Physico-chemical properties of whey protein isolate films containing oregano oil and their antimicrobial action against spoilage flora of fresh beef. Meat Sci 82:338–345
Acknowledgements
The authors are thankful to the Director and Joint Director (Research), ICAR- Indian Veterinary Research Institute, Izatnagar for the facilities provided. The work was carried out during post graduate research programme in the Division of Livestock Products Technology.
About this article
Cite this article
Soni, A., Gurunathan, K., Mendiratta, S.K. et al. Effect of essential oils incorporated edible film on quality and storage stability of chicken patties at refrigeration temperature (4 ± 1 °C). J Food Sci Technol 55, 3538–3546 (2018). https://doi.org/10.1007/s13197-018-3279-7
Revised:

Accepted:

Published:

Issue Date:
Keywords
Chicken meat patties

Carrageenan

Essential oil

Edible film

Shelf-life