Abstract
Antioxidant activity of Chlorella (Chlorella vulgaris) was evaluated in virgin olive oil (VOO) at different concentrations of 0.5, 1.0, and 1.5% (w/w) under accelerated storage conditions. Antioxidant activity of Chlorella was compared with those of BHT and β-carotene. Chlorella samples significantly retarded the formation of primary, secondary, and total oxidation products in comparison with those of the control. The stability increased as concentrations of Chlorella increased. Samples containing 0.5, 1.0, and 1.5% Chlorella significantly improved VOO stability by 19.99, 28.83, and 33.14%, respectively. Observed effects can be related to the release in the assortment of bioactive compounds from Chlorella algae to the VOO. Among the different antioxidants evaluatedy, BHT exhibited the highest antioxidant activity. On the contrary, β-carotene had no preventive effect against the oxidation of VOO. It also proved incapable of limiting the progress of VOO oxidation and played role as pro-oxidant. In conclusion, Chlorella enhanced VOO oxidative stability. Thus it can be considered as a promising source of natural antioxidants.
This is a preview of subscription content, log in to check access.
Access options
Buy single article
Instant access to the full article PDF.
US$ 39.95
Price includes VAT for USA
Subscribe to journal
Immediate online access to all issues from 2019. Subscription will auto renew annually.
US$ 99
This is the net price. Taxes to be calculated in checkout.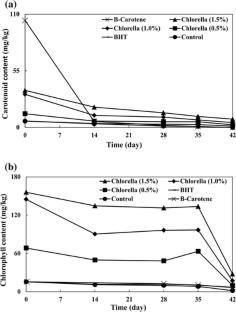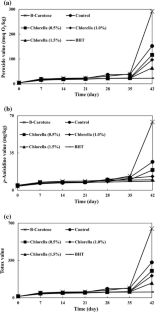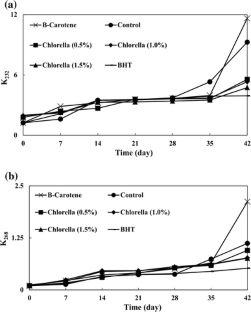 References
Antolovich M, Prenzler PD, Patsalides E, Mcdonald S, Robards K (2002) Methods for testing antioxidant activity. Analyst 127:183–198

AOAC (1997) Official methods of analysis of AOAC international. Association of Official Analytical Chemists, Washington DC

AOCS (1998) Official methods and recommended practices of the American Oil Chemist's Society. AOCS Press, Illinois

Apak R, Güçlü K, Özyürek M, Karademir SE (2004) Novel total antioxidant capacity index for dietary polyphenols and vitamins C and E, using their cupric ion reducing capability in the presence of neocuproine: CUPRAC method. J Agric Food Chem 52:7970–7981

Ayadi MA, Grati-Kamoun N, Attia H (2009) Physico-chemical change and heat stability of extra virgin olive oils flavoured by selected Tunisian aromatic plants. Food Chem Toxicol 47:2613–2619

Cha KH, Kang SW, Kim CY, Um BH, Na YR, Pan CH (2010) Effect of pressurized liquids on extraction of antioxidants from Chlorella vulgaris. J Agric Food Chem 58:4756–4761

Codex (2001) Codex Alimentarius Commission. Codex standard for olive oil, virgin and refined, and for refined olive–pomace oil–Codex Stan 33–1981 (Rev. 1–1981)

Dere S, Güneş T, Sivaci R (1998) Spectrophotometric determination of chlorophyll-A, B and total carotenoid contents of some algae species using different solvents. Turk J Bot 22:13–18

Di Marco G, Gismondi A, Canuti L, Scimeca M, Volpe A, Canini A (2014) Tetracycline accumulates in Iberis sempervirens L. through apoplastic transport inducing oxidative stress and growth inhibition. Plant Biol 16:792–800

FAOSTAT (2013) Food and Agriculture Organization of the United Nations. http://www.faostat3.fao.org/download/Q/QD/E. Accessed Dec 2015

Frankel EN (2010) Chemistry of extra virgin olive oil: adulteration, oxidative stability, and antioxidants. J Agric Food Chem 58:5991–6006

Golmakani MT, Rezaei K, Mazidi S, Razavi SH (2012a) Effect of alternative C2 carbon sources on the growth, lipid, and γ-linolenic acid production of spirulina (Arthrospira platensis). Food Sci Biotechnol 21:355–363

Golmakani MT, Rezaei K, Mazidi S, Razavi SH (2012b) γ-Linolenic acid production by Arthrospira platensis using different carbon sources. Eur J Lipid Sci Technol 114:306–314

Gouveia L, Raymundo A, Batista AP, Sousa I, Empis J (2006) Chlorella vulgaris and Haematococcus pluvialis biomass as colouring and antioxidant in food emulsions. Eur Food Res Technol 222:362–367

Gouveia L, Nobre BP, Marcelo FM, Mrejen S, Cardoso MT, Palavra AF, Mendes RL (2007) Functional food oil coloured by pigments extracted from microalgae with supercritical CO2. Food Chem 101(2):717–723

Gutiérrez-Rosales F, Garrido-Fernández J, Gallardo-Guerrero L, Gandul-Rojas B, Minguez-Mosquera MI (1992) Action of chlorophylls on the stability of virgin olive oil. J Am Oil Chem Soc 69:866–871

Habibi M, Golmakani MT, Farahnaky A, Mesbahi G, Majzoobi M (2016) NaOH-free debittering of table olives using power ultrasound. Food Chem 192:775–781

Hajimahmoodi M, Faramarzi MA, Mohammadi N, Soltani N, Oveisi MR, Nafissi-Varcheh N (2010) Evaluation of antioxidant properties and total phenolic contents of some strains of microalgae. J Appl Phycol 22:43–50

IOC (2015) International Olive Council. Trade standard applying to olive oils and olive–pomace oils. Decision COI/T.15/NC No 3/Rev. 8. Madrid

Lee YC, Kim DH (1992) Effects of β-carotene on the stability of soybean oil subject to autoxidation and photosensitized oxidation. Food Sci Biotechnol 1:1–7

Lima Araújo KG, Domingues JR, Sabaa Srur AUO, da Silva AJR (2006) Production of antioxidants by anabaena PCC 7119 and evaluation of their protecting activity against oxidation of soybean oil. Food Biotechnol 20:65–77

Limón P, Malheiro R, Casal S, Acién-Fernández FG, Fernández-Sevilla JM, Rodrigues N, Cruz R, Bermejo R, Pereira JA (2015) Improvement of stability and carotenoids fraction of virgin olive oils by addition of microalgae Scenedesmus almeriensis extracts. Food Chem 175:203–211

Minguez-Mosquera MI, Rejano-Navarro L, Gandul-Rojas B, Sanchezgomez AH, Garrido-Fernandez J (1991) Color-pigment correlation in virgin olive oil. J Am Oil Chem Soc 68:332–336

Mohd Azamai ES, Sulaiman S, Mohd Habib SH, Looi ML, Abdul Hamid NA, Ngah WZW, Yusof YAM (2009) Chlorella vulgaris triggers apoptosis in hepatocarcinogenesis-induced rats. J Zhejiang Univ Sci B 10:14–21

Morales MT, Przybylski R (2013) Olive oil oxidation. In: Aparicio R, Harwood J (eds) Handbook of olive oil: analysis and properties. Springer, New York, p 482

Namiki M (1990) Antioxidants/antimutagens in food. Crit Rev Food Sci Nutr 29:273–300

Plaza M, Santoyo S, Jaime L, Avalo B, Cifuentes A, Reglero G, García-Blairsy Reina G, Señoráns FJ, Ibáñez E (2012) Comprehensive characterization of the functional activities of pressurized liquid and ultrasound-assisted extracts from Chlorella vulgaris. LWT-Food Sci Technol 46:245–253

Polavarapu S, Oliver CM, Ajlouni S, Augustin MA (2011) Physicochemical characterisation and oxidative stability of fish oil and fish oil-extra virgin olive oil microencapsulated by sugar beet pectin. Food Chem 127:1694–1705

Rao AR, Sarada R, Ravishankar GA (2007) Stabilization of astaxanthin in edible oils and its use as an antioxidant. J Sci Food Agric 87:957–965

Safi C, Zebib B, Merah O, Pontalier PY, Vaca-Garcia C (2014) Morphology, composition, production, processing and applications of Chlorella vulgaris: a review. Renew Sustain Energy Rev 35:265–278

Shahidi F, Ambigaipalan P (2015) Phenolics and polyphenolics in foods, beverages and spices: antioxidant activity and health effects–a review. J Funct Foods 18:820–897

Shalaby EA, Shanab SM (2013) Comparison of DPPH and ABTS assays for determining antioxidant potential of water and methanol extracts of Spirulina platensis. Indian J Geo Mar Sci 42:556–564

Silva FAM, Borges F, Ferreira MA (2001) Effects of phenolic propyl esters on the oxidative stability of refined sunflower oil. J Agric Food Chem 49:3936–3941

Vijayavel K, Anbuselvam C, Balasubramanian MP (2007) Antioxidant effect of the marine algae Chlorella vulgaris against naphthalene-induced oxidative stress in the albino rats. Mol Cell Biochem 303:39–44

Wanasundara PKJPD, Shahidi F (2005) Antioxidants: science, technology, and applications. In: Shahidi F (ed) Bailey's industrial oil and fat products. Wiley, New York, p 434

Wang HM, Pan JL, Chen CY, Chiu CC, Yang MH, Chang HW, Chang JS (2010) Identification of anti-lung cancer extract from Chlorella vulgaris C–C by antioxidant property using supercritical carbon dioxide extraction. Process Biochem 45:1865–1872

Wang L, Yang B, Yan B, Yao X (2012) Supercritical fluid extraction of astaxanthin from Haematococcus pluvialis and its antioxidant potential in sunflower oil. Innov Food Sci Emerg Technol 13:120–127

Wu LC, Ho JAA, Shieh MC, Lu IW (2005) Antioxidant and antiproliferative activities of Spirulina and Chlorella water extracts. J Agric Food Chem 53:4207–4212

Yanishlieva NV, Marinova EM (2001) Stabilisation of edible oils with natural antioxidants. Lipid Sci Technol 103:752–767
Acknowledgements
This research Project was financially supported by Shiraz University. We would like to thank the Edible Oil Industries Group of Etka Organization for providing the VOO. We also thank the Persian editor, Mohsen Hamedpour-Darabi, for natively editing the English of the paper.
About this article
Cite this article
Alavi, N., Golmakani, M. Improving oxidative stability of virgin olive oil by addition of microalga Chlorella vulgaris biomass. J Food Sci Technol 54, 2464–2473 (2017). https://doi.org/10.1007/s13197-017-2689-2
Revised:

Accepted:

Published:

Issue Date:
Keywords
Chlorella vulgaris

Natural antioxidant

Oxidative stability

Virgin olive oil