Abstract
The present study was undertaken to evaluate antimicrobial and antioxidant effect of essential oils on the quality of fresh (raw, ready to cook) chicken sausages. Several preliminary trials were carried out to optimize the level of four essential oils viz., clove oil, holybasil oil, thyme oil and cassia oil and these essential oils were incorporated at 0.25, 0.125, 0.25 and 0.125%, respectively in fresh chicken sausages. Quality evaluation and detailed storage stability studies were carried out for fresh chicken sausages for 20 days at refrigeration temperature (4 ± 1 °C). Refrigerated storage studies revealed that TBARS of control was significantly higher than treatment products whereas, total phenolics and DPPH activity was significantly lower in control. Among treatments, clove oil products had significantly lower TBARS but higher total phenolic content and DPPH activity followed by cassia oil, thyme oil and holybasil oil products. Microbial count of essential oil incorporated products were significantly lower than control and remained well below the permissible limit of fresh meat products (log107 cfu/g). Cassia oil products were observed with better anti-microbial characteristics than clove oil products at 0.25% level of incorporation, whereas, thyme oil products were better than holy basil oil products at 0.125% level. Storage studies revealed that clove oil (0.25%), holy basil oil (0.125%), cassia oil (0.25%) and thyme oil (0.125%) incorporated aerobically packaged and refrigerated fresh chicken sausages had approx. 4–5, 2–3, 5–6 and 2–3 days longer shelf life than control, respectively.
This is a preview of subscription content, log in to check access.
Access options
Buy single article
Instant access to the full article PDF.
US$ 39.95
Price includes VAT for USA
Subscribe to journal
Immediate online access to all issues from 2019. Subscription will auto renew annually.
US$ 99
This is the net price. Taxes to be calculated in checkout.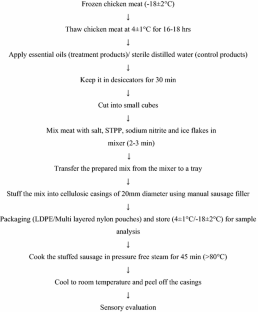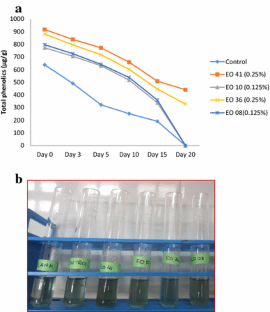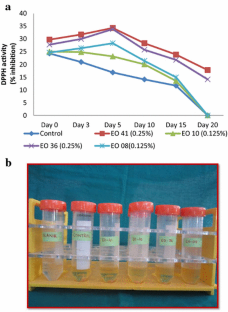 References
Ahmad A, Khan A, Akhtar F, Yousuf S, Xess I, Khan L, Manzoor N (2011) Fungicidal activity of thymol and carvacrol by disrupting ergosterol biosynthesis and membrane integrity against Candida. Eur J Clin Microbiol Infect Dis 30:41–50

Allen K, Cornforth D (2010) Comparison of spice-derived antioxidants and metal chelators on fresh beef color stability. Meat Sci 85:613–619

Alma MH, Ertas M, Nitz S, Kollmannsberger H (2007) Chemical composition and content of essential oil from the bud of cultivated Turkish clove (Yzygium Aromaticum L). Bio Res. 2(2):265–269

Antolovich M, Prenzler P, Patsalides E (2002) Methods for testing antioxidant activity. Analyst 127:183–198

APHA (2001) Compendium of method for microbiological examination of food, 4th edn. Speck M.L. American Public Health Association, Washington

Badee A, Moawad R, ElNoketi M, Gouda M (2013) Antioxidant and antimicrobial activities of marjoram (Origanum majorana L,) essential oil. J Appl Sci Res 9:1193–1201

Belitz HD, Grosch W, Schieberle P (2009) Coffee, tea, cocoa. In: Belitz HD, Grosch W, Schieberle P (eds) Food Chemistry, 4th edn. Springer, Berlin, pp 938–970

Bennis S, Chami F, Chami N, Bouchikhi T, Remmal A (2004) Surface alteration of Saccharomyces cerevisiae induced by thymol and eugenol. Lett Appl Microbiol 38:454–458

Burt SA, Vlielander R, Haagsman HP, Veldhuizen EJ (2005) Increase in activity of essential oil components carvacrol and thymol against Escherichia coli O157: H7 by addition of food stabilizers. J Food Prot 68:919–926

Carović-Stanko K, Orlić S, Politeo O, Strikić F, Kolak I, Milos M, Satovic Z (2010) Composition and antibacterial activities of essential oils of seven Ocimum taxa. Food Chem 119:196–201

Devatkal SK, Narsaiah K, Borah A (2011) The effect of salt extract of kinnow and pomegranate fruit by-products on colour and oxidative stability of raw chicken patties during refrigerated storage. J Food Sci Technol 48:472–477

Estevez M, Ramrez R, Ventanas S, Cava R (2007) Sage and rosemary essential oils versus BHT for the inhibition of lipid oxidative reactions in liver pate. LWT 40:58–65

Falowo AB, Fayemi PO, Muchenje O (2014) Natural antioxidants against lipid–protein oxidative deterioration in meat and meat products: a review. Food Res Int 64:171–181

Georgantelis D, Ambrosiadis I, Katikou P, Blekas G, Georgakis SA (2007) Effect of rosemary extract chitosan and α-tocopherol on microbiological parameters and lipid oxidation of fresh pork sausages stored at 4 C. Meat Sci 76:172–181

Gill C (1983) Meat spoilage and evaluation of the potential storage life of fresh meat. J Food Prot 46:444–452

Gulcin İ, Elmastaş M, Aboul-Enein HY (2012) Antioxidant activity of clove oil–A powerful antioxidant source. Arab J Chem 5:489–499

Hyldgaard M, Mygind T, Meyer RL (2012) Essential oils in food preservation: mode of action synergies and interactions with food matrix components. Front Microbiol 3:12

Jayawardana BC, Liyanage R, Lalantha N, Iddamalgoda S, Weththasinghe P (2015) Antioxidant and antimicrobial activity of drumstick (Moringa oleifera) leaves in herbal chicken sausages. LWT Food Sci Technol 64:1204–1208

Kamel SM (2013) The use of some herbs for improving the refrigerated storage stability of minced camel meat. Scientific J Microbiol 2:95–103

Keeton JT (1983) Effects of fat and NaCl/phosphate levels on the chemical and sensory properties of pork patties. J Food Sci 48:878–881

Kim JM, Marshall MR, Cornell JA, Iii JFP, Wei CI (1995) Antibacterial activity of carvacrol citral and geraniol against salmonella typhimurium in culture medium and on fish cubes. J Food Sci 60:1364–1368

Liu DC, Tsau RT, Lin YC, Jan SS, Tan FJ (2009) Effect of various levels of rosemary or Chinese mahogany on the quality of fresh chicken sausage during refrigerated storage. Food Chem 117:106–113

Makkar H P S (2000) Quantification of tannins in tree foliage: A laboratory manual for the FAO/IAEA Co-ordinated Research Project on 'Use of Nuclear and Related Techniques to Develop Simple Tannin Assays for Predicting and Improving the Safety and Efficiency of Feeding Ruminants on Tanniniferous Tree Foliage', FAO/IAEA Working Document IAEA Vienna Austria, pp 1–6

Mokhtar SM, Youssef KM, Morsy NE (2014) The effects of natural antioxidants on colour lipid stability and sensory evaluation of fresh beef patties stored at 4 °C. J Agroaliment Process Technol 20(3):282–292

Moyo B, Masika PJ, Hugo A, Muchenje V (2011) Nutritional characterization of Moringa (Moringa oleifera Lam.) leaves. African. J Biotechnol 10(60):12925–12933

Naveena BM, Sen A, Vaithiyanathan S, Babji Y, Kondaiah N (2008) Comparative efficacy of pomegranate juice pomegranate rind powder extract and BHT as antioxidants in cooked chicken patties. Meat Sci 80:1304–1308

Nkukwana TT, Muchenje V, Masika PJ, Hoffman LC, Dzama K, Descalzo AM (2014) Fatty acid composition and oxidative stability of breast meat from broiler chickens supplemented with Moringa oleifera leaf meal over a period of refrigeration. Food Chem 142:255–261

Pothakos V, Samapundo S, Devlieghere F (2012) Total mesophilic counts underestimate in many cases the contamination levels of psychrotrophic lactic acid bacteria (LAB) in chilled-stored food products at the end of their shelf-life. Food Microbiol 32:437–443

Qwele K, Muchenje V, Oyedemi SO, Moyo B, Masika PJ (2013) Chemical composition, fatty acid contents and antioxidant potential of meat from goats supplemented with Moringa (Moringa oleifera) leaves, sunflower cake and grass hay. Meat Sci 93:455–462

Rao A, Zhang Y, Muend S, Rao R (2010) Mechanism of antifungal activity of terpenoid phenols resembles calcium stress and inhibition of the TOR pathway. Antimicrob Agents Chemother 54:5062–5069

Russo A, Acquaviva R, Campisi A, Sorrenti V, Di Giacomo C, Virgata G, Barcellona M, Vanella A (2000) Bioflavonoids as antiradicals antioxidants and DNA cleavage protectors. Cell Biol Toxicol 16:91–98

Sachindra N, Sakhare P, Yashoda K, Rao DN (2005) Microbial profile of buffalo sausage during processing and storage. Food Control 16:31–35

Sampaio G, Saldanha T, Soares R, Torres E (2012) Effect of natural antioxidant combinations on lipid oxidation in cooked chicken meat during refrigerated storage. Food Chem 135:1383–1390

Sanchez-Escalante A, Djenane D, Torrescano G, Beltrán JA, Roncalés P (2001) The effects of ascorbic acid taurine carnosine and rosemary powder on colour and lipid stability of beef patties packaged in modified atmosphere. Meat Sci 58:421–429

Serpen A, Gökmen V, Fogliano V (2012) Total antioxidant capacities of raw and cooked meats. Meat Sci 90:60–65

Sharma H, Sharma BD, Mendiratta S, Talukder S, Ramasamy G (2014) Efficacy of flaxseed flour as bind enhancing agent on the quality of extended restructured mutton chops. Asian-Australas J Anim Sci 27:247

Sharma H, Sharma BD, Talukder S, Giriprasad R (2015) Utilization of gum tragacanth as bind enhancing agent on the quality of extended restructured mutton chops. J Food Sci Technol 52(3):1626–1633

Siewe FB, Mbougueng PD, Tatsadjieu LN, Noumo TN, Mbofung CM (2015) The potential application of syzygium aromaticum and Cymbopogon citratus essential oils as natural preservatives of beef patties. Food Nutr Sci 6:374

Snedecor G, Cochran W (1989) Statistical methods, 8th edn. Iowa State University Press, Ames

Syne SM, Ramsubhag A, Adesiyun AA (2013) Microbiological hazard analysis of ready-to-eat meats processed at a food plant in Trinidad West Indies. Infect Ecol Epidemiol. doi:10.3402/iee,v3i0,20450

Tarladgis BG, Watts BM, Younathan MT, Dugan L Jr (1960) A distillation method for the quantitative determination of malonaldehyde in rancid foods. J Am Oil Chem Soc 37:44–48

Tepe B, Sokmen M, Akpulat HA, Sokmen A (2005) In vitro antioxidant activities of the methanol extracts of five Allium species from Turkey. Food Chem 92:89–92

Troutt ES, Hunt MC, Johnson DE, Claus JR, Kastner CL, Kropf DH (1992) Characteristics of low-fat ground beef containing texture-modifying ingredients. J Food Sci 57:19–24

Verspohl EJ, Bauer K, Neddermann E (2005) Antidiabetic effect of Cinnamomum cassia and Cinnamomum zeylanicum in vivo and in vitro. Phytother Res 19:203–206

Wojciak KM, Dolatowski ZJ, Okoń A (2011) The effect of water plant extracts addition on the oxidative stability of meat products. Acta Sci Pol Technol Aliment 10:175–188

Zargar FA, Kumar S, Bhat ZF, Kumar P (2014) Effect of pumpkin on the quality characteristics and storage quality of aerobically packaged chicken sausages. SpringerPlus 3:39
About this article
Cite this article
Sharma, H., Mendiratta, S.K., Agarwal, R.K. et al. Evaluation of anti-oxidant and anti-microbial activity of various essential oils in fresh chicken sausages. J Food Sci Technol 54, 279–292 (2017). https://doi.org/10.1007/s13197-016-2461-z
Revised:

Accepted:

Published:

Issue Date:
Keywords
Fresh chicken sausage

Essential oils

Storage stability

Anti-oxidant activity

Sensory evaluation

Shelf life