Abstract
The aim of this work was to compare functional properties including solubility, emulsifying and foaming properties of native and thermally treated adzuki, soy and pea protein isolates prepared under the same conditions. These functional properties were tested at four pH values: pH 3.0, pH 5.0, pH 7.0 and pH 8.0. The lowest solubility at all pH values were obtained for isolate of adzuki whereas isolates of soybean had the highest values at almost all pHs. Thermal treatment reduced solubility of soy and pea isolates at all pH values, whereas solubility of adzuki isolate was unchanged, except at pH 8. Native isolate of adzuki had the best emulsifying properties at pH 7.0 whereas at the other pH values some of native pea and soybean protein isolates were superior. After thermal treatment, depending on tested pH and selected variety all of three species could be a good emulsifier. Native soy protein isolates formed the most stable foams at all pHs. Thermal treatment significantly improved foaming properties of adzuki isolate, whereas reduced foaming capacity of soy and pea isolates, but could improve foam stability of these isolates at specific pH. Appropriate selection of legume seed as well as variety could have great importance in achievement of desirable functional properties of final products. All three tested species could find specific application in wide range of food products.
This is a preview of subscription content, log in to check access.
Access options
Buy single article
Instant access to the full article PDF.
US$ 39.95
Price includes VAT for USA
Subscribe to journal
Immediate online access to all issues from 2019. Subscription will auto renew annually.
US$ 99
This is the net price. Taxes to be calculated in checkout.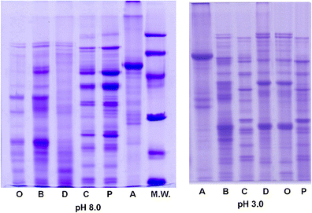 References
Adebiyi AP, Aluko RE (2011) Functional properties of protein fractions obtained from commercial yellow field pea (Pisum sativum L.) seed protein isolate. Food Chem 128:902–908

Aluko RE, Mofolasayo OA, Watts BM (2009) Emulsifying and foaming properties of commercial yellow pea (Pisum sativum L.) seed flours. J Agric Food Chem 57:9793–9800

Barac M, Stanojevic S, Jovanović S, Pesic M (2004) Soy protein modification- a rewiev. Acta Period Technol 35:3–17

Barac MB, Jovanovic ST, Stanojevic SP, Pesic MB (2006) Effect of limited hydrolysis on traditional soy protein concentrate. Sensors 6:1087–1101

Barac M, Cabrilo S, Pesic M, Stanojevic S, Ristic N (2010) Profile and functional properties of seed proteins from six pea (Pisum sativum) genotypes. Int J Mol Sci 11:4973–4990

Barac M, Cabrilo S, Pesic M, Stanojevic S, Pavlicevic M, Macej O, Ristic N (2011) Functional properties of pea (Pisum sativum, L) protein isolates modified with chymosin. Int J Mol Sci 12:8372–8387

Barac M, Cabrilo S, Stanojevic S, Pesic M, Pavlicevic M, Zlatkovic B, Jankovic M (2012) Functional properties of protein hydrolysates from pea (Pisum sativum, L) seeds. Int J Food Sci Technol 47:1457–1467

Belitz HD, Grosch W, Schieberle P (2009) Food chemistry, 4th edn. Springer, Berlin (Chapter 2)

Boye JI, Aksay S, Roufik S, Ribéreau S, Mondor M, Farnworth E, Rajamohamed SH (2010a) Comparison of the functional properties of pea, chickpea and lentil protein concentrates processed using ultrafiltration and isoelectric precipitation techniques. Food Res Int 43:537–546

Boye J, Zare F, Pletch A (2010b) Pulse proteins: processing, characterization, functional properties and applications in food and feed. Food Res Int 43:414–431

Bradford MM (1976) A rapid and sensitive method for the quantitation of microgram quantities of protein utilizing the principle of protein-dye binding. Anal Biochem 72:248–254

Chau C-F, Cheung PC-K, Wong Y-S (1997) Functional properties of protein concentrates from three Chinese indigenous legume seeds. J Agric Food Chem 45:2500–2503

Chen THH, Gusta LV, Tjahjadi C, Breene WM (1984) Electrophoretic characterization of adzuki bean (Vigna angularis) seed proteins. J Agric Food Chem 32:396–399

Deak NA, Murphy PA, Johnson LA (2007) Characterization of fractionated soy proteins produced by a new simplified procedure. J Am Oil Chem Soc 84:137–149

Dua S, Mahajan A, Sandal M, Gagan J (2009) Physico-chemical properties of defatted pea seed meal proteins with emphasis on salts and pH. J Food Sci Technol 46:251–254

Fernandez-Quintela A, Macarulla MT, Del Barrio AS, Martinez JA (1997) Composition and functional properties of protein isolates obtained from commercial legumes grown in northern Spain. Plant Foods Hum Nutr 51:331–342

Fling SP, Gregerson DS (1986) Peptide and protein molecular weight determination by electrophoresis using a high-molarity tris-buffer system without urea. Anal Biochem 155:83–88

Fuhrmeister H, Meuser F (2003) Impact of processing on functional properties of protein products from wrinkled peas. J Food Eng 56:119–129

Fukuda T, Prak K, Fujioka M, Maruyama N, Utsumi S (2007) Physicochemical properties of native Adzuki bean (Vigna angularis) 7S globulin and the molecular cloning of its cDNA isoforms. J Agric Food Chem 55:3667–3674

Fukuda T, Maruyama N, Ramlan M, Salleh M, Mikami B, Utsumi S (2008) Characterization and crystallography of recombinant 7S globulins of Adzuki bean and structure − function relationships with 7S globulins of various crops. J Agric Food Chem 56:4145–4153

Griga M (2002) Morphology and anatomy of Pisum sativum somatic embryos. Biol Plant 45:173–182

Hou Y, Zhao XH (2011) Limited hydrolysis of two soybean protein products with trypsin or neutrase and the impacts on their solubility, gelation and fat absorption capacity. Biotechnology 10:190–196

Karaca AC, Low N, Nickerson M (2011) Emulsifying properties of chickpea, faba bean, lentil and pea proteins produced by isoelectric precipitation and salt extraction. Food Res Int 44:2742–2750

Khatib KA, Herald TJ, Aramouni FM, MacRitchie F, Schapaugh WT (2002) Characterization and functional properties of soy β-conglycinin and glycinin of selected genotypes. J Food Sci 67:2923–2929

Makri E, Papalamprou E, Doxastakis G (2005) Study of functional properties of seed storage proteins from indigenous European legume crops (lupin, pea, broad bean) in admixture with polysaccharides. Food Hydrocoll 19:583–594

Maninder K, Sandhu KS, Singh N (2007) Comparative study of the functional, thermal and pasting properties of flours from different field pea (Pisum sativum L.) and pigeon pea (Cajanus cajan L.) cultivars. Food Chem 104:259–267

Meng G-T, Ma C-Y (2001) Thermal properties of Phaseolus angularis (red bean) globulin. Food Chem 73:453–460

Meng G-T, Ma C-Y (2002a) Characterization of globulin from Phaseolus angularis (red bean). Int J Food Sci Technol 37:687–695

Meng G-T, Ma C-Y (2002b) Thermal gelation of globulin from Phaseolus angularis (red bean). Food Res Int 35:377–385

Meng G-T, Ching K-M, Ma C-Y (2002) Thermal aggregation of globulin from an indigenous Chinese legume, Phaseolus angularis (red bean). Food Chem 79:93–103

Pearce KN, Kinsella JE (1978) Emulsifying properties of proteins: evaluation of a turbidimetric technique. J Agric Food Chem 26:716–723

Periago MJ, Vidal ML, Ros G, Rincón F, Martínez C, López G, Rodrigo J, Martínez I (1998) Influence of enzymatic treatment on the nutritional and functional properties of pea flour. Food Chem 63:71–78

Pesic MB, Vucelic-Radovic BV, Barac MB, Stanojevic SP (2005) The influence of genotypic variation in protein composition on emulsifying properties of soy proteins. J Am Oil Chemists Soc 82:667–672

Sorgentini DA, Wagner JR, Anon MC (1995) Effects of thermal treatment of soy protein isolate on the characteristics and structure-function relationship of soluble and insoluble ractions. J Agric Food Chem 43:2471–2479

Sosulski FW, McCurdy AR (1987) Functionality of flours, protein fractions and isolates from field peas and bean. J Food Sci 52:1010–1014

Sumner AK, Nielsen MA, Youngs CG (1981) Production and evaluation of pea protein isolate. J Food Sci 46:364–372

Sun XD, Arntfield SD (2010) Gelation properties of salt-extracted pea protein induced by heat treatment. Food Res Int 43:509–515

Taherian AR, Mondor M, Labranche J, Drolet H, Ippersiel D, Lamarche F (2011) Comparative study of functional properties of commercial and membrane processed yellow pea protein isolates. Food Res Int 44:2505–2514

Tjahjadi C, Lin S, Breene WM (1988) Isolation and Characterization of Adzuki bean (Vigna angularis cv Takara) proteins. J Food Sci 53:1438–1443

Wu W, Hettiarachy N, Qi M (1998) Hydrophobicity, solubility and emulsifying properties of soy protein peptides prepared by papain modification and ultrafiltration. J Am Oil Chem Soc 75:845–850

Yan B, Ren J, Zhao M, Luo D, Gu L (2012) Effects of limited enzymatic hydrolysis with pepsin and high-pressure homogenization on the functional properties of soybean protein isolate. LWT Food Sci Technol 46:453–459

Yuan Y, Velev O, Chen K, Campbell BE, Kaler EW, Lenhoff AM (2002) Effect of pH and Ca2 + -Induced associations of soybean proteins. J Agric Food Chem 50:4953–4958
Acknowledgments
This investigation was supported by the Ministry of Science and Developmental of the Republic of Serbia (Grants no. 31069).
About this article
Cite this article
Barac, M.B., Pesic, M.B., Stanojevic, S.P. et al. Comparative study of the functional properties of three legume seed isolates: adzuki, pea and soy bean. J Food Sci Technol 52, 2779–2787 (2015). https://doi.org/10.1007/s13197-014-1298-6
Revised:

Accepted:

Published:

Issue Date:
Keywords
Protein isolate

Solubility

Emulsifying

Foaming properties