This is a preview of subscription content, log in to check access.
Access options
Buy single article
Instant access to the full article PDF.
US$ 39.95
Price includes VAT for USA
Subscribe to journal
Immediate online access to all issues from 2019. Subscription will auto renew annually.
US$ 99
This is the net price. Taxes to be calculated in checkout.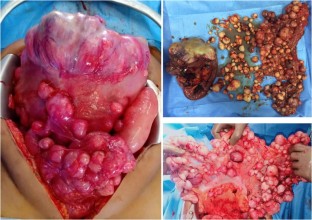 References
1.

Ducimetiere F, Lurkin A, Ranchere-Vince D et al (2011) Incidence of sarcoma histotypes and molecular subtypes in a prospective epidemiological study with central pathology review and molecular testing. PLoS One 6(8):e20294

2.

Koo DH, Ryu MH, Kim KM, Yang HK, Sawaki A, Hirota S, Zheng J, Zhang B, Tzen CY, Yeh CN, Nishida T, Shen L, Chen LT, Kang YK (2016) Asian consensus guidelines for the diagnosis and management of gastrointestinal stromal tumor. Cancer Res Treat 48:1155–1166

3.

Lex JR, Aoude A, Stevenson JD, Wunder JS et al (2018) Multiple soft tissue sarcomas in a single patient: an international multicentre review. Sarcoma. 5392785. https://doi.org/10.1155/2018/5392785

4.

O'sullivan PJ, Harris AC, Munk PL (2008) Radiological imaging features of non-uterine leiomyosarcoma. Br J Radiol 81(961):73–81

5.

Jimenez WA, Sardi A, Nieroda C, Gushchin V (2014) Cytoreductive surgery and hyperthermic intraperitoneal chemotherapy in the management of recurrent highgrade uterine sarcoma with peritoneal dissemination. Am J Obstet Gynecol 210(3):259.e1–259.e8

6.

Cranmer LD, Loggers ET, Pollack SM (2016) Pazopanib in the management of advanced soft tissue sarcomas. Ther Clin Risk Manag 12:941–955
Additional information
Publisher's Note
Springer Nature remains neutral with regard to jurisdictional claims in published maps and institutional affiliations.
About this article
Cite this article
Jaka, R.C., Mouli, N.C., Kumar, T.R. et al. Multiple Intra-abdominal Leiomyosarcoma in a Single Patient. Indian J Surg Oncol (2020). https://doi.org/10.1007/s13193-020-01043-4
Received:

Accepted:

Published: