Abstract
Primary malignant spindle cell tumors are rare constituting 1.0% of breast malignancies. Spindle cell lesions occurring in soft tissues can occur in breast with overlapping morphologies. It can present as benign lesion and have inconclusive cytological findings, so easily missed if not properly dealt with. Stromal sarcoma should be diagnosed only after thorough sectioning and negative staining for p63, broad spectrum, and high molecular weight keratin. We present a case of right breast lump. Cytological features revealed fibro histiocytic lesion. There were no areas of necrosis, hemorrhage, or calcification. Histopathologically, it showed partially encapsulated tumor with cells arranged in sheets, composed of oval to epithelioid cells with spindling at places with moderate pleomorphism (mitotic activity 6–7/10 hpf). Differential diagnosis of primary stromal sarcoma, metaplastic sarcoma, and phyllodes was made. Immunohistochemistry revealed vimentin positivity with focal positivity of S-100. Desmin, cytokeratin and smooth muscle actin, p63, ER, PR, and Her2-neu were negative. A final diagnosis of primary breast sarcoma of neural origin was established with the help of histopathology and immunohistochemistry. To conclude, it is of utmost importance to identify primary stromal sarcomas as they are known to spread very rapidly and have a poor prognosis.
This is a preview of subscription content, log in to check access.
Access options
Buy single article
Instant unlimited access to the full article PDF.
US$ 39.95
Price includes VAT for USA
Subscribe to journal
Immediate online access to all issues from 2019. Subscription will auto renew annually.
US$ 99
This is the net price. Taxes to be calculated in checkout.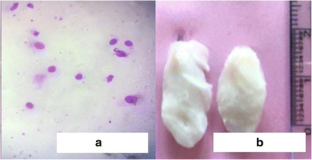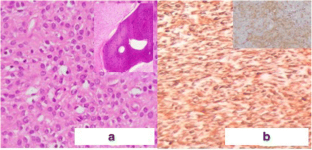 References
1.

Al-Nafussi A (1999) Spindle cell tumors of the breast: practical approach to diagnosis. Histopathology 35(1):1–13

2.

Al-Benna S, Poggemann K, Steinau HU, Steinstraesser L (2010) Diagnosis and management of primary breast sarcoma. Breast Cancer Res Treat 122(3):619–626

3.

Pencavel T, Allan CP, Thomas JM, Hayes AJ (2011) Treatment for breast sarcoma: a large, single­centre series. Eur J Surg Oncol 37(8):703–708

4.

Bousquet G et al (2007) Outcome and prognostic factors in breast sarcoma: a multicenter study from the rare cancer network. RadiotherOncol 85(3):355–361

5.

Koker MM, Kleer CG (2004) p63 expression in breast cancer: a highly sensitive and specific marker of metaplastic carcinoma. Am J Surg Pathol 28:1506–1512

6.

Carter MR, Hornick JL, Lester S, Fletcher CD (2006) Spindle cell (sarcomatoid) carcinoma of the breast: a clinicopathologic and immunohistochemical analysis of 29 cases. Am J SurgPathol 30:300–309

7.

Schnitt SJ, Collins LC. Spindle cell lesions. In: Biopsy interpretat- ion of the breast. Philadelphia: Wolters Kluwer/Lippincott Williams & Wilkins 2008; 20(5): 323–343

8.

Nizri E, Merimsky O, Lahat G (2014) Optimal management of sarcomas of the breast: an update. Expert Rev Anticancer Ther 14(6):705–710
Ethics declarations
Conflict of Interest
The authors declare that they have no conflict of interest.
Additional information
Presentations at meetings—Poster presentation in one
About this article
Cite this article
Arora, S., Rana, D., Pujani, M. et al. Malignant Spindle Cell Tumor Breast—a Diagnostic Dilemma. Indian J Surg Oncol 9, 387–390 (2018) doi:10.1007/s13193-018-0750-x
Received:

Accepted:

Published:

Issue Date:
Keywords
Spindle cell sarcoma

Metaplastic carcinoma

Immunohistochemistry