Abstract
Social media interactions can inform public health risk perceptions. While research has examined the risk relationships between obesity and cancer, public attitudes about their associations remain largely unknown. We explored how these constructs were discussed together on two social media platforms. Publicly accessible Facebook and Twitter posts from a 2-month period in 2012 containing references to obesity ("obese/obesity," "overweight," and "fat") and cancer-related words were extracted (N = 3702 posts). Data cleaning yielded a final set of 1382 posts (Facebook: N = 291; Twitter: N = 1091). Using a mixed-methods approach, themes were inductively generated, and sentiment valence, structural elements, and epistemic stance were coded. Seven relational themes emerged: obesity is associated with cancer (n = 389), additional factors are associated with both obesity and cancer (n = 335), obesity causes cancer (n = 85), cancer causes obesity (n = 6), obesity is not linked to cancer (n = 13), co-occurrence (n = 492), and obesity is valued differently than cancer (n = 60). Fifty-nine percent of posts focused on an associative or causal link between obesity and cancer. Thirty-one percent of posts contained positive and/or negative sentiment. Facebook was more likely to contain any sentiment, but Twitter contained proportionately more negative sentiment. Concurrent qualitative analysis revealed a dominance of individual blame for overweight/obese persons and more support and empathy for cancer survivors. Our study reflects wide recognition of the evidence linking obesity to increased risk of cancer, a diverse set of factors perceived to be dually associated with both conditions and differing attribution of responsibility. We demonstrate that social media monitoring can provide an important gauge of public health risk perception.
This is a preview of subscription content, log in to check access.
Access options
Buy single article
Instant access to the full article PDF.
US$ 39.95
Price includes VAT for USA
Subscribe to journal
Immediate online access to all issues from 2019. Subscription will auto renew annually.
US$ 99
This is the net price. Taxes to be calculated in checkout.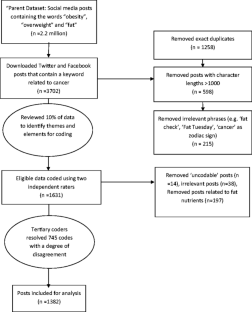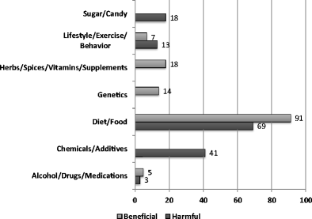 References
1.

Ballard-Barbash R, Siddiqi SM, Berrigan DA, Ross SA, Nebeling LC, Dowling EC (2013) Trends in research on energy balance supported by the National Cancer Institute. Am J Prev Med 44:416–23

2.

Nolan VG, Krull KR, Gurney JG, Leisenring W, Robison LL, Ness KK. Predictors of future health-related quality of life in survivors of adolescent cancer. Pediatric blood & cancer. 2014

3.

Cao Y, Ma J (2011) Body mass index, prostate cancer-specific mortality, and biochemical recurrence: a systematic review and meta-analysis. Cancer Prev Res 4:486–501

4.

Kamineni A, Anderson ML, White E, Taplin SH, Porter P, Ballard-Barbash R et al (2013) Body mass index, tumor characteristics, and prognosis following diagnosis of early-stage breast cancer in a mammographically screened population. Cancer Causes Control 24:305–12

5.

Chan DS, Vieira AR, Aune D, Bandera EV, Greenwood DC, McTiernan A, et al. Body mass index and survival in women with breast cancer--systematic literature review and meta-analysis of 82 follow-up studies. Ann Oncol. 2014.

6.

Irwin ML, McTiernan A, Baumgartner RN, Baumgartner KB, Bernstein L, Gilliland FD et al (2005) Changes in body fat and weight after a breast cancer diagnosis: influence of demographic, prognostic, and lifestyle factors. J Clin Oncol 23:774–82

7.

The American Institute for Cancer Research. The AICR 2015 Cancer Risk Awareness Survey Report 2015

8.

Centola D (2013) Social media and the science of health behavior. Circulation 127:2135–44

9.

Seidenberg AB, Rodgers EJ, Rees VW, Connolly GN (2012) Youth access, creation, and content of smokeless tobacco ("dip") videos in social media. J Adolesc Health 50:334–8

10.

Love B, Himelboim I, Holton A, Stewart K (2013) Twitter as a source of vaccination information: content drivers and what they are saying. Am J Infect Control 41:568–70

11.

Godoy-Izquierdo D, Lopez-Chicheri I, Lopez-Torrecillas F, Velez M, Godoy JF (2007) Contents of lay illness models dimensions for physical and mental diseases and implications for health professionals. Patient Educ Couns 67:196–213

12.

Chou WY, Prestin A, Kunath S (2014) Obesity in social media: a mixed methods analysis. Transl Behav Med 4:314–23

13.

Creswell JW, Plano Clark VL (2011) Designing and conducting mixed methods research, 2nd edn. SAGE Publications, Inc., Thousand Oaks

14.

Glaser BG, Strauss AL (1967) The discovery of grounded theory: strategies for qualitative research. Aldine de Gruyter, New York

15.

Parascandola M (2011) Causes, risks, and probabilities: probabilistic concepts of causation in chronic disease epidemiology. Prev Med 53:232–4

16.

Wang C, Coups EJ (2010) Causal beliefs about obesity and associated health behaviors: results from a population-based survey. Int J Behav Nut Physic Activity 7:19

17.

Rothman KJ, Greenland S (2005) Causation and causal inference in epidemiology. Am J Public Health 95(Suppl 1):S144–50

18.

McCully SN, Don BP, Updegraff JA (2013) Using the internet to help with diet, weight, and physical activity: results from the health information national trends survey (HINTS). J Med Internet Res 15:e148

19.

Puhl RM, Heuer CA (2010) Obesity stigma: important considerations for public health. Am J Public Health 100:1019–28

20.

Hussin M, Frazier S, Thompson JK (2011) Fat stigmatization on YouTube: a content analysis. Body Imag 8:90–2

21.

Tompson T, Benz J, Agriesta J, Brewer KH, Bye L, Reimer R, et al. (2013) Obesity in the United States: Public Perceptions: The Associated Press-NORC Center for Public Affairs Research; January, 2013

22.

Lundell H, Niederdeppe J, Clarke C (2013) Public views about health causation, attributions of responsibility, and inequality. J Health Commun 18:1116–30

23.

Mendes da Mata A. (2014) Social media and the changing face of cancer. Br J Nurs. 23:S23

24.

Rowland JH, Kent EE, Forsythe LP, Loge JH, Hjorth L, Glaser A et al (2013) Cancer survivorship research in Europe and the United States: where have we been, where are we going, and what can we learn from each other? Cancer 119(Suppl 11):2094–108

25.

Nadkarni A, Hofmann SG (2012) Why do people use Facebook? Personal Individ Differ 52:243–9
Acknowledgements
In memory of our friend, colleague, and co-author, Dr. Abby Prestin.
Conflict of Interest
Findings and conclusions in this report are those of the authors and do not necessarily represent the official position of the National Cancer Institute. There are no financial disclosures. Findings were presented at the 35th Annual Meeting and Scientific Sessions of the Society for Behavioral Medicine, April 23–26, 2014, in Philadelphia, PA.
Additional information
Dr. Abby Prestin passed away on September 3, 2014.
About this article
Cite this article
Kent, E.E., Prestin, A., Gaysynsky, A. et al. "Obesity is the New Major Cause of Cancer": Connections Between Obesity and Cancer on Facebook and Twitter. J Canc Educ 31, 453–459 (2016). https://doi.org/10.1007/s13187-015-0824-1
Keywords
Social media

Obesity

Cancer

Mixed methods

Risk perception